If the caretaker cabinet fails, President Radev's chances of re-election later this year will be undermined. If it succeeds in at least beginning to dismantle the GERB governing model, this could kick start change as well as boost the incumbent's reelection chances.
From today, Bulgaria is no longer ruled by Boyko Borissov and his GERB party. The country has a new cabinet. Headed by a retired Brigadier General, the second caretaker government appointed by President Rumen Radev contains several ex-officers, Western-educated economists, diplomats, academics and veteran public servants of differing political affiliations.
While their main task is to prepare for free and fair elections on 11 July, the caretaker government could have a much more political role in exposing some controversial decisions of Boyko Borissov's decade-long rule. Some ministers will also have urgent operational missions to fulfil linked to the management of the Covid-19 crisis, completion of major projects and EU funds' applications.
Who is Prime Minister Stefan Yanev?
"I can't promise to fix all the problems accumulated over the years during the short life of this government, but I will give my best to kick-start the process," Mr Yanev said during the inauguration of his cabinet on Wednesday morning. The ex-Brigadier General of the Artillery in the 1990s has had a long and varied career both inside and outside the military. After graduating from one of Bulgaria's officer schools, Mr Yanev rose up the ranks and studied at the National War College in Washington DC before moving to Bulgarian defense administration and diplomacy.
While his Euro-Atlantic credentials are undeniable - he has headed the "Transformation" department in the NATO anti-terrorist center in Ankara between 2005 and 2007 and was later defense attaché to Washington - this does not mean Mr Yanev has always scrupulously followed the American line. Most famously, he pressed for the purchase of Gripen jets from Sweden instead of an American-made model in the last days of his stint as caretaker Defense Minister in 2017.
Later, the decision was overturned in the next Parliament and Sofia bought the more expensive F-16 "Viper" planes after direct negotiations with the USA failed to lower the price - just as President Radev and Mr Yanev predicted. Despite that, at a time of heightened tensions between Russia and the West, his appointment will convey Sofia's pro-Western orientation clearly.
The US-educated economists
Another indication of Mr Radev's pro-Euro-Atlanticism, which is also perhaps a bid to please Bulgaria's liberal, pro-democratic community, is the appointment of three Harvard-educated economists to key positions.
First, Atanas Pekanov, a Vienna-based economist who graduated from Economic University in Vienna (WIFO), UCL in London and then spent a year at Harvard during his PhD. He will take over the job of Deputy Prime Minister for Recovery and European Funds and will have the daunting task of overseeing negotiations between the European Commission and Sofia on the Sustainable Recovery plan that is still pending approval by Brussels. It is likely that he will also have to coordinate potential changes to the draft plan as advocated by the President and the opposition.
The other two Harvard-educated faces are those of Kiril Petkov and Assen Vassilev, who are heading the Economy and Finance ministries, respectively. Both have enjoyed successful business ventures in Bulgaria and abroad. They are also known for their support for civic causes and the so-called Harvard courses at Sofia University where they teach young Bulgarian professionals the basics of micro- and macro-economy - the way they learnt it at the top US university.
Mr Vassilev's primary task will be to uncover the real state of the Bulgarian state finances, a question that would decide whether Bulgaria has to go on the debt market. Alternatively, he could leave that to the next elected government. He will also have to gather funds to pay for the upcoming elections, as this was an unplanned planned expense. Moreover, the Finance Ministry under him will have to find cash to extend Covid-related social and economic support measures, as the programs run out by mid-year.
Mr Petkov, on the other hand, has done a lot of academic research on Bulgaria's economic clusters and its export potential, but he would likely not have the time to use this knowledge in just three months. His most important task in the Economic Ministry would be to illuminate the murky ways the Bulgarian Development Banks and other state-owned companies manage their finances.
The ex-officers and diplomats
The other notable group appointed by Mr Radev includes trusted members of the security and foreign policy circles. One key appointment is Boyko Rashkov, who will become Deputy Prime Minister and Minister of the Interior. Mr Rashkov has held such important posts as head of the National Investigation Office, deputy Justice Minister and head of the National Bureau for Control of the Special Investigative Measures. Most importantly, he has always been at odds with the State Prosecution, which has landed him in trouble with GERB.
He could also replace the regional police directors across Bulgaria - a move that is likely going to impact vote-purchasing schemes, as they are often instigated rather than investigated by the police. Mr Rashkov is already under press scrutiny regarding buried investigations into police violence during the 2020 summer protests. Furthermore, the State Security Agency (DANS) which has been frantically hunting Russian spies recently, but negligent over the past decade when most of their alleged malevolence occurred, is under his auspices. If he overhauls its work, this might cause some turmoil.
Next comes Svetlan Stoev, the caretaker Foreign Minister. Mr Stoev has a long diplomatic career spanning from Germany, Sweden to, most recently, Denmark. He will have some tough work ahead because Bulgaria has to deal with the fallout from the Russian spies and sabotage scandal which might affect the tourism sector, as well as the "hot potato" created by his predecessor Ekaterina Zaharieva and her nationalist allies - North Macedonia's EU accession debacle.
Georgi Panayotov, the new Defense Minister, is another old school diplomat whose appointment will send a pro-Euro-Atlantic message abroad. He has headed the Bulgarian UN Mission since 2016 and worked alongside PM Yanev in the Washington embassy between 2011 and 2014. He also has experience in Afghanistan and the Foreign Ministry. His biggest task will be to inspect the dubious procurement deals of his predecessor Krassimir Karakachanov. Those are several modernization projects that were given directly to Bulgarian companies, including a botched 750-million contract for armored vehicles that went to the state-owned "Terem" company against all procurement rules.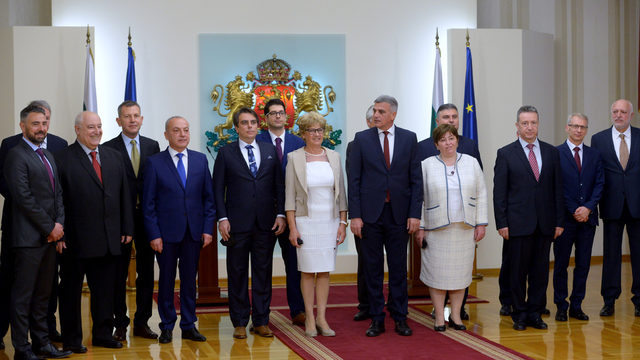 Important ministers who are unknowns
In this category come three people - Justice Minister Yanaki Stoilov, Energy Minister Andrey Zhivkov and Health Minister Stoycho Katsarov. The first one is the only political appointee - a hardcore socialist, Mr Stoilov has one of the longest running parliamentary careers in modern Bulgarian history. His appointment is likely a nod to the BSP, which nominated Mr Radev for office in 2016, but also shows how limited interaction between the Socialists and the President has become. Mr Stoilov, as a constitutionalist and lawyer, has always been relatively conservative on judicial reform, but might take action vis-a-vis alleged police abuses and abuses of authority by the Prosecution.
Mr Zhivkov, who will take one of the most difficult ministries, is the biggest unknown in the cabinet. He has worked in the state energy operations company as well as in CEZ, one of the three private energy suppliers in Bulgaria, but little else is known about him. He will, however, have some very serious issues to take care of, including the potential increase of domestic energy prices and the jump in carbon emission quotas that might lead to the premature closure of the Maritza-East power plant. Additionally, he is expected to investigate why the gas interconnector with Greece has not been finalized over the past three years and, instead, all state efforts were thrown towards completing "TurkStream."
Last, but not least comes Dr Katsarov. He is a dubious figure in Bulgarian medical circles in recent months because of his relative Covid-scepticism. He has said publicly that he does not believe that Covid-19 is an especially deadly illness, but that the problem is rather the poor condition of the healthcare system. He does not back lockdowns, but is a staunch believer in mass vaccinations. His biggest mission will be to prepare for a potential fourth outbreak in the autumn better than his predecessor.
The other caretaker ministers are mostly professional bureaucrats - technocrats even - with a long history of work alongside the President. They will have much to do to expose the problematic ways some of their ministries have been governed over the past decade. And their work will likely be judged by what information they manage to publicize over the next three months.
Ultimately, the cabinet's performance will be a test for Mr Radev's bid for a second mandate. If the caretaker cabinet fails, the President's chances of re-election later this year will be undermined. If it succeeds in at least beginning to dismantle the GERB governing model, this could kick start change as well as boost his reelection chances.