If somebody told you only a year ago that Bulgaria would have three parliamentary elections within 12 months, you would have likely laughed. If they had added that the three biggest parties in parliament post-election would change every time, you might have thought they were bonkers. Yet Bulgarian voters now look likely to send a second brand new party promising a "change of the model of governance" straight to the top tier of politics, just a few months after the quick rise and fall of showman Slavi Trifonov's TISP.
Although the two ex-ministers are already household names in Bulgaria, many might wonder who exactly they are, how they rose to fame so quickly, and their exact plans
The new movement is called Prodalzhavame Promyanata, standing for We Continue the Change in Bulgarian, and revolves around Assen Vassilev (44) and Kiril Petkov (41), entrepreneurs who gained huge popularity during their short - but memorable stints as caretaker ministers in the first cabinet of Prime Minister Stefan Yanev. The key selling point of their start-up political project is integrity ("pochtennost") - a quality Bulgarian voters deem to be indispensable yet one largely lacking in current politicians.
The two announced the launch of their new movement on 19 September - less than a week after it emerged they would not join the second caretaker cabinet of Mr Yanev, but polls already show they have significant public support.
A quick climb to the top
On the day they announced their new movement, Trend agency had already run a poll in which 9.1 percent of respondents said they intended to vote for a formation led by the duo, making them the fifth largest party breathing down the neck of the fourth one, MRF. Three days later, Market Links also published a study done before the official announcement of We Continue the Change, which gave the party 11 percent support.
Finally, in the last week of September Gallup International - Balkan ran a telephone survey that saw Mr Vassilev and Mr Petkov's movement overtake most of its competitors, parachuting into second place in the upcoming elections with a projected 15.2 percent of the vote. Although the two ex-ministers are already household names in Bulgaria, many might wonder who exactly they are, how they rose to fame so quickly, and their exact plans. And, most importantly - how do they fit in the present political landscape and how do they plan to remold it?
A portrait of the new political champions
First, let's take a closer look at Mr Petkov and Mr Vassilev and how they rose to prominence. Outsiders might think they entered Bulgarian politics out of the blue, but they have a long track record in public and private initiatives. The two were famously dubbed "the Harvards" by opponents and fans alike on account of their education at the elite institution. Mr Vassilev graduated from a Law degree at Harvard Law School and later met Mr Petkov at Harvard Business School, where they both studied Business Administration.
In subsequent years, each followed their own career path. Mr Vassilev worked for Monitor Group, a consultancy (now owned by Deloitte) founded by his university professor and famous economist Michael Porter. He later founded airfare search startup Everbread, which was later placed into insolvency after a four-year long legal battle between its co-founders.
Mr Petkov, who worked for the Canada-based food giant McCain Foods before going to Harvard, returned to Bulgaria soon after his graduation and launched his first venture - a 30,000 square meter retail park on the outskirts of Sofia - funded by US billionaire Michael Karsch. With the money he made from the successful investment Mr Petkov launched a probiotic startup business called Proviotic that was successful in the USA.
Civic-minded businessmen
Apart from these business ventures, the two have not shied away from civil engagement. Mr Petkov has become well-known to the domestic public for his civic activism. He funded a mission to search for missing alpinist Boyan Petrov in 2018 and has for years advocated a moratorium on new beachfront constructions in Bulgaria. He also took part in the creation of Yes, Bulgaria - one of the three parties within the Democratic Bulgaria coalition, which he left due to internal squabbles linked to the party's coalition politics. Mr Vassilev had a three-month stint as economy minister during the Marin Raykov caretaker cabinet in 2013.
Ultimately, the duo seems to be focused on practical solutions rather than ideology
When they returned to Sofia, they launched the Center for Economic Strategy and Competitiveness - a Sofia-based NGO affiliated with Harvard Business School, which has a mission to teach top Bulgarian students macro- and microeconomics in line with the method Mr Petkov and Mr Vassilev learnt at Harvard. Over 500 students have graduated their course in the decade since. In fact, it is expected that many of them will become the new movement's key figures.
How did they get so popular so quickly?
The duo's fast-growing support is easily explained. Mr Petkov cultivated an image as a young, Western-educated family man who does not shirk probing media questions. It appealed to voters tired of grumpy middle-aged men like Slavi Trifonov and Boyko Borissov berating them on Facebook.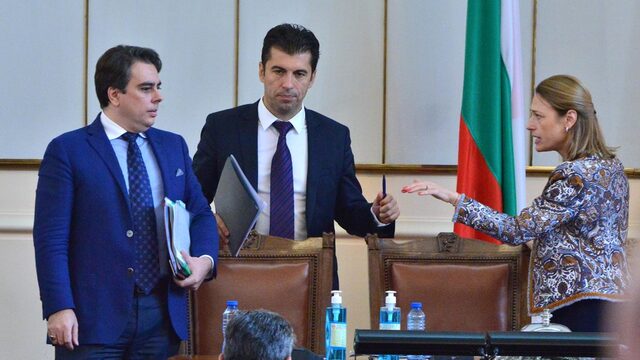 Besides, Bulgarians love an underdog, and the caretaker Economy Minister was perceived as just that during a debacle surrounding his double Bulgarian-Canadian citizenship. In August, he was attacked by TISP, MRF and GERB for an allegedly anti-constitutional appointment (no Bulgarian holding a second citizenship is allowed to hold high office). Mr Petkov immediately produced a document proving he had applied to revoke his Canadian citizenship weeks before being drafted into the caretaker government. Many viewed this as proof of his homegrown loyalty.
Last, but not least - both Mr Petkov and Mr Vassilev headed the important Economic and Finance ministries and used their office to highlight GERB's serial (and blatant) abuses of these ministries in the past.
"Attain left-wing goals with right-wing measures"
So where exactly is We Continue the Change on the political spectrum, and which parties will they "steal" votes from, and how many?
Ultimately, the duo seems to be focused on practical solutions rather than ideology. Mr Vassilev said that there is no need to increase taxes. Instead he said it was vital to improve collection rates and stop "leaks'' towards friendly business people. Then, he maintained, there would be enough left to allocate to infrastructure, education, healthcare and benefits for the retired - four priorities he listed at the launching event.
Unlike Mr Trifonov's party, We Continue the Change does not try to sound anti-establishment and has already entered talks with potential partners. This already demonstrates a much more practical attitude than TISP.
The movement seems to imagine itself as a center-left force ("Achieving leftist goals with right-wing [economic] policies" became Mr Vassilev's catchphrase) and their founders hope to draw votes from disgruntled TISP and BSP voters, who want more state intervention and economic benefits.
However, since We Continue the Change mostly has young, foreign-educated experts at its helm, the new party would definitely take votes away from Democratic Bulgaria, which attracted a significant chunk of its support with a similar profile of candidates. This begs another question - will the new movement just cannibalize on the same voter base or will it expand into the periphery of disgruntled status quo voters? According to Market Links' Dobromir Zhivkov, all parliamentary parties (except for the corporate-ethnic MRF) would lose support to the new movement, which might even appeal to the non-aligned.
In any case, the entrance of young, competent and goals-oriented politicians can only be beneficial, especially in Bulgaria's stale political climate that was largely dominated by the same forces for over a decade. Only time will tell if Mr Petkov and Mr Vassilev's start-up movement, which promises more integrity, accountability and professional governance, can prove politically durable. And most importantly - if they will deliver results worthy of the expectations of Bulgarian voters.
Assen Vassilev: We need a fairer agreement on Concessions

During his time as Finance minister, Mr Vassilev commented on Bulgaria's need to renegotiate concession agreements - most notably in the mining sector. Until now, this topic has mostly been monopolized by fringe ultranationalists. In a recent interview for Capital Weekly, Mr Vassilev elaborated on his position, which might be of interest to Kapital Insights readers:

"I think there needs to be a balance between the interest of the state and the interest of the concessionaire. The contracts that we currently have in place are very static and I don't think they fulfil this condition. That said, they have been signed already. We've started discussions with some concessionaires to look at more modern types of concessions, whereby, for example, if the price of raw materials and metals goes up, then the state gets more but if it goes down, the concessionaire pays less. This is similar to what Chile is doing these days. In general, I think that the total amount of revenue that Bulgaria gets from concessions (excluding airport concessions) is less than 50 million euro - water, mining, skiing, beaches... I think that is vastly, vastly inadequate relative to the type of national resources handed out as part of the concession process. Again - this has to happen in a legal, structured process, open up the conversation, so that it is a win-win solution and not a one-sided move where the government steps in and says they are doing something unilaterally. But that discussion needs to happen, it needs to be properly conducted and we need to come to an agreement that is perceived to be fair by Bulgarian society and is also economically viable for the concessionaire."