This article is part of the upcoming KInsights Special Repot on the Energy Future of Bulgaria. The full report will be published on the website later this week.
In late April, Russia decided to use its most punitive economic weapon against Bulgaria - the suspension of natural gas supplies. However, so far this move has not proven as devastating as many predicted. Not only did the apocalypse foreseen by political analysts and some leaders manifestly not happen - on the contrary, Moscow's unilateral act is about to salvage the country's political and economic future by severing a key source of Russian influence.
Unlike other times when it has acted reactively, Kirill Petkov's government now found itself prepared for the suspension of Gazprom supplies. As early as February, a plan was set in motion with alternative capacities and supplies booked to allow the Bulgarian economy to continue functioning smoothly - for now, at least until the end of May.
In fact, it can be said that Bulgargaz' not to open a rouble account and thus not meet Russian conditions was entirely political - the cabinet was fully aware of the consequences. And this reveals a clear national policy to diversify energy - and so break the dependence on Russia that has been lacking in recent decades. Hopefully, this success will endure.
The most difficult part, surprisingly, turned out to be the internal resistance - the opposition and parts of the ruling coalition started looking for flaws in the plan of the Petkov cabinet, demanding that talks with Gazprom continue, scaring the public with predictions of exorbitant prices etc. The main issue - that Russia unilaterally broke its contract with Bulgaria and stopped gas supplies despite the money being paid for this purpose by Bulgargaz - was brushed off.
This reaction practically exposed the line of Russian energy influence (and corruption), but it has also created a smokescreen through which most people cannot see exactly what is going on.
In reality, the fact that Bulgaria has stopped relying on Russian gas is a spectacular event for its economy and politics. It shifts the layers to an extent that even elections can hardly mimic. The events have also put Sofia in the rare "good" spotlight within Europe. On 5 May, the first meeting of regional energy ministers, including those of Turkey and Azerbaijan, was held in Sofia, with the aim of preparing a common solution on gas supplies. Arrangements are expected to secure gas for the region for at least a year to come.
The effects
The formal reason for the suspension of supplies by Gazprom was the decree issued at the end of March by Russian President Vladimir Putin, according to which gas must be paid in roubles. However, this is contrary to the long-term contracts signed, where the currency is either US dollars or euros.
Whatever the specific reason for stopping Russian gas, the result is that Bulgaria will for the first time diversify its supplies and break away from Gazprom's suffocating embrace.
There has not been, and there is not expected to be, any restriction of gas supply to consumers and the industry. Supplies were immediately secured via Greece, and plans are to increase supplies from Azerbaijan thereafter, as well as through LNG imports.
In the medium term, Bulgaria is expected to become part of overall European gas purchases, which will not only ensure security but also provide a competitive price. The EU is said to be negotiating the necessary quantities to replace Russian gas for at least a year ahead so that there is no crisis situation this winter.
Moreover, Bulgaria has rebuked the notion that it is acting as Russia's Trojan horse in the EU at several key moments during the crisis. The government has taken a firm stance that has given it a much stronger voice in Brussels when discussing common measures. Moreover, the authorities in Sofia, with the notable exception of President Rumen Radev, for the first time stood firmly against Moscow's actions.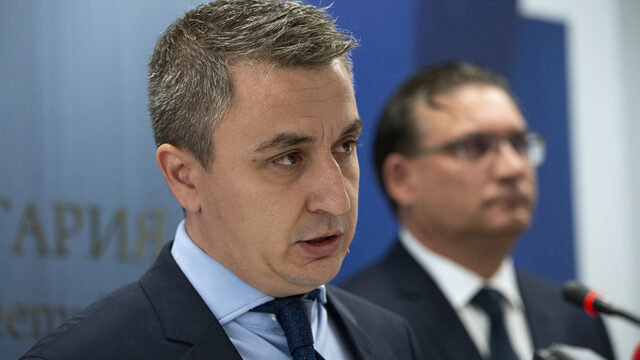 This situation also helps to counter Russian propaganda, as it shows that Moscow is not interested in Bulgaria's well-being and is ready to strike a blow without real justification. It has also become clear that the Turkish Stream gas pipeline through the country, built by the previous GERB government and Boyko Borissov with 3 billion BGN of state money, is practically useless in terms of public benefit or energy security. "Now we are 100% independent," Mr Borissov said in early 2021 after the pipeline was launched. But it is now apparent that Bulgaria cannot use a single molecule of what Gazprom transits to Serbia and Hungary. It is also clear that the project has only served Russia's interests.
A long-postponed separation
The divorce with Russia should actually have happened a long time ago - ever since Russian natural gas supplies were completely halted on 7 January 2009 after a dispute between Moscow and Kyiv. The crisis lasted only five days, but the bitter lesson for the countries affected in the middle of winter was clear - Russia cannot be relied on for energy security. Latvia, Estonia, Lithuania, Romania and Poland have taken measures and their dependence on Russia has now been reduced to a minimum. And today, each of these countries in Eastern Europe can manage without Russian gas.
Bulgaria, however, was left in a radically different situation. Although it, too, suffered from the supply cut-off in 2009, there was never any real action to diversify gas supplies. Back then, 13 years ago, the first GERB government of Boyko Borissov declared the gas link with Greece a top priority, but the pipeline has still not been completed to date. In the meantime, the Turkish Stream pipeline, which serves Russian purposes, has been rapidly built, and Moscow's influence has grown accordingly. Bulgaria is thus even more dependent on Russia today than it was a decade ago. Or at least it was until 27 April 2022.
Q&A

Has Bulgaria stopped its own gas?

"Nobody has turned off the tap. Bulgaria stopped it on its own, pretending to be a hawk," GERB leader and former prime minister Boyko Borissov said while criticizing Kiril Petkov's government for its handling of the provision of alternative supplies.

There is a grain of truth in Borissov's words, but it is more in the fact that the government did not agree to Russian President Vladimir Putin's terms and, for the first time, stood its ground. Seen this way, it can be said that the Bulgarian government has deliberately allowed Russian gas supplies to be halted. This is demonstrated by the country's willingness to react and prevent a supply disruption to end customers. In other words, a scenario in which Russian gas stops has been in the works since February.

And despite much speculation in recent days that other EU member states, including Germany and Austria, have agreed to pay under the new Russian ruble scheme, this has not yet been confirmed. This is primarily because the payments themselves are due next May. But the leaders of the countries in question have also strongly refuted the claims and announced that they will not accept having to pay in roubles for the gas. The European Commission has issued a further clarification, according to which the use of two accounts in Gazprombank - a foreign currency account and one in roubles - is also a violation of the sanctions against Russia.

Was there a competition for alternative supplies?

There is no doubt that state-owned supplier Bulgargaz has held preliminary discussions about providing alternative gas supplies in case Gazprom supplies stop. Otherwise, there is no explanation for the instant reaction on 27 April. The important question here is how the alternative suppliers were chosen and on what terms.

There are two licensed gas exchanges in Bulgaria, but neither of them has a "buy" tender from Bulgargaz. The company itself explained that on 26 April, after receiving the suspension letter from Gazprom Export, a written request was sent to 12 natural gas traders operating in the Bulgarian and regional gas markets "to submit offers that include specific terms for the supply of natural gas quantities until the end of April and for May 2022."

In the end, seven bids from three suppliers were qualified under the "lowest delivery price" criterion. The companies' names were not made public, but at least two of them became known subsequently - MET Energy Bulgaria and the Greek DEPA.

It is debatable whether this was a transparent procedure. But in any case, it is common practice for Bulgargaz - back in 2019, significant quantities of gas other than Russian gas were bought in a similar manner. Such requests for supplies are also coming into Bulgargas itself from various traders in Bulgaria and the region.

Could Bulgargaz have contracted gas imports by itself?

One of the main criticisms of Bulgargaz is that it did not take adequate action to secure supplies in advance in case of a Russian gas shutdown, but relied on intermediaries. In practice, nothing prevented the state-owned company from reserving the relevant capacities at the Revitusa LNG terminal in Greece and at the entry points along the border as early as the beginning of April.

Energy Minister Alexander Nikolov explained that Bulgargas did not book capacity in advance so as not to incur unnecessary costs without having to. The logic was that at the beginning of April there was no clarity whether Gazprom would stop supplies to pay a few million to reserve capacity or even 100 million euro to charter an LNG tanker. If the state-owned company had incurred these costs, they would necessarily have been included in the regulated gas price for Bulgarian consumers, even if Sofia continued receiving Russian gas.

As to why it is risky for the state-owned company to book LNG tanker capacity, but not for the private MET Energy, the answer is relatively clear. If Gazprom had not stopped supplies, Bulgargaz would have had difficulties realizing the additional gas volumes, as it does not have much commercial experience in foreign markets, and it does not have licenses for all countries in the region. This would also have significantly increased the regulated price of gas for the domestic market. While for MET the situation is different - the company trades throughout South East Europe and if Bulgargas does not buy, the gas can be sold as far as Austria or Germany, but most easily in Italy.

The company has actually booked LNG capacity in Greece for every month until the end of this year. While the government has said it will make its own gas delivery bookings from June (especially once the EU regional purchasing center in Sofia is set in motion), such a move would be difficult to execute precisely because MET has taken up the spare capacity at Revitusa. Thus, Bulgargaz is finding it hard to secure access to LNG from there.

Is there a conflict of interest?

Lyudmil Yotsov was appointed director of state gas supplier Bulgargaz at the beginning of February this year. Until then, he was in the management of MET Energy Trading Bulgaria, which is part of the Swiss group MET, which in recent years has been developing both the gas business in the country and renewable energy projects and electricity trading. This is why his decision as director of Bulgargaz to negotiate the alternative supplies precisely with MET raises suspicions of a conflict of interest.

The explanation that only this company could have reacted so quickly with such large volumes would have more weight if it were a stock exchange auction. But, in this case, both the price and the commission Bulgargas will pay are secret. According to GERB MP Delyan Dobrev, the commission will amount to several million euros in just one month. Capital's sources, on the other hand, point out that MET has asked for a commission three times higher than the standard one offered by other traders. But government people claim that the total cost of delivery (including the commission) is within stock exchange quotes.

Sooner or later these figures will become public and it will be known whether there was anything wrong in the selection.

Is Bulgaria buying Russian gas through intermediaries?

Physically, what the country is getting from Greece at the moment is Russian gas, which should be transported through our territory, but is kept here. Significantly, since the beginning of May, there has been an increase in the supply of Russian gas to Greece via Bulgaria, which can be explained precisely by the fact that it remains here to be used. Purely commercially, however, the Greeks get their Russian gas virtually from Bulgaria, they make a mix of different sources, using the cheapest supplies for their domestic consumption, and then they sell the free quantities virtually again. This is done at a price that covers all the costs for the Greek operator and brings it at a profit.

If Bulgargas had booked its own LNG import capacity through Greece back in February, these go-rounds with Russian gas would not be happening now, and we would be importing alternative quantities directly. And there would be no commission to pay to the middlemen.

As for the liquefied gas that Bulgaria will receive from MET after 18 May, it can be said with a high degree of certainty that it is American. It is certainly not Russian. The reasons are several, but the most important of them is that the LNG tanker booked - the Methane Lydon Volney - will load its cargo at the Point Fortin terminal in Trinidad and Tobago, whose main shareholders are Shell and BP. And LNG suppliers include companies such as BP Amoco Trinidad (LNG) BV, British Gas Trinidad LNG Limited, Repsol LNG Port Spain BV, Cabot Trinidad LNG Limited, PetroCanada.

According to the plan, the tanker should be in Greece on May 18 and provide part of the gas supply to Bulgaria for at least two or three weeks.