On the evening of 26 April, Sofia's decade-long policy of failing to diversify its supply of gas finally backfired. Russian state-owned company Gazprom announced that it would suspend gas supplies to Bulgaria the following day, without giving specific reasons.
"The Bulgarian side has fulfilled its obligations and has made all payments required under this contract in a timely manner, strictly and in accordance with its provisions," Bulgargas explained in a statement yesterday. Until noon on April 27, data from the European Network of Transmission System Operators for Gas (ENSTO-G) still showed no interruption in the physical flow of gas at the Strandzha - Malkoclar entry point at the Turkish border, but then Gazprom formally announced it is halting deliveries and returning the last installments paid by Sofia.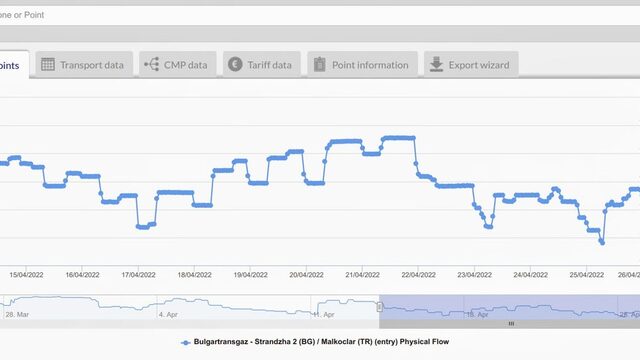 Although the country is almost entirely dependent on Russian gas, if there is a complete disruption of supplies, this will not have a critical impact on Bulgaria, as the heating season is over and the heating companies are the biggest consumers of gas in the country. The other major consumers are glass and chemical factories, which can use alternative fuels such as ammonia or temporarily reduce production. The activity of Lukoil Neftochim, which uses gas in oil refining, may be a problem, but the quantities at the Chiren gas supply depot, as well as imports of Azeri gas, will ensure it will continue working in the short term.
At a special press conference this morning, Energy Minister Alexander Nikolov announced that there would be no gas supply restrictions and that the state had secured an alternative supply for at least a month. "This will give us time together with the European Commission and partner countries to find a more sustainable solution to the situation," he said.
Yesterday, it was announced that Russia was also suspending supplies to Poland, which was reflected in the final hours of trading on the gas exchanges, where prices rose by more than 10%. For the next half day, however, supplies to Poland and Bulgaria continued after a few hours of interruption overnight.
The Russian gas card
Gazprom's announced suspension of supplies is linked to the decree issued by Russian President Vladimir Putin to pay for gas in rubles - a demand that flies in the face of long-term contracts, signed between the Russian company and its clients. Moreover, according to several Capital weekly sources and Minister Nikolov himself, the payment from Bulgargas to Gazprom for April was ordered at the beginning of the month and, after a delay of several weeks, was successfully transferred a few days ago. This means that the Russian action is purely politically motivated - to pressurize the EU into supporting Moscow's military actions in Ukraine.
Russia's decision to cut off gas supplies to Bulgaria destroys the long-held thesis of former Prime Minister Boyko Borissov that, since the Turkish Stream pipeline passes through the country, it has secured its gas supplies indefinitely. "We are now 100% independent," Mr Borissov said in early 2021 after the pipeline's launch. In reality, Bulgaria cannot use a single molecule of what Gazprom transits through this pipe to Serbia and Hungary. But, if there is a political will in the cabinet and the situation becomes dire, Sofia can stop the flow of gas through the pipeline from Turkey to Serbia in response to Russian actions.
This is not the first time that Russia has stopped gas to Bulgaria. On 7 January 2009, supplies were again completely halted following a dispute between Moscow and Kyiv. The crisis lasted only five days, but the bitter lesson for the countries affected in the middle of winter was clear - Russia cannot be relied on for energy security. This is confirmed now. The problem is that throughout this period, the GERB government did nothing to provide an alternative to Russian dependence.
What happens next?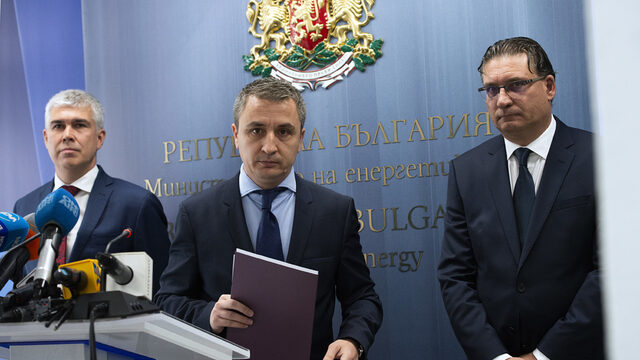 In his statement today, Energy Minister Nikolov was adamant that there is no room for panic. In his words, there will be gas for all consumers and there will be no restrictions, at least in the coming weeks. Long-term solutions will be sought together with the European Commission. "As long as I am a minister, I will not allow Bulgaria to be blackmailed and become a hostage," Mr Nikolov added.
Bulgaria's move will be to boost alternative supplies via Greece (Azeri gas and LNG), and there is also an option to import certain quantities from Romania.
Real off-heating season consumption in Bulgaria has currently dropped by half and could be replaced this way. The problem, however, will be filling the Chiren gas storage, which is currently at a record low 17 percent capacity. This could quickly change with the launch of the gas link with Greece, which is expected to happen in the summer, allowing much larger quantities of alternative gas to enter the country and so secure the winter season.
Russia's gambit
The current Bulgarian contract with Gazprom expires in principle on 31 December 2022, but with the current actions of the Russians, it can effectively be considered terminated. The same applies to the contracts signed between other European countries and Russia.
At first glance, this looks like a heavy blow to the EU inflicted by Mr Putin, but in reality it could be economic suicide for Moscow. Natural gas provides a huge part of Russia's budget revenues, with Europe alone paying nearly 1 billion euro daily until recently. Without these funds, and with the difficulties of planning for Russian oil, and with blocked reserves, Mr Putin could be practically left with no cash to pay for the expensive Ukraine war.