Compromise means "No". This is the best summary of the conclusions from Monday's Consultative Council on National Security regarding Bulgarian - N. Macedonian relations that took place at the behest of President Rumen Radev.
Paradoxically, all sides present at the council - from the President himself, through the coalition parties that form the new cabinet and their opponents from MRF and GERB, forged a rare agreement on Sofia's position in the long-running conflict with Skopje over their shared identity and history.
And that agreement is to not let N. Macedonia start EU negotiations.
Of course, it wasn't put out like that. It was wrapped in beautiful-sounding, strong messages about "equality", "trust" and "common interest". But it basically was a stop to the high-flying new strategy for fast solutions, presented earlier by the prime minister.
It combines parliament's unbending stance in its 2019 Framework Position, which was full of references about Macedonia's language and identity, with a demand for progress at the long-stalled historic committee. It also adds a formal requirement that Skopje cannot use the phrase "Macedonian language" almost anywhere in formal EU documents. Instead, it should describe its language as "the official language of the country," which for Sofia means a dialect of Bulgarian.
In addition, Bulgaria's new position calls for working groups on various topics, including infrastructure, energy and digital connectivity. This was all that was left of the contribution of Prime Minister Kiril Petkov, who is trying to introduce some pragmatism to the negotiations. Unfortunately, it only adds to the already cluttered demands.
One of them is that N. Macedonia includes Bulgarians in its list of minorities within the state Constitution. 120,000 people in the country hold Bulgarian passports and feel marginalized and suppressed, President Rumen Radev says. It is an open question, of course, how many of these people got the passports on the basis of identity, or if they did it just to get faster access to the EU labor market.
In any case, Macedonians don't exactly help to diffuse the tensions - their President Stevo Pendarovski met with OMO Ilinden, a political organization of the Macedonians in Bulgaria that has been refused registration by the Bulgarian courts.
The big question is who will prevail - pragmatic, future-oriented Mr Petkov or Mr Radev, who is trying to combine a nationalist and a human rights-oriented position, and is set on retaining control over Bulgaria's Foreign Policy decision making. For now, it seems the President has the upper hand.
Skopje shouldn't expect Bulgaria to give the green light to its EU bid any time soon.
This week's newsletter was co-produced with:
Ognyan Georgiev & Anina Santova
1. Politics this week:
Quarantined leaders
There was another fallout from the Security Council in the Presidency on Monday - all 28 participating statesmen got exposed to Covid-19 and had to self-isolate for some time. This began when the head of Parliament, Nikola Minchev, felt unwell and tested positive just a few hours after Monday's talks. "Luckily" for everybody involved, the health authorities' new recommendations for a shorter, 7-day-long quarantine to replace the 10-day quarantine for contact persons, came into force just as Mr Minchev announced he had Covid.
Leading a rebellion over Zoom
But this story has a further twist: the quarantine befell radical anti-vaxx Vazrazhdane ("Revival") party leader Kostadin Kostadinov (who also attended the Security Council) just as his followers were planning to storm Parliament in defiance of the Covid Green Certificates. Apparently his rebelliousness extended as far as the restrictions imposed by the Sofia health authorities, because he chose not to go to the protest and only joined through an online call to support it.
The vaccinated anti vaxxers lead the protest against vaccines
This brings us to the next layer of absurdity - about 1,500 Vazrazhdane supporters joined the protest against the Green Certificates on Wednesday and even clashed with police, while being led by vaccinated MPs from the party (who are actually allowed in parliament by default, so they didn't necessarily have to storm it to enter).
This was exposed in a bTV investigation from Sunday that showed how one third of the Vazrazhdane MPs had taken the jab. Mind you, that is more than the average for the Bulgarian population as a whole. To cap it, one of the vaccinated MPs turned out to be party secretary Nickolay Drenchev who had previously said on record that he'd only get immunized "at gunpoint", calling the Covid jabs "experimental liquids".
Luckily, the protest waned quickly after a failed single push by the crowd to enter Parliament, and besides creating some cringy memes about 5G-controlled vaccinated people, did not end in violence. 2. Economy
Building bridges or closing tunnels
The new minister of regional development Grozdan Karadzhov stirred quite some controversy last week, stating there would be no new tunnel under the Balkan mountain. The reason, he explained, is that the current project, set to start whenever funds were available, was only a two-lane road.
Truth be told, it would be nice to have more lanes, yet it seems a bit like Maslow's pyramid of basic necessities. First - a tunnel at all. Then - a larger tunnel. Also, the road leading up to the tunnel is a two-lane one.
Currently, Bulgaria has ZERO tunnels underneath its biggest mountain range, which divides the country in two. This, coupled with a general lack of good infrastructure in the North, means fewer investments, reduced mobility and lower quality of life. Which in turn, means fewer people, as the census showed.
Karadzhov promised 3 tunnels, yet none of them seems advanced enough to be built in under 5 years.
Competition watchdog bans telecoms from raising prices
The Commission for the Protection of Competition (CPC) banned A1 and Telenor - two of the telecoms that announced unilaterally a price hike of their services by the same amount as the accumulated inflation for 2020 and 2021 - from doing so. Telenor already announced it would abandon its plans on Thursday.
A good year for exports
Statistics show double-digit growth in November last year. This means 62 bln levs in experts for the 11 months of 2021, which is 23.3% higher than 2020 and 14.3% higher than 2019.
Figures:
Will be the minimum wage from 1 of April, when the new budget is expected to be approved.
GDP growth for 2022 and 3.6% for 2023 is what the World Bank forecasts for Bulgaria.
3. BusinessSolar
Yambolen
The company, part of Chimimport investment and fertilizer, plans to build a 10 MGw plant, which means they also plan to sell electricity - either on the energy exchange, or to other nearby plants in Yambol.
E-mobility
Spark
The Lithuanian company, operating also in Bulgaria and Romania, has signed an agreement with Luxembourg-based GEM Global Yield. GEM will mobilize 30 million euros to acquire stocks when Spark Technologies goes public.
4. Energy
Business gets 250 levs per Mwh
This will be the subsidy all business users will receive in February. This is determined by a 75% difference between the exchange price and the basic regulated price.
5. Brussels
New year, new luck. Starting with a taste from Paris with the new French Presidency of the Council. You can read more on the priorities here.
The Commission and the EU Intellectual Property Office (EUIPO) launched the new 47 million euro EU SME Fund, which offers vouchers for EU-based SMEs to help them protect their intellectual property (IP) rights.
Also along with OECD International Network on Financial Education (OECD-INFE), the Commission has published a financial competence framework for adults.
6. Watch out for:
People:
Sotir Tsatsarov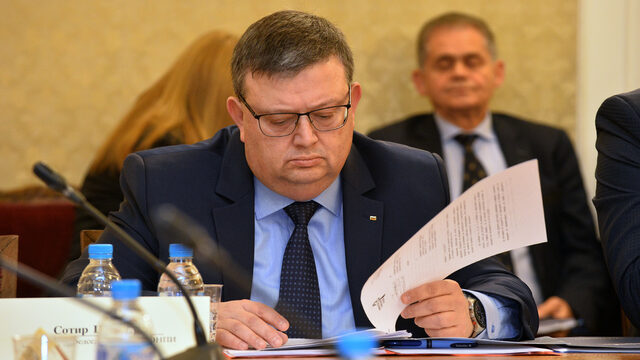 The ex-prosecutor general and current head of the Anti-corruption commission resigned, a week after starting a flurry of corruption investigations in several municipalities. Tsatsarov's replacement in the judiciary was a key demand of the current government as part of its anti-corruption drive.
Atanas Chobanov and Boris Bonev
The investigative journalist and the independent Sofia councilor both received death threats, allegedly from foreign security services, earlier this week.
Date:
22 January - when BSP will meet at a congress to discuss the resignation of party leader Kornelia Ninova Company:
Chaos group
The pioneering Bulgarian 3D rendering company has merged with a leading developer of real-time rendering for Architecture, Engineering and Construction - Enscape. The merger promises to create a true global giant in 3D visualization. Chaos, which is founded by Vladimir Koylazov and Peter Mitev, has already won an Emmy and an Oscar for its work on movies.
Words of the week:
Ни лук яли, ни лук мирисали - Neither smelled, neither tasted an onion
An old Bulgarian proverb, concerning those who pretend not to know or be involved in something that can put them in trouble. Which is exactly what the Turkish minority party MRF seems to be doing these days, by proposing a series of law amendments.
They proposed to ban the "Golden passports" scheme and then in-house procurement. Which is hypocrisy, brought to a new level. Suffice to say, MRF
were the ones pushing
for an extension and enlargement of the golden passports, and their very own Mr. Delyan Peevski even got sanctioned by the US partly because of deals with citizenship. As for in-house procurement, MRF seemed to be on board with it in the previous parliament, when GERB was throwing billions under the table.