Motoretta's speeding up
Desislava Nikolova got the inspiration for her Motoretta electric scooters while living in China. "I was in the real estate business and being punctual for my many appointments there was a real challenge. That changed when I bought a scooter."
Ten years later and back in Ruse, her native city, she saw potential in the idea and launched her own brand of scooters. Investing all her savings in the business was not an easy decision but she never regretted it.
Motoretta combines existing retro designs and a proprietary mechanical part developed by Ms Nikolova and her team of two engineers. The scooters are assembled in China and Hungary but Nikolova hopes that at least part of the work will be done in Bulgaria one day. "As a typical startup, we cannot allow ourselves to have our own production facility. We outsource everything we can: marketing, IT, accounting, etc.," she says.
The scooters were certified for sale in Bulgaria in late 2016. This is currently Motoretta's major market, with only single vehicles having been sold abroad. You can see them in Barcelona, for example. "We get inquires from Mexico to Australia but we can only sell them in the EU," Nikolova explains.
Standard scooters cost between 3,000 and 3,500 levs (€1,500 to 1,750) but there are also versions for 6,000 levs (€3,000). They can run 60 to 120 km on one charge and their maximum speed is 45 km/h.
The company will now focus its efforts on developing accompanying products as part of its own merchandise line. It plans accessories like clothes, baskets and helmets to complete the Motoretta brand.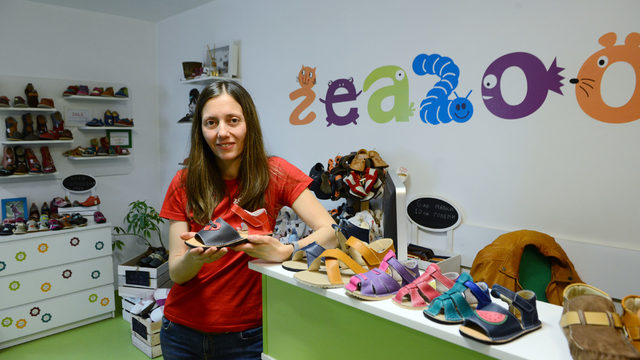 Zeazoo's steady steps
Zeazoo was born eight years ago while Gergana Zlogoshka-Ivanova was thinking how to find comfortable shoes for her three kids. Barefoot shoes were a new concept then, with no mass production in the world and no offering at all in Bulgaria. Luckily, Ivanova's father Yordan Zlogoshki used to be a chief designer in a shoe factory in the city of Blagoevgrad during communism and the two decided to turn shoemaking into a business.
Production started in rented premises in Blagoevgrad with a second-hand sewing machine. The first products - textile slippers and boots - appeared shortly after and the next year Zeazoo launched its Leo leather moccasins, which still remain one of the company's most popular models.
The first sales were made online and a couple of years later the company opened a showroom in Sofia, where customers can see and try all models and varieties of shoes: different combinations of soles, linings and colours etc.
Zeazoo exports most of its shoes: only about 30% sell in Bulgaria. The first foreign market was the Netherlands, followed by the Czech Republic and Germany. The company is now looking north to Belgium, Denmark, Sweden and Finland, where barefoot shoes are becoming increasingly popular. "In the south, people seem to be less concerned about their health," says Ivanova.
Children's shoes still dominate the list but for several years now Zeazoo has been offering various women's shoes too and, since recently, men's shoes. Sales have been growing steadily together with shoe numbers: in 2018 revenue increased by 20% to 492,000 levs (€252,000).
L for Lale. Lager
Pavel Galchev and Deyan Cholakov started making their own beer for fun two-and-a-half years ago. Today, Lale has turned into one of the popular independent lager beers in Bulgaria. Sales prove it.
"We started from the idea that there was no beer to our taste on the market. So we decided to make classical lager without additives and suddenly many people liked it," Galchev says. They named the brand Vitoshko Lale (as globeflower is popularly called in Bulgaria) with a hint to their favourite mountain Vitosha.
Although craft beer has gained popularity in recent years, it was not an option for the two neighbourhood friends. "We thought it was a small market that had already reached a certain level of saturation, so we chose to make lager," Cholakov recalls. They found a partner in the person of Lomsko Pivo brewery, where they make their beer.
Raw materials are the costliest part of the beer, followed by labour and bottle expenses. "The cost does not include a single cent for marketing in it. We have no money for advertising; we rely on word of mouth and on various festivals and events to popularize our product," Cholakov points out.
Currently, the company sells about 15,000 bottles a month. Its revenue increased by more than 70% in 2018, reaching 662,000 levs (€338,000). The two are proud that their business has broken even in just two years. Lale today does not only sell lager. In the past two years, Cholakov and Galchev have launched other kinds of beer too: Indian Pale Ale (IPA), dark beer and their latest, weiss beer.