Modern Bulgarian political life has often produced non-ideological hybrid political projects, often led by leaders deemed charismatic by their followers. Most of them have either blended with the mainstream - like Kiril Petkov and Assen Vassilev's WCC, for example - or have fallen apart, like Slavi Trifonov's TISP, whose meltdown we're currently observing.
But every so often a party appears that is, at least for some time, completely at odds with the rest. The first such faction was Volen Siderov's Ataka. In the mid-2000s, when all the mainstream actors, including even the generally pro-Russian Socialists, started to look Westwards, Ataka and Mr Siderov attracted a large spectrum of disenchanted voters.
Russophiles who felt betrayed by BSP's Western turn, marginalized rural voters who antagonized the Roma and Turkish minorities, and "fruitcakes" who believed in a "Jewish conspiracy", revered him. In their heyday, Ataka won 10 percent of the vote and had 21 MPs in Parliament, while Mr Siderov reached the second round of the 2006 Presidential Elections.
Now, there is a new contender for Mr Siderov's throne of the leader of all disenchanted. This is Kostadin Kostadinov and his party Vazrazhdane, which translates like "Renaissance" or "Revival" in English. While the name sounds similar to French President Emmanuel Macron's movement, it would be more valid to compare Mr Kostadinov to Mr Macron's long-time antagonist, Marine Le Pen - except that he's on steroids.
In the past two years, Mr Kostadinov and his party have risen to prominence by taking the extreme (and usually antithetical to mainstream parties) side in each public debate. Covid lockdowns? Vazrazhdane called this "medical fascism". Vaccines and Green Certificates were deemed "experimental liquids" and "anti-constitutional," respectively. With this rhetoric, the movement and its leader shoulder much of the blame for deterring many Bulgarians from being jabbed.
Russia's invasion of Ukraine led to all other factions condemning the aggression. But Vazrazhdane filled the vacuum on the other side, kicking off their campaign "for peace and neutrality" with an obvious pro-Russian flavor. Their next target is the Euro, NATO membership - and - why not? - exiting the EU entirely? To trace back Vazrazhdane's rise, we need to go back to 2011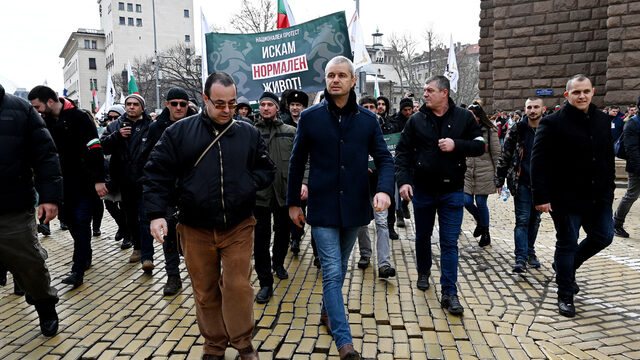 Kostadin Kostadinov's many nationalist faces
Like many other Bulgarian politicians, Mr Kostadinov's political allegiances fluctuated throughout the years - although he was always on the nationalist spectrum. A holder of a doctoral degree in History from the Bulgarian Academy of Sciences, Mr Kostadinov's career has mostly been linked to politics, if we exclude his stint as head of the Dobrich Regional History Museum between 2013 and 2017 - which he gladly advertises on his CV.
He also - perhaps conveniently - omits that, until 2011, he was the deputy president of another nationalist faction, VMRO. He became a municipal councilor in the seaside city of Varna on VMRO's ticket in 2011, but only a year later, after an unsuccessful attempt to replace its leader Krassimir Karakachanov and an intensification of his rivalry with Mr Karakachanov's lieutenant and MEP Angel Dzhambazki, Mr Kostadinov left the party.
Then his life as a political nomad took him to another nationalist faction - Valeri Simeonov's NFSB, whose Varna outlet he briefly coordinated. Things quickly fell apart with that nationalist leader, too, which led Mr Kostadinov to launch his own Vazrazhdane party in 2014. The faction quickly joined hands with Mr Siderov's Ataka to nominate Mr Kostadinov for the mayoral seat in the 2015 local elections in Varna. Mr Kostadinov even anchored a historic show on Mr Siderov's Alfa TV, Ataka's mouthpiece.
What Kostadinov fights for
In this period, Mr Kostadinov gladly borrowed from his political mentor Siderov, establishing a mish-mash ideology. This included conspiracy theories of long-running anti-Bulgarian plots by foreign elites, nostalgia for the death penalty and the political repressions of the 1940s and 1950s, anti-liberal and especially anti-LGBT caveats and, of course, the revanchist dreams of a "Bulgaria on three seas".
Mr Kostadinov did not hide his extremist views - he has, on paper, always blamed Bulgaria's problems on the corrupt elite that has captured the state. And he has - again, on paper - advocated violent solutions.
After the attempted putsch in Turkey in the summer of 2016, Mr Kostadinov wrote the following on his blog, "Where are you sleeping, Bulgarian warriors? Why don't you come out and at least try to do what your Turkish colleagues attempted, albeit desperately and suicidally? My God, if I had weapons and prepared men, I would personally go ahead and act."
In subsequent years, he got even more concrete about who he sees as the enemy of the Bulgarian state: ""The ugly mutant, born of the absurd symbiosis between cultural Marxism and liberal fascism, obviously does not have much time left," he wrote in a letter to Alexander (Sandy) Alexandrov, editor of Deutsche Welle - Bulgaria, then threatening him personally: "So the moment will soon come when [the mutant's] servants and conduits in our country will have to pay for their deeds. Sandy, you will be one of the first on the list, don't you know?" In January 2017, after the first speech of the newly inaugurated Rumen Radev to the deputies in the 44th National Assembly, Kostadin Kostadinov wrote in his Facebook profile, "I dare say that a huge part of the Bulgarian people now dreams that the next sentence Radev says is:"in the name of the people you are condemned to death!"
While the trope of the agents of financier and philanthropist George Soros (the so-called "Sorosoids") being paid to undermine the foundations of Bulgarian society is far from new, it was not until Vazrazhdane entered parliament that a political actor directly threatened them with sending them to work camps, prison etc.
Do as I say, don't watch what I do
Underneath the anti-systemic mantle of Vazrazhdane, however, the picture is much more normal. For a Bulgarian nationalist party, that is. Once the party won its first subsidy of 417,000 BGN per year in the 2017 General Elections, its leaders immediately promised to return it. Then they claimed the authorities are not allowing the party to relinquish its rights to the subsidy - which was later debunked by the National Audit Office. Vazrazhdane strongmen went on to promise to do with it various things, including donating it for In Vitro procedures or to a historical foundation, but it is untraceable if they really did so.
Two years later, the Varna District Prosecutor's Office launched an investigation against Mr Kostadinov for "embezzling particularly large amounts." According to the announcement the investigation aimed to establish whether he embezzled a state subsidy of 1 million BGN intended for the functioning of the party". This happened after an investigation by Nova TV alleged that Mr Kostadinov bought a luxury house in the Varna village of Konstantinovo, and his wife - an apartment. In the same period of time the family had acquired a new car for about 40,000 BGN. In 2021, the Prosecution dropped all charges against the Vazrazhdane leader, but never published an official statement as to why it did so.
Also, Vazrazhdane and Kostadin Kostadinov have often actively sought collaboration with the mighty of the day, despite publicly attacking them - first, in the Varna city council where Mr Kostadinov was aligned with his supposed opponents from GERB, then in the 2019 mayoral race, where he almost got nominated to run for mayor by the local BSP structure (blocked after an outcry by the Socialist HQ in Sofia) and now in Parliament, where Vazrazhdane has been actively working with MRF and GERB on various topics, including the elimination of machine voting, for example.
Emboldened from entering parliament, radicalized by the Ukraine war
In November 2021, Vazrazhdane barely passed the 4 percent barrier and entered parliament for the first time, winning 4.8 percent of the vote. For the next few months, the other political parties rather ignored the 13 MPs, who mostly spoke against the Covid-19 Green Certificates and organized "national protests" of a few hundred people against.
Then the war in Ukraine started and the party declared civil disobedience and vowed to "wage war" on the government. It organized several protests, blockaded the Arsenal - Kazanlak arms factory, and some of its supporters even physically confronted pro-Ukraine protesters who wanted to cover the Soviet Army Monument in Sofia with the Ukrainian flag. Then, members of the party pulled down the flag of Ukraine from the building of the Capital City Hall.
The party quickly capitalized from being the only important faction backing the Russian side in the conflict - something many Bulgarians (over a quarter of respondents, according to a recent Globsec survey) do. This likely affected Vazrazhdane's sudden rise in polls - three separate agencies gave it somewhere between 8 and 10 percent declared support in their May surveys.
One big problem
Like many fringe protests parties from the past, Vazrazhdane has had one defining strength - that it has successfully capitalized on popular dissatisfaction of the socially marginalized with every mainstream policy or stance of those in power, be it GERB or the WCC-led coalition. However, its biggest weakness is the other side of the same coin - its lack of any viable program for governing.
Recently, political analyst Dimitar Avramov told Radio Free Europe - Bulgaria that the political positions of Vazrazhdane are so radical that they could hardly develop in any direction that could be deemed acceptable to most voters. "The tactical and strategic positions assumed by Vazrazhdane are so irrational, foolish and contrary to the national interest that they are not subject to any development," he said, adding that politicians and the media pay too much attention to the party, which "by definition represents a political minority".
He claims that its increased support in polls does not change the place of the party, "which is doomed to loneliness" and only a serious breakdown in the political system can make it something more than an "eternal opposition". "Such parties never set a public agenda, never lead, never do anything useful for their societies," Mr Avramov said.
Yet, with the recent meltdown in the ruling coalition - and within one of its members, TISP, specifically, the possibility of a "serious breakdown" of the political system does not seem as far-fetched as it once did. Thus, the dangers of an extremist, radically pro-Russian Vazrazhdane threatening labor camps and even annihilation of its opponents, ought not to be ignored.
Vazrazhdane's top 5 priorities:
After Slavi Trifonov announced the withdrawal of TISP from the ruling coalition, the leader of Vazrazhdane set five conditions to negotiate his party's support for the government. While they all run sharply counter to Bulgaria's geopolitical choices of the past three decades, they summarize well the key priorities of the party. These are:
Withdrawal of the plan for the introduction of the euro;
Termination of all contracts allowing foreign military bases on Bulgarian soil;
The creation of a broad negotiating team of all political forces to renegotiate with Brussels the terms of Bulgaria's EU membership;
Scheduling a referendum on Sofia's NATO membership;
Immediately lifting Bulgarian sanctions against Russia.