"Blow the trumpet on the fact that I've made the Financial Supervision Commission check Eurohold, to smash the face of this one for not paying respect to me."
It's a strange sounding sentence, isn't it?
What makes it even stranger, is that Eurohold is a major company in Bulgaria and the voice behind these charming endearments was uncannily similar to that of former Bulgarian PM Boyko Borissov.
The FSC did indeed probe it 2 years ago and the secret tape containing these words was leaked to the public last year. Borissov denies he said them. He denies a lot of things these days, but the fact is, FSC and another regulator - Competition Committee did everything possible at that time to stop Eurohold's bid for CEZ Bulgaria - the biggest energy distributor in the country.
"This one" in question - the chairman of Eurohold Asen Hristov (pictured above), can raise a glass this week to celebrate the deal finally going through. His face, in the end, wasn't smashed in either.
The ex-owners from CEZ can also raise a toast, for they have been trying to sell and leave for the past 4 years now. They get 335 million euro for their assets here - not a bad deal considering that energy distribution is a notoriously tricky business. You have to deal with all the end customers and you take on a lot of negative press while also being in the crosshairs of the political class.
Whether we can also raise our glasses is a hard question. On one hand, this is another foreign investor leaving, to be replaced by a Bulgarian company - a trend in Borissov's last years. 2 out of the 3 energy distributors are now Bulgarian.
On the other hand, the completion of the deal means the business field is finally more predictable than it has been in years. If no one can use the regulators to "smash" someone's face, the investments will only go up. Yet it would be wise to wait on the toasts for that.
this week's newsletter was created with the help of
Martin Dimitrov and Lilia Ignatova
POLITICS THIS WEEK
A PM-designate appears
There is obviously someone who will pick the mandate for the new biggest party - There is such a people - when the President hands it in today. This means we are heading for TISP's first attempt at a government, after their botched effort several weeks ago.
There is no such show
And there might not be an elected government soon, either. In episode 2 of our new reality show "Bulgaria's got politicians", negotiations between TISP and the other parties (excluding GERB) seemed to be going swimmingly... until Wednesday. A demand from Democratic Bulgaria's Hristo Ivanov caused a wave that might eventually sink the "new government" ship before it even set sail. Again, that is.
Mr Ivanov - reasonably - asked TISP to finally spill the beans about the names of their future PM and his cabinet, make some firm reform commitments and called for the party of showman Slavi Trifonov to consider retaining successful caretaker ministers such as Kiril Petkov (Economy) and Assen Vassilev (Finance).
Unfortunately, this was - to say the least - not well received by TISP, which appears determined to continue dictating rules to its potential partners. Instead of commitments and answers, Mr Ivanov was attacked by scriptwriter-turned-politician Todor Yordanov, who dragged caretaker Minister Assen Vassilev into the onslaught, accusing him of untrustworthiness because, quote, he "infringed intellectual rights" with a private company of his.
"Politics is a dirty business if it is played by dirty people," Mr Yordanov told Mr Ivanov from the parliamentary tribune. Later on, his leader Slavi Trifonov repeated the claim on his FB page, which questions whether he is writing his own stuff this time, or his scriptwriters are taking care of that too.
I remember what you did last week
It would all be fine and fair for TISP, if they had not underlined on several occasions in the past few weeks their satisfaction with Mr Vassilev and Mr Petkov's work in the interim cabinet, and if they had not invited them into the first cabinet the party proposed just after the 11 July vote.
Apparently it took them 16 days and whatnot for them to type Mr Vassilev's name in Google and read the already well-known and settled story about the dispute of the startup he was part of, Everbread, back in 2011.
Btw, Delta is coming and we are not ready
And while the MPs wrangle, a real crisis is brewing in the health sector. With just 1 million people fully vaccinated and another million having received only their first shot, Bulgaria remains a laggard in Covid-19 immunisation. This happens against the backdrop of a steady increase in the number of new recorded infections in the last couple of weeks, mostly cases of the new Delta variant of the virus. This is likely to produce a new episode of the healthcare sector crisis that hit Bulgaria twice in the autumn of 2020 and the spring of this year.
Caretaker Minister Stoycho Katsarov warned about the looming disaster but reassured Parliament that if the next Health Minister follows the protocol the caretaker government established, disaster might be averted.
Yes minister?
Finally, on a positive note, a month after the expert council to the Ministry of Environment recommended that the NATURA 2000 protected zones be expanded into some of the few remaining pristine beaches of Bulgaria - Galata, Ropotamo and Irakli - the institution approved the move. This spurred some strange reactions, however. "The entire Council of Ministers, including myself, apparently, have huge balls. That's why we finished this" Environmental Minister Assen Lilchev said.
Wouldn't want to look into your pants, Minister!
ECONOMY
In a rare move, employers' and unions' organizations agree on something, and it's the budget revision
Employers' and employees' organizations achieved a rare agreement on something - the proposed revision of this year's budget by the caretaker government. The social partners approved an average pension increase of 12.5% starting on October 1, and an increase in government expenditure meant to support businesses and the healthcare sector in case of a new Covid-19 wave in the fall and winter.
It should be noted that this might all be in vain if the new cabinet doesn't like the proposed revision as they're the ones that would actually be able to vote on and implement it.
Online trade reverts to normal
E-commerce is retreating from the peak levels seen during the pandemic. One third of people started shopping more online during lockdowns but less than half of those continued to adhere to it after lockdowns were lifted. The conclusion comes from an online survey conducted by Nielsen Admosphere Bulgaria among 518 respondents. Among those 15% who started shopping online more often during lockdowns and then continued to do so, were women, people over the age of 35 (mostly between 45 and 54), with higher education, from Sofia and other big cities.
Fitch affirmed Bulgaria's BBB ratings
Fitch Ratings affirmed Bulgaria's long-term foreign and local currency rating at BBB with a positive outlook. According to the credit rating agency, the development of the pandemic and political uncertainty are short-term downside risks. However, they are offset by prospects of substantial funding from the EU and a commitment to macro and fiscal stability. Fitch expects Bulgaria's economic growth to accelerate to 4.7% in 2021, compared to the estimate for 3% from February.
BUSINESS
Transport
PIMK
PIMK launched an intermodal train line from the port of Burgas to Plovdiv. The train has a one-year contract with the MAERSK container line operator. The capacity of the train is 34 containers, and it was reported that its launch follows three years of hard work.
Grass industry
Trakia Glass Bulgaria
Trakia Glass Bulgaria will invest 27.4 million levs in a plant for final processing of manufactured products. The investment will create 10 new jobs. The company is part of the Turkish group Sisecam, which has three plants in the country - Trakia Glas for flat glass, Pashabahce Bulgaria for household glass and Sisecam Automotive Bulgaria for the automotive industry.
Manufacturing
Gotmar
Gotmar will launch two new projects in the town of Saedinenie. The first is to build production facilities and warehouses, and the second is for the construction of a photovoltaic installation for private use. The manufacturer of preforms, caps and plastic packaging will invest 16.8 million levs, which will create about 200 new jobs. Currently, the Bulgarian-owned company employs nearly 1,250 people.
Automotive
Teklas
Automotive subcontractor Teklas will expand production capacities in Vratsa, increasing the area of its new plant there by another 70,000 sq.m. The project also includes the construction of a robotic warehouse for finished products. The total investment is worth 10 million levs. With the implementation of the new project, another 30 jobs will be created there.
Solar
Solvеy
Bulgarian Solarpro and France's photovoltaic investment company GreenYellow have announced a strategic partnership for joint large-scale solar installations for their own use in Eastern Europe. The first joint project will be a 4 MW photovoltaic electric plant for the purposes of Solvey's local division - Solvey-Sodi. The plant is expected to produce 5300 MWh of green energy per year.
ENERGY
Bulgartransgaz asked Gazprom to pay 683 million levs upfront so it can pay for the Russian pipeline
The company has offered to make a discount to Gazprom for the fees due for gas transmission through Bulgaria if the Russian company pays the amount ahead of schedule for the next two years. With the money, Bulgartransgaz will pay in advance part of its debts to banks and to the firm in charge of the construction of Turkish Stream - the Saudi consortium Arkad, which is linked to Gazprom, which will save them interest payments.
WATCH OUT FOR
People
Asen Hristov
As chairman of the board of Eurohold he is now heading the biggest energy distributor in the country.
Lubo Georgiev
The young architect behind "A Vision for Sofia" used to be the face of change in Sofia municipality but has resigned and blamed the mayor Fandakova for not making enough effort to implement any of the projects she bestowed upon him and his team.
Locations
Struma Highway - the inexplicable ads for a road keep on popping up in newspapers, helping to remind us that European funding can sometimes be laughably useless.
Wtf of the week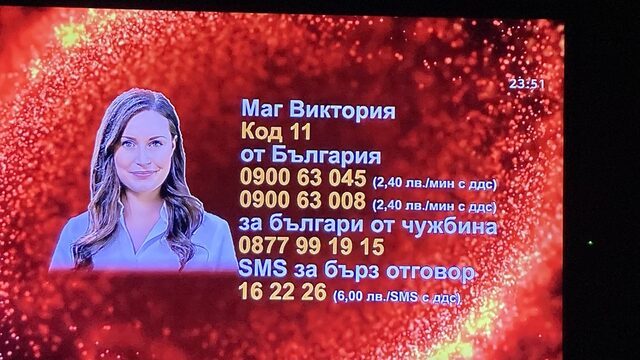 Finland - a picture of the prime minister of the country Sanna Marin also inexplicably found its way to a cable TV ad in Bulgaria, advertising a psychic.
Central Hali
Civil activists did not exactly welcome the idea of German supermarket chain Kaufland taking over the historic building of Central Hali store in Sofia. This is now a popular collage after the news of the potential takeover became public.
Word of the week
Taralej - Hedgehog. This cute little animal entered the spotlight last week, when ex PM Borissov suddenly threatened the caretaker Minister of Interior with it. "This drunkard will tickle me, he would fight himself. You will crush a hedgehog with a bare ass - I can tell you that, you poor thing," Borissov turned to Rashkov in his typical, rather inexplicable style. The reason? Rashkov, who used to be an investigator in the 90s, said in parliament he should have "taken care of GERB's leader back then", alluding to Borissov's murky past.