Over the past two years, Bulgaria has invested much political capital into improving ties with North Macedonia and supporting the country's bid for EU membership. And yet much of the goodwill already created was thrown overboard in October due to a smouldering political dispute and domestic political calculations.
On October 19, only two days after France poured a cold shower over North Macedonia, vetoing the expected start of membership negotiations with the EU, the Bulgarian parliament adopted a declaration akin to an ultimatum: Skopje should stop looking for a Macedonian minority in Bulgaria but should fully respect the rights of the Bulgarian one on its own territory; it should "correctly use historical sources for scientific interpretation of historical events", i.e. Skopje should abandon its claim to a thousands of years of history. The declaration was tailored to be irreconcilable for the Macedonian government if it desired to keep its mandate in the eyes of the public.
Bulgarian president Rumen Radev also intervened in mid-September, calling for a rapid resolution of all historical disputes by the middle of October in order for Bulgaria to keep its unequivocal support for North Macedonia in Brussels.
Bulgaria's southwestern neighbor has always been a political punch bag for nationalist parties in Bulgaria and they never miss an opportunity to put the gloves on and hit. Especially now, when they are part of a government coalition which is hostage to their whims. Their goal has always been to force the former Yugoslav republic into admitting that its history traces its origins back to the end of the Second World War, implying that the Bulgarian ethnic group is living divided in two countries. Skopje, of course, is not keen on throwing its accepted identity under the bus.
It is probably not surprising that recent polls in North Macedonia revealed that Macedonians regard Bulgaria as their biggest enemy, far ahead of Greece, or Serbia.
North Macedonia's one-in-a-million chance
The country has been waiting in line for EU membership since December 2005, when it was granted candidate status. Skopje has been unable to make any progress until 2018, however, due to its dispute with Athens which considers the name "Macedonia" part of Greece's historical heritage.
With current Prime Minister Zoran Zaev, who came to power in May 2017, taking up a pro-Western reformer's approach, Skopje moved rapidly forward.
In June 2018, Skopje settled its longstanding dispute with Athens, accepting North Macedonia as the new official name of the country in return for Greece's support in Brussels.
Prior to that, in August 2017, Skopje and Sofia signed a treaty of friendship and good neighborly relations. The document was supposed to resolve the longstanding historical disagreements between the two countries by establishing a joint commission of historians that would iron out particular differences and agree on common ground.
Both developments opened the possibility for the EU leaders to decide to launch accession talks with North Macedonia and Albania at their meeting in Brussels on October 17.
Despite Bulgaria championing EU accession for both countries, the fallout from decades-old historical disagreements reached a point whereby Bulgaria's Defense Minister Krassimir Karakachanov threatened that the nationalist VMRO party he is leading would quit the government coalition if Bulgaria supported a decision in Brussels to start membership negotiations with Skopje.
Ultimately, Sofia didn't block North Macedonia's bid to start negotiations with the EU, maybe because French President Emmanuel Macron was eager to do it himself. Under pressure from ultra-right opponents at home, Mr Macron stopped Skopje from starting accession talks with the EU, citing a poorly designed enlargement process. Bulgaria joined, after considerable delay, Slovenia, Austria, Italy, the Czech Republic, Poland and Slovakia in sending a letter to the European Commission President Jean-Claude Juncker calling for negotiations with North Macedonia to be opened in March 2020. This seemed to reveal a lot about Sofia's attitude.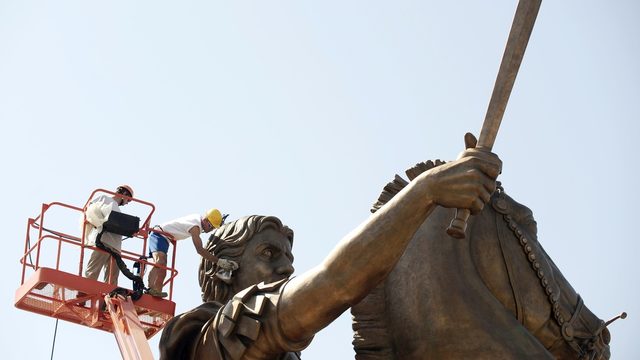 Bulgaria,s beef
For Bulgaria, North Macedonia's EU accession is a no-brainer as far as foreign policy and economic goals go. Open borders would lead to the natural creation of more cultural bonds (something even nationalists in Bulgaria would admit) as well as obvious economic benefits - increased trade and more opportunities for Bulgarian companies to operate in the neighbouring country.
At the same time, North Macedonia is also an arena for competition between Russia and the West. As long as the country remains outside NATO and the EU, it is easy prey to Russian propaganda, which encourages Skopje to gravitate closer to Serbia, a staunch Russian ally. Even if the region cannot be pulled fully into Russia's sphere, it is advantageous to Vladimir Putin if the Western Balkans remain an unaligned unstable source of potential conflict in the EU's backyard. Bulgaria has zero interest in that happening.
Historic headache
Whereas Greece had a very distinct issue with Macedonia - the name, Bulgaria has a slew of grievances over what the more nationalist parts of Bulgarian society refer to as 'theft of history'. Much of the concept of North Macedonia as a sovereign entity was created during the Cold War, with Yugoslav propaganda appropriating and warping the history and language of the region to create a new narrative. That warping of history helped in the creation of a very real Macedonian national identity which many in Bulgaria don't want to accept.
In the late nineteenth century, most of the territories of today's North Macedonia were inhabited predominantly by ethnic Bulgarians. Ever since the restoration of Bulgarian statehood in 1878, Bulgarians have viewed those territories as their country's rightful domain and attempted to win them back. The Macedonian language, while distinctive now, began as a local Bulgarian dialect that was further Serbianized by Yugoslav linguists after the Second World War to fit the political project. From the 1960s onwards, the Bulgarian authorities have argued that much of Macedonia's history is just appropriated Bulgarian history, hence calling it uniquely Macedonian is a "theft of history".
The two neighbours found a remedy by setting up a joint commission of historians to settle disagreements about the past and reach a common ground. The problem is that Bulgaria and North Macedonia viewed the joint commission through different lenses - Bulgarians as a tool of pressure on Skopje, Macedonians as a means of stalling the discussion, while still receiving full support from Sofia in Brussels. "We've reached some agreements and recommendations to both governments that were unthinkable a few years ago," says Naum Kaichev, the vice-chair of the Bulgarian side of the commission.
Nonetheless, for over a year of work, historians have too little to show. Kaichev claims that his Macedonian colleagues are purposefully stubborn at times and have stalled entire meetings by using procedural twists or spending hours arguing over a single adjective, even though it had already been defined by North Macedonia's own constitution. "They accuse us of staking a claim to North Macedonia's territories," complains Kaichev.
Another Bulgarian historian, Stefan Dechev, who is not on the joint commission, has a different version. He believes that North Macedonia has staffed its side of the consultative body with younger and more modern-minded academics, who have turned the conversation about history into a discussion of how nations form, whereas the Bulgarian side is hell-bent on ironing out the detail in every historical fact as it exists within historical sources. According to him, in its current form the joint commission never really had a chance to achieve much more than it has. "This all stems from the mistrust seated since Bulgaria recognized Macedonia as a state, but did not specifically recognize its language or nation. This causes the Macedonian members of the commission to be always watchful and to slow down the conversation as much as possible," says Dechev.
Raising the stakes
The lack of progress has created a feeling that North Macedonia is taking Bulgarian support for granted without actually following the friendship treaty and thus sidelining Bulgaria despite it championing the cause of EU diplomacy on the Western Balkans. In a televised interview with IBNA in September, Zoran Zaev even called for Greece to take the lead on the Balkans, a not so veiled insult to Bulgaria's Prime Minister Boyko Borissov who is aspiring for the same role.
Bulgaria's answer was to raise the stakes. The government agreed that Sofia would maintain its strategic support for Skopje in Brussels, but decided a further concrete conditionality would be applied to North Macedonia. In addition, it decided that North Macedonia and Albania should not be split in the negotiation process and Bulgaria would support both at the same time, a hindrance for Skopje which believes that it is hampered by Albania's obvious unpreparedness to start negotiations with the EU. Bulgaria's decision to tie its historical disagreements with North Macedonia to a further conditionality after accession negotiations open was not problematic and as a response, Zaev said that Bulgaria's complaints can be resolved easily as long as the country is open to a two-way compromise. Bulgaria's eventual framework position on what the conditionality would entail, however, seems to eschew the idea of compromise.
The Bulgarian government's official October 9 position demands that during accession negotiations North Macedonia does not use the phrase 'Macedonian language' in any official document or textbook and instead refer to it as "the official language of North Macedonia" because Macedonian is just an evolution of the Bulgarian language. Moreover, the text demands that history textbooks in North Macedonia cite sources in their original language rather than present-day Macedonian, an attempt to promote Bulgarian version of history because most of the revolutionaries who fought the Ottoman rule on the territory of today's North Macedonia at the beginning of the 20th century had a Bulgarian identity. Though this was by no means the only Bulgarian demand designed to be insulting, it was definitely the most stinging and impossible to agree to. "It looked like it had been written by hardliners from decades ago," Mr Dechev commented.