Main takeaways
Summer 2022 will be another tough season for Bulgarian seaside tourism.
Reservations are low due to the proximity of the conflict in Ukraine, putting Bulgaria at a disadvantage vis-a-vis its competitors.
Bulgarian tourists who redeemed the summer seasons during the pandemic will now have many more foreign holiday options.
---
Bulgarian Black Sea tourism is now facing a third difficult year after two years of pandemic and, now, a war in the region. For some hoteliers, the bad streak began even earlier with the bankruptcy of British tour operator giant Thomas Cook in the late summer of 2019. Hopes that summer 2022 would give the business a much-needed fillip were quickly extinguished by Russia's invasion of Ukraine.
Although the official end of the Covid-19 pandemic has not yet been announced, travel restrictions have already ended. While the rest of the world prepares for vacation season - and expectations are that the recovery will meet 80 percent of 2019 tourism levels - Bulgaria's Black Sea coast is bracing itself for another tough summer.
Bulgaria also has the rather unenviable position of being (relatively) close to the epicenter of the Ukraine conflict and sharing the Black Sea with the belligerents. During the pandemic almost all markets had their problems and limitations. The difference this year is that Bulgaria will be at a major disadvantage compared to its main competitors.
To add fuel to the fire - and make the situation even more unpredictable - there is the economic situation and inflationary pressures to weigh up, both in markets responsible for the main flow of tourists, and in Bulgaria itself. According to holidaymakers, rising prices in Bulgaria would lead to at least a 30 percent appreciation in tourism prices from last year. Another uncertainty arises from the lack of clarity in the state's position towards Ukrainian refugees who are residing in Bulgarian summer resorts until the end of May.
Cautious optimism at airports
The summer flight schedule reveals that passenger traffic at Sofia Airport is only about 20 percent down on the same period of 2019, which gives a cautiously optimistic outlook to the airport authorities. On the other hand, expected inflation in Bulgaria and across Europe, as well as increased fuel prices, will certainly have a negative impact on demand for air travel.
According to Burgas airport's current flight schedule, most passengers are expected to arrive from Central and Eastern Europe - Poland, Germany, Czech Republic, as well as from the UK, with organized tourist flights from Britain resuming after a two-year hiatus due to Covid-19 restrictive measures.
The first charter flights with passengers from Israel have already been launched, and tourist flights from the UK, Germany, Poland, etc. will start in May. The concessionaire adds that in recent years there have been more scheduled flights and fewer charter flights.
Tourism during war: one big unknown
"Flights can be scheduled later and then be canceled. The last two seasons we have seen exactly that happening," says Elena Ivanova, a hotel owner and member of the board of the Union of Private Owners in Sunny Beach. She says that the whole season is one big unknown and bookings are not impressive.
The main reason, of course, is the war and, in particular, the (relative) proximity of the Bulgarian Black Sea coast to the conflict zone. It's all a matter of tourists' perceptions, of course. "In the mind of the Western European consumer we are in an area where there is currently turmoil," says Daniela Stoeva of the Association of Bulgarian Tour Operators.
This is confirmed by Kalin Sutev, manager of Destination Travel Services, the representative of DER Touristik in Bulgaria, which includes the tour operator ITS in its group. "The German market is doing quite poorly because of information about the war in Southeastern Europe," he says, adding that bookings, if not completely put on halt, rise at a rather slow pace. "They may start actively once the war stops. We rely on last minute bookings. The question is when will they kick off," says Mr Sutev. Hotel occupancy also hinges on flights not being canceled due to lack of interest earlier on during the season.
"Belgium has canceled all flights to Varna until July 1. TUI UK has also canceled flights to Varna," says Grigor Fidanov, owner of the Grifid chain, the largest hotelier in Golden Sands, which relies heavily on German tourists. He adds that the next few days until 20 May are crucial, for if the number of seats on flights is reduced, so will the number of hotels operating this season. Three of his own hotels are already running, but the likelihood of not opening the rest is high.
Hoteliers and tour operators believe that the state is not waging an adequate information campaign to counter perceptions that Bulgaria is close to the conflict. The public should be hearing that the country is a safe NATO and European destination far from hostilities - and with no mines in the sea.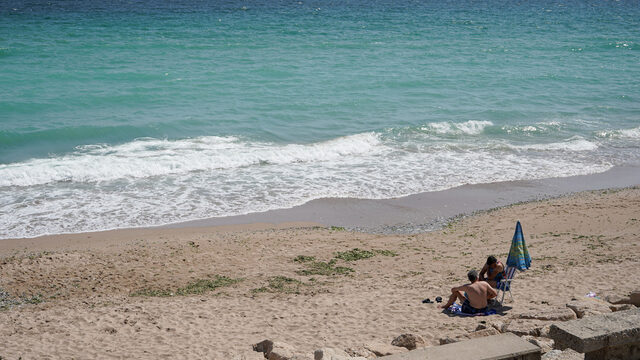 Prices go crazy
Bulgarian summer holidaymakers could also be wooed by attractive neighboring markets, which suffered in previous years due to travel restrictions. They will now try to compensate for this, as well as the inevitable loss of Russian and Ukrainian tourists. One such market is Turkey, which will have between 3 million and 6 million unsold Russian and Ukrainian nights and will have aggressive offers pitched at Bulgarian tourists. Exotic markets such as Egypt and Tunisia are also doing well, as are classic destinations for Bulgarians such as Greece.
Amid the competition, some hoteliers are forecasting a 30 percent price rise for Bulgarian tourist places due to rising energy, food and staff wage costs. Wages are also expected to go up 30-40 percent compared to pre-pandemic levels. There was a trend towards higher prices even before the war, reflecting both the economic effects of the pandemic and increasing inflation. According to Theophil Petrov, CEO of Green Life Development resort, another major issue is the difficulty in forecasting accommodation prices several months ahead due to inflationary processes.
The cost of sunbeds and umbrellas on the Bulgarian Black Sea coast in the upcoming season also cannot be discounted, unlike in the last two pandemic years. Concessionaires and beach tenants can no longer get reductions in fees they pay to the state and therefore they cannot offer lower prices to tourists. In mid-May, the 35 euro aid per tourist brought by tour operators on a chartered flight with more than 100 seats, which was valid for flights from 1 June 2021 to 14 May 2022, also expired.
Is there a summer tourist season without the Russians?
Bearing in mind all these issues, the absence of Russian tourists appears to be a minor problem. Their decline has been marked anyway since 2015; in 2019 they were the eighth largest group of foreigners, according to Ministry of Tourism data. Now, thanks to the war, Russians will be all but absent from Bulgarian beaches - but this will not necessarily lead to a bad summer season even for the resorts traditionally working with them. "For the last two years we have had virtually no Russian tourists," says Green Life's Mr Petrov. He does not expect them to return soon - due to economic and logistical difficulties, as well as their wariness of encountering Russophobia.
Nevertheless, Mr Petrov's expectations are positive. He draws on the experience of last year, which was quite good for the complex, with Bulgarian clients replacing Russians. This is also seen in other places south of Burgas, which for years have traditionally relied on Bulgarian tourists, such as Sozopol and Sinemorets, etc. Complexes like Sunny Beach also relied on Bulgarians and Romanians during recent seasons, but they are mainly last minute tourists. The big risk for those relying on the local market appears to be the opening up of foreign destinations, which were harder to reach in the last two years, and the diversion of some Bulgarian tourists to Greece and Turkey.
This spring, cruise company Celestyal Cruises, offering cruises in Greece, officially announced that it was entering the Bulgarian market, seeing an opportunity to recover faster from the pandemic. Bulgaria's Southern neighbor has set itself a target of reaching 2019 levels of tourism this year. Low-cost airline Wizz Air, for its part, is forecasting a 20 percent growth in the Bulgarian market compared to 2019 and will be operating with more capacity in the country this summer compared to before the pandemic.
Where are the Ukrainian refugees?
The fate of the Ukrainian refugees, who are currently accommodated in some seaside hotels, remains unclear. They will only be able to stay in hotels until the end of May, after which they will be moved to state-owned holiday facilities, and to hostels. However, it is not yet clear if this plan can be successfully implemented, as the state-owned facilities hardly have the capacity required to accommodate everyone.
At the same time, business representatives explain that the vibes from tour operators are that the presence of refugees in holiday resorts is not a draw. Simply put, Western tourists would prefer to holiday in places where they don't have to confront the fallout from an unfolding humanitarian crisis. All in all, it appears that future summers will be difficult to plan - at least until the last minute - and will be marred by many unknowns.
Airlines flying to Bulgarian summer resorts this summer:

From the end of March and the beginning of April Turkish Airlines and Austrian Airlines offer a daily service to Istanbul and Vienna, respectively. WizzAir re-launched their flights to five destinations (London, Prague, Karlsruhe/Baden-Baden, Larnaca and Liverpool), while Eurowings Discover kicked off their direct flights to Frankfurt from May.

From 9 April Ryanair started its summer schedule from Burgas airport with regular flights to 6 destinations (Warsaw, Krakow, Gdansk, London, Vienna and Budapest) and in early June will add a service to Bratislava. Wizz Air is continuing its flights to London Luton and will have an aircraft based at Burgas Airport and flights to 18 destinations this summer