American musician and literary translator Angela Rodel has translated the Physics of Sorrow and Booker-prize winning novel Time Shelter by Georgi Gospodinov. She told Kapital Insights that she and Gospodinov were genuinely surprised to win the prestigious literary award on May 23.

Rodel first visited Bulgaria in 1995 as part of the Fulbright programme. She then returned to the US but settled permanently in Sofia in 2004 and is currently the executive director of the Bulgarian section of the Fulbright Commission.

Angela spent around 6 months translating Time Shelter, working on the book in the mornings and evenings and on weekends. She has been collaborating with Gospodinov for the past decade. Time Shelter has now become a bestseller. Even when it was merely long-listed she recalls that the buzz surrounding the novel was such that sales exceeded expectations at London bookstores. Now, of course, it has taken the literary world by storm, propelling Gospodinov towards international celebrity status. But the Booker Prize also celebrates the distinguished work of the translator - attested to by the fact that Angela and Georgi split the prize and shone a light on an otherwise hitherto under-appreciated craft of translation.

Originally from Minnesota, Angela now lives in Sofia. She loves nature, especially mineral springs and the mountains, citing Pancharevo, Sandanski and Velingrad as among her favorite places.
Do you think that winning the Booker prize will help other Bulgarian - so far unappreciated - authors to step into the limelight?
I think so and I hope so. I think Bulgaria is maybe the last frontier of European literature. When the Wall fell and people got interested in East European fiction there was no Bulgarian novelist who stepped into that space. In a way we became the black hole on the world literature map but I think this book will remedy that.
How does Bulgarian literature compare to other literary traditions? What is unique about it and is Georgi Gospodinov a representative of it?
Bulgarian literature is interesting and unusual in that it can be experimental and break tradition in terms of form. In the US people learn to write with a certain style and structure. This isn't necessarily bad but over there people don't really stray from that form so much. In the US we're taught you have to write like Raymond Carver, using terse and short sentences, otherwise you won't get published.
But in Bulgaria there are not so many gatekeepers in the form of editors and agents. If you're a decent writer you can get published. Georgi has a whimsical, non-linear narrative; Nine Rabbits by Virginia Zaharieva is another example. Is it a memoir or novel or short stories? Younger writers nowadays are experimenting healthily and when it works it can be very fresh.
Does Georgi Gospodinov himself actually enjoy the limelight - and now being so famous? Or does that now come with inconvenient baggage if he, for example, wants to observe people inconspicuously?
I'd have to ask him but my observation is that every writer enjoys international recognition but he's a pretty private person - he says he was a very shy kid - and he prefers to observe people. Especially since last month when he goes out he gets mobbed. He no longer answers his phone unless he knows who it is! People also congratulate me in the street. The other day I was walking with Georgi and people stopped us for selfies and we were both happy to oblige.
What is the hardest part of translating from Bulgarian? Are the complicated, often internally contradicting, sometimes schizophrenic elements of Bulgarian culture translatable (i.e. Russophiles at one level, very pro-European at another, haters of the current reality but somehow attached to a unique sense of identity)...Was it difficult translating certain aspect of Bulgarian 'realia' into English?
The hard part of translating from Bulgaria I'd say on a linguistic level is that the verb system is completely different. I've studied Russian and it's awful for foreigners because there are no cases. Bulgarian writers have a peculiar way of jumping from tense to tense; in Bulgarian you can jump around but it sounds stranger in English.
Every culture has its schizophrenic aspects. For example, half of Americans voted for Trump, the other half loathe him. Certain episodes in Bulgarian history had to be explained. It's fashionable in the US not to have footnotes because they pull a reader out of the text. But sometimes it's necessary as when Georgi is satirizing history or ironizing aspects of Bulgarian culture. You can give the explanation in the text but you don't want to sound like an encyclopedia. His style is light and playful so it doesn't require a lot of explanation in the text. In the Physics of Sorrow the publisher didn't allow us to use footnotes, so we assumed that Time Shelter would be the same. But there were things we had to explain - like about the April Uprising, for example. He makes so many literary references, references to songs and aspects of Bulgarian culture. But there are fewer than 10 footnotes in total in Time Shelter.
In the book - and in reality - Bulgarians are torn between "choosing" their place. Why do you think it's so? Where do you think their place is, under the flag and the faux Revival costumes, in the late 1980s with the pioneer ties or somewhere else? Can these "spaces" continue living separately, should they merge, or should some of them wither away?
Our identity is made up of so many elements. I've lived here for over 20 years. I feel as though in Bulgaria, perhaps because there have been so many upheavals, that people feel compelled to say they're anti-socialist or pro-socialist, anti or pro-European. These choices have come into much sharper relief here than elsewhere.
The Revival Period, for example, is an important part of Bulgarian history. I'd hate for it to become kitschy or find that only Vazrazhdane (editor's note: (the nationalist political formation led by Kostadin Kostadinov) had the right to own it. The folklore, and also the communist period, are part of Bulgarian history. I don't think it's ever a good idea to pretend a period in history never happened. So these spaces aren't separate and they shouldn't be. You can't ignore them and hope they go away. We should be able to review periods in our past critically. Georgi is super nostalgic about the past. And the past isn't necessarily a bad thing but it becomes dangerous when it becomes collectivized and shallow and sold back to you as propaganda.
Translating has traditionally been seen as an exacting and underpaid profession, especially translation for literature. You obviously enjoy translating - but do you have to enjoy the material before you commit?
Yes, of course, that's a necessity but not sufficient in itself because there are certain works I enjoy but I know I'm not the right person to translate them. If I read something I have to hear how it sounds in English. If I don't know how it would sound in English it doesn't mean I don't enjoy it but maybe I'm not the right person to translate it. I've also made the opposite mistake of agreeing to do things I don't really like. This may sound corny but it's best to have a spiritual connection to the text.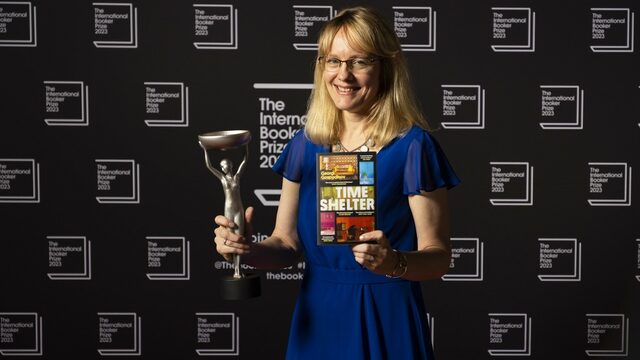 I have a cousin who has equipped his London flat as if it were 1976. He has an old London underground map from that period, the phone is retro style, likewise the wallpapers and furnishings. He drives a 1970s Bentley. Is there actually something faintly disturbing about someone who clings too much to the past?
Georgi has this line - all of us love the past and our own personal past. It's normal to go into the room of the past for an hour or two but it's important to keep the door open! The past can be a source of strength and rejuvenation that can give you the energy to go back into the present.
Should authors write for popular acclaim, i.e book sales, or to win awards or for the writer's own satisfaction in venting something that was bursting to get out? Which, basically, is more important?
I'd say the latter. I think it always shows if someone is writing to a market. I don't want to name names but there are writers who you sense are writing for an audience. Georgi has been doing this thing for 20 years now and the themes of his books can be seen in his poetry back in the 1990s. Time Shelter is so good because these themes have been fermenting inside of him for so long.
Did you know Time Shelter was special while you were translating it? Does he now make a living solely from his books?
I dared to hope. I felt that Georgi had moved into another level. It was so light and whimsical but it also had this European perspective. It brought so many Bulgarian ideas into a more universal context. He's now able to make a living from his books. He also works as a literary critic at the Bulgarian Academy of Sciences but for the past 5 years, if not 10, he's been primarily supporting himself through his writing. Sadly, you can count on the fingers of one hand the Bulgarian writers who can do that, maybe also Alek Popov.
What is Georgi working on now and will you continue to collaborate in the future?
We will definitely collaborate again and we aim to republish his first novel (Natural Novel) because the translation that came out is not a full translation. I don't know what he's working on now but I know he's definitely working on something.
You've been coming to Bulgaria since 1995. What do you think have been Bulgaria's greatest achievements and most disappointing setbacks during this period? - Why did you decide it was worth staying in Bulgaria, at a time when so many were leaving?
It's been difficult politically but things have been a lot worse. When I first came to Bulgaria in 1995 that was a rough time. And then came the winter of 1996-7 under Zhan Videnov. I was just 23 and it was a good lesson for a young American because - although I'm by no means happy with everything in America - those of us from relatively stable democracies tend to take some things for granted: a decent standard of living, a stable banking system and healthy civil society. Back then, my friend couldn't even go out for a drink because there was hyperinflation and just a coffee would cost half your monthly salary. So when Bulgarians say that everything is terrible, I say: remember the 1990s. You couldn't buy necessities and basic items like double-a batteries.
I understand the frustrating aspects of corruption but in terms of the rule of law and living standards it's much better than it was. Having said all that, I did have a dark night of the soul 5-6 years when I felt that Bulgaria just wasn't going to get through this, that maybe state capture had gone too far. At that point I was pretty discouraged but I'd invested so much in Bulgaria, my husband is Bulgarian and my daughter was born here. So I just decided to stay and fight.