French macarons in Sofia
Chez Fefe in downtown Sofia is Bulgaria's first and only boutique that specializes in making French macarons. Opened in the mid-1990 and offered for sale two decades later, the shop was acquired by Veneta Tileva's family in 2017. "My husband and I were looking for a niche to run our own business and that beautiful place was up for sale. I love French culture and cuisine, so it was absolutely clear to me that was going to be our business," Tileva says.
The new owners kept the name of the shop (which means At Fefe's) and the team and did not make any major refurbishments. The only new element was the strong focus on the recipes and technology of making the cookies. French macarons are a boutique and not mass production. The only shop is located on Solunska St and a small production facility was opened nearby in 2019.
Chez Fefe's customers are educated and travelling people and more than 80% are women. However, more and more men are now buying French macarons as a present or family desert. "Foreigner who live in Sofia are among our regular customers and tourists also like to shop here," Tileva says.
The shop's technological team consists of three people, including Tileva, who create new tastes. Chez Fefe's has a list of 27 different macarons, as well as some seasonal offers with fresh fruit.
Before the pandemic, the physical shop accounted for nearly 70% of the company's turnover and the rest came from online sales. The share of corporate customers has been growing and now it makes up some 10% of the annual turnover. Total sales have increased to 364,000 leva in 2018 from 293,000 leva in 2017.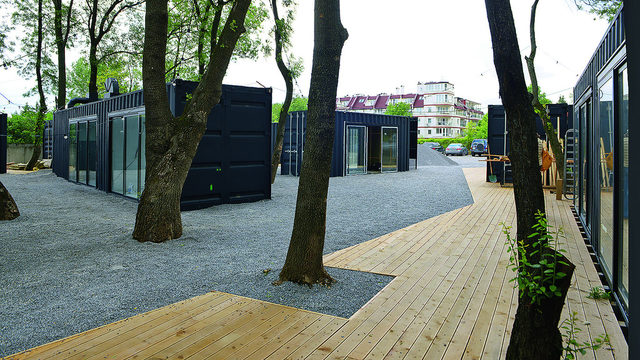 First street-food park
Sofia's first street-food complex, Quartal, opened in the middle of June with 14 restaurants. The founders and main drivers of the enterprise are Slavi Hristov and Tsvetan Todorov, both of whom have experience in restaurant management. The idea occurred to them two years ago and after visiting similar places around the world they finally decided on a restaurant park like the ones in London, Moscow, Prague and other big cities.
Since the initial capital required was not a small amount - some 600,000 leva - they looked for partners and together with Alexander Shterev, owner of a packaging company, and Nikola Nikolov, owner and manager of Domino's Bulgaria, they set up Project C Group.
They chose a location on Cherni Vrah Blvd, as it offered easy access by metro and car and was close to residential districts at the foot of Vitosha mountain. Quartal has an area of 3,200 sq. m and includes some 20 metal containers that are rented to 14 kitchens of different food and drink brands. The park offers 250 seats to visitors.
Besides an eating place, the team plan to turn the park into an open-air venue for events and concerts. It can also be rented to companies for corporate events.
Quartal's business model is based on container rents and fees for events, as well as a share of the restaurants' turnover. The founders expect to recoup the investment made in two years. Meanwhile, they plan to open more similar street-food complexes and are considering new locations in Sofia and Plovdiv.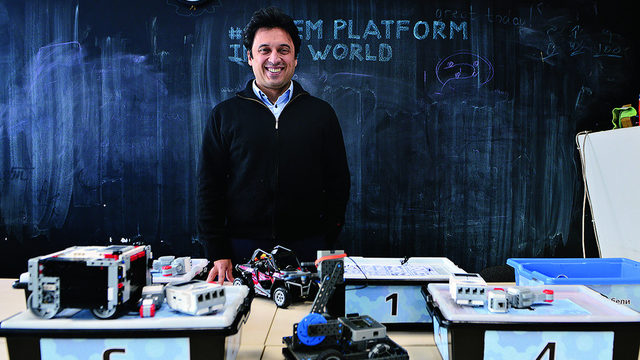 Robots + LEGO = success
"Through robots, we give pupils life-long skill," said Kiril Mitov, founder of Robopartans robotics school, and his partner Alexander Pavlov. For ten years now the school has been teaching robotics with LEGO to pupils using its own curriculum. It is based on everything robotics combines programming, construction, mechanics, modelling, mathematics, electronics.
Back in 2010, software engineer Kiril Mitov, then aged 25, presented his project for a robotics school at a competition for young entrepreneurs organized by Empower Foundation. Robopartans won second place and a 60,000-lev prize. That was the initial investment in the adventure, which has had more than 6,000 students so far.
The first lessons were in Sofia but with time the initiative expanded to other cities under a franchise model. Today the robotics academy is available in eight cities countrywide: Sofia, Varna, Burgas, Ruse, Veliko Tarnovo, Plovdiv, Blagoevgrad and Karlovo. Local partners do not have to pay an initial fee but they have to invest some 10,000 in training, halls, robotics sets and computers. "The investment is recouped in about a year," Alexander Pavlov says. The fees pupils pay start from 240 leva per module of two hours a week and depend on the city. The business partners pay for access to the curriculum through the platform per student and level.
The team's efforts are not focused on building a strong marketing team and opening three new academies. "We dream of a partnership between the robotics organizations and business. We want to have lessons inspired by real companies," Pavlov says.