Investments in fintech companies globally grew at a tremendous rate in 2021. According to KPMG, private and public capital invested has reached $210 billion, an increase of more than 80% compared to 2020 and close to the absolute record of 2019, when about $213 billion was invested in the sector. Judging by these numbers, the sector appears to have recovered quickly from the pandemic. A new record of more than $310 billion is expected to be reached this year.
In Bulgaria, the sector also continues to expand. Last year, the fintech companies increased by over 30%. According to data from the Bulgarian Fintech Association (BFA), the fintech industry in the country consisted of over 135 companies in 2021, which had raised over 130 million euro from investors for the period 2020-2021.
"In the last two years, 131.2 million euro were invested in Bulgarian small and medium-sized fintech companies," the association said in its annual report for 2021. According to the numbers, nearly 6 million euro came from Bulgarian investors, while about 120 million euro came from Germany, the Netherlands and USA.
In Bulgaria, a variety of fintech solutions are being developed, from digital portfolios to payment platforms, and there are multiple teams of foreign companies that develop solutions for foreign markets. In addition, the fintech environment is complemented by international platforms that do not have a single person on their team here, but have a large customer base.
The largest fintech sector in the country is the digital payments business. This segment includes issuers of electronic money, aggregators of payments and providers of settlement and clearing services. About a third of the fintech companies in Bulgaria operate in this sector and are responsible for about 66% of the operating revenue of the fintech industry in Bulgaria in 2020, according to BFA data. Examples of such foreign companies that have operations in Bulgaria are Paysafe, Visa, Mastercard. Bulgarian-registered representatives are EasyPay, Borika, Paynetics and others.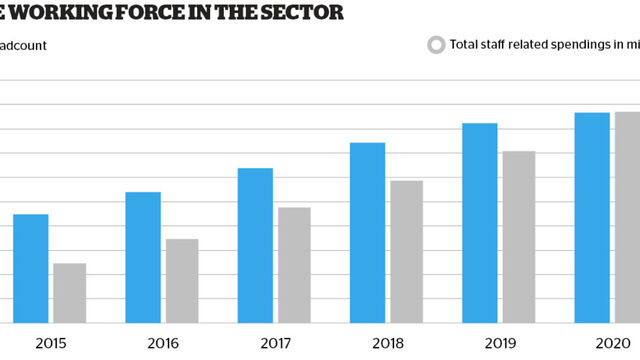 "If we look beyond the numbers, we will see that digital payments are in practice at the heart of the financial sector in Bulgaria, as well as in Europe and the United States. There has long been a detailed legal framework for their implementation both in Bulgaria and at the level of the European Union (EU), as financial institutions are licensed by the BNB [the central bank] and are therefore under its supervision. This gives stability to these business models, which for investors means more confidence and interest in such companies and teams," said Valeri Valchev, chairman of BFA. "Through the possibility of using a payment license in EU countries, in practice Bulgarian companies can operate throughout the EU, while the cost of operating such a business is as low as possible," added Valtchev.
Although they are represented by only 5 companies in our country, the segment related to data analysis and credit ratings represents about 11% of the operating revenues of the fintech industry. This sector includes companies such as the Irish Experian, the German 2iq and the Bulgarian Scorify. In third place in terms of operating revenue, with a share of about 8%, are digital asset trading platforms (online brokers) such as Nexo and Trading212 from Bulgaria, as well as Virtual Broker (from Canada), Activtrades (from the UK) and others. These are companies whose business is mainly focused abroad, but have a sizable portion of their development teams (or other staff) based in Bulgaria.
Emerging industries
Among the fastest growing segments of the fintech industry are business-oriented services. In 2020, the sector was responsible for only 7% of the operating revenues of the fintech industry, but almost one of ten companies in the country falls into this segment. The companies from the fintech sector, serving the businesses, cover a variety of operations: API management, cloud services, artificial intelligence, blockchain, digital invoicing and more.
Companies from abroad that operate in this segment in Bulgaria are the Danish Gate2Payments, Singapore's ZotaPay, the American Taulia. Some of the Bulgarian companies are LimeChain, which offers blockchain solutions, and VSG Bulgaria and PAGGAS Technologies, which offer digital solutions.
Some segments, such as digital asset storage and digital identities (online signatures), are still underrepresented in Bulgaria, but are likely to grow significantly in the coming years. According to the BFA annual report, there is only one representative in each of these sectors in Bulgaria - Assetify, a digital asset management platform from Sofia, and Eurotrust, an electronic identification company.
All types of tech
The whole financial industry, which has been late to digitalize for years, is now changing. New investment management platforms are emerging - Wealth Tech, which sometimes even offers better instruments than some brokers. There are about 12 companies in this sector in Bulgaria. Among them is the Irish Taxback Group, which according to the company's website started its business in Bulgaria in 2001 from Varna. It helps to refund taxes to foreigners. Here is also the Bulgarian Vendofin, which offers assets at online auctions.
The changes are also affecting the insurance sector. Technologies related to insurance, analysis of data related to policies, as well as their digital sale, are called InsureTech. Such companies in our country are still few and far between - the Bulgarian Boleron for online insurance and abexio, the health insurance platform, the American Insurify, the Swiss eCollect and others, and only a small part is aimed at Bulgarian consumers.
Innovation in the financial sector often faces regulatory problems, which gives rise to technological solutions in this direction, known as RegTech. This segment includes all kinds of innovative technologies that address the regulatory challenges in financial services, including audit software, risk measurement and compliance with certain regulatory requirements. The German Cleversoft offers digital regulatory solutions and, according to BFA, operates in Bulgaria. The Dutch LogSentinel and the Bulgarian Notolithics offer security solutions, and OMNIO, which is also from Bulgaria, offers digital solutions related to know-your-customer (KYC) procedures and other regulatory services.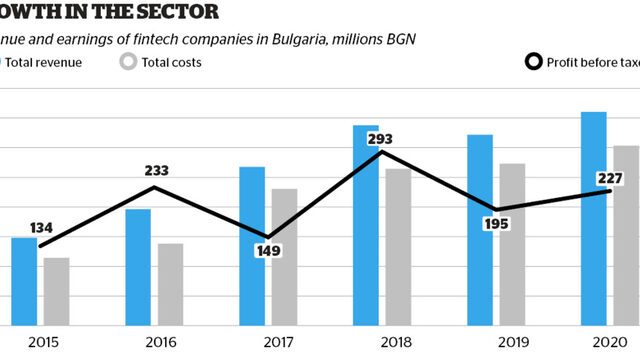 The environment
The assets of fintech companies continue to grow, reaching a record BGN 1.86 billion in 2020, but the most important asset is human capital. Employees in the sector increased even during the pandemic, reaching more than 8600 people, almost twice as many in comparison with 4400 five years earlier. Expenditures of the sector also continue to grow, reaching BGN 1.21 billion in 2020, of which about a third is related to staff.
Salaries in the sector are relatively high for Bulgaria. According to BFA data, an average employee in the fintech industry in Bulgaria receives about BGN 3800 per month, more than twice as much as the average salary in the country. The most sought after positions by companies in the sector are software engineers and project managers. BFA data also show that nearly 45% of all employees in the fintech industry in Bulgaria are women and 62% of fintech companies have at least one woman as a member of the board of directors, shattering the myth that the IT sector is dominated by males.
According to the BFA, which in its report cites data from the University of Cambridge, by 2021 95% of fintech companies in Bulgaria are small and medium-sized enterprises. That is, they have less than 250 full-time employees and an annual turnover of less than 50 million euro. Not surprisingly, Sofia continues to be home to the largest cluster of fintech businesses in the country with about 115 companies. Most of the remaining 20 are also concentrated mainly in the next two biggest cities - Plovdiv and Varna.