For a reporter who's been on the job for 20 years, I've been to very few post-election parties. Most of my time after elections is taken up by work and deadlines, so witnessing celebrations is not really on the list.
One of those I remember vividly was election night on November 4, 2008 which I spent in the Democratic headquarters of Lansing, Michigan of all places. It was the night of Barack Obama's first presidential election win after 8 years of George Bush and two wars. The air that night was thick with hope, and the atmosphere pulsated with unbridled excitement. People genuinely believed better times lay ahead.
Last week I ended up in Varna, where Sunday night brought the official end of GERB's long rule over the city. I stumbled into the We Continue the Change party headquarters and got sucked into the excitement. The atmosphere reminded me a lot of the one in Lansing. Varna hasn't been through wars, admittedly, but it did suffer a lot from mismanagement, carelessness and corruption. The new mayor - Blagomir Kotsev - came out of the blue and won in a tight contest in a city which had been widely considered "captured".
How did he manage?
Well here's the interesting part. It wasn't only warm words, good timing and voter fatigue. Varna's business elite, or a substantial faction of it, orchestrated an unprecedented mobilization in response to their collective dissatisfaction. Spurred by several generous and active CEO's (such as Agropolychim's Philippe Rombaut) they created their own group of city counselors, who will now be the 4th largest in the new local parliament and supported Kotsev's candidacy against the incumbent Ivan Portnih.
They managed to do that in the space of a month. What's more impressive is they didn't hide or support other parties. Instead they claimed openly they want to have a say in the future of Varna.
This is at the same time refreshing and notable. It's always tricky when big business has a direct say in politics. It's a novel idea around here and there will be disagreements in the near future between the new mayor and those CEOs. Varna has tons of issues and the mood might soon turn sour, just as it did in the US post-2008.
Yet in a country where business people have for a long time kept their voices mute out of fear of institutional racketeering, and tried not to step on the toes of any politician, this is a new era. Varna business elite is right: the city has suffered tremendously and another Portnih term might have buried the last hopes of reviving it.
This underscores the inseparable link between the prosperity of workplaces and the well-being of the communities they inhabit. One without the other can't move ahead. You can't raise a unicorn in a field of mud. You can't attract people to your company if the city you're based in fails in basic services, like sewage.
I, for one, am keeping my fingers crossed that this experiment works.
This newsletter is helped by
Martin Dimitrov and Monika Varbanova
Politics this week:
First things first, let's apologize
Me and my colleagues, we've been telling you how badly the ruling coalition WCC-DB will fail in those elections. Well, it turned out we were kinda wrong. It's not that they've won big, but apart from Sofia, which was always counted in their bag, they had some significant breakthroughs.
Varna, Pazarjik, Blagoevgrad and Kyustendil are amongst the biggest prizes they captured. They all will be ruled by new, fresh-faced mayors. That's a big change.
And when you're wrong, you need to apologize. That being said, Plovdiv and most of the other big cities are still going to be run by GERB or MRF.
WCC-DB also needs to apologize
Not to us, but to their opponent in Sofia Vanya Grigorova, whom they and their supporters attacked viciously in the run-up to the second round. From racist jokes to vile comments (Grigorova was born and raised in a Roma neighborhood of Sofia) the debate got more hysterical in the final hours of campaigning.
Sofia - a tale of two cities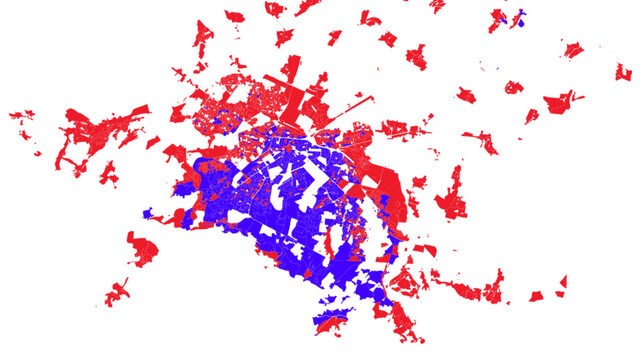 In the end, the liberal-conservative coalition won the capital by a less than 2% margin which suggests Vasil Terziev and his team will have lots of work to convince residents they were the right choice. What you see in the picture above is a graph of how the voters' preferences divided the capital in two - the wealthy central and southern parts and the others. A divide you can see in many other areas also: real estate values, schools and hospitals per capita, road repairs and even charging stations. Lots to think about here for Terziev's crew.
That being said, voters mostly didn't give a damn
All of that happened in an atmosphere of total voter apathy, with turnout going as low as 21% in the second largest city of Plovdiv, and somewhere between the high 20s and low 30s in major battlegrounds like Varna and Sofia. For the longer story, revisit our Monday piece.
Behold Borissov's anger
GERB convened a 3-day national council on Wednesday to evaluate the work of the so-called "assemblage," as party leader Boyko Borissov likes to mockingly call the partnership with WCC-DB.
The immediate reason is the election campaign and the less-than-ideal results for the party which has ruled Bulgaria's cities for over a decade. However, the official claim is that the government shows "a persistent failure to implement the commitments written in the management program." Borissov said that his party's final demands will be announced on Saturday.
When in doubt: listen to Peevski
If you are worried about the coalition government, however, keep in mind that Borissov's partner in politics and business - Delyan Peevski from MRF, was far more sanguine when asked about it. This government might last even the full mandate, he said, if they stick to the program.
There's no one else to listen to
MRF nominal leader Mustafa Karadayi stepped down as chairman, after being out of the public eye for some time. Honorary Chairman (and godfather) Ahmed Dogan took his place until a new leader is elected in February 2024. Peevski, who is sanctioned under the US Magnitsky Act for high-level corruption, assumed the chairmanship of the parliamentary group of the party.
Economy:
Tax the tips!
According to one of a series of tax reform proposals by Finance Minister Assen Vassilev announced this week, tips ought to be subject to tax and form the base of social security contributions. The texts have appeared in the draft law on personal income tax, and the package of tax laws is already in parliament and will start to be discussed this week in the economic committee. Establishments with more than one star will be required to have POS terminals for card payments, and to pay employees' salaries only by bank transfer. In return, the government would retain the lower VAT rate of 9% for the sector until the end of 2024.
Real Estate valuations to rise significantly
Another notable legal proposal by the Finance Ministry has to deal with property taxes, which ought to increase in many municipalities beginning in 2025 due to increases in property tax assessments. In some towns, the hike will be up to 30% if the proposed changes to the Local Taxes and Fees Act proposed by the government and the National Association of Municipalities (NAAL) are adopted.
This is long overdue, given that the market has gone crazy in the past years and valuations are way below market prices.
Figures:
8%
Is the year-on-year decline of Bulgarian exports.
2.3 billion euro
Is the debt issued by the Finance Ministry this week, which was successfully placed on the market.
Business:
Telecom
Bulsatcom
After year-long speculation, United Group, which owns mobile operator Vivacom, has officially announced its plans to absorb one of its main competitors in the pay-TV market, Bulsatcom. This would lead to a 60% concentration of ownership in the market, something that ought to concern the anti-monopoly watchdog.
Real estate
Flatimo
The founders of Flat Manager, the country's largest short-term rental management company, have announced that they are entering the long-term rental market with their new digital platform flatimo, which will aim to digitize and simplify the renting process.
Defense
VMZ-Sopot
The state-owned VMZ-Sopot arms manufacturer reported a doubling of net sales revenues and profit by the end of the first nine months compared to the same period last year, reaching more than 678 million levs.
ENERGY
Warm weather leads to lower electricity production and consumption
October 2023 was the weakest in five years for domestic electricity production, consumption and exports. This is no coincidence at all, as this year there is a clear downward trend in all energy indicators, with the exception of renewable energy, even reaching the values of 2020, when there were lockdowns and the economy was almost idle. One of the main contributing factors has been the exceptionally warm weather, which postponed the start of the heating season and decreased energy demand.
Energy giants report shrinking revenue
Both major coal and nuclear power plants - Maritsa East 2 TPP and Kozloduy NPP - reported significant contractions in their earnings for the first nine months of the year. Kozloduy NPP's revenues have fallen by 60% in the period on an annual basis - from over 5 billion levs to less than 2 billion. Profit has also fallen dramatically - from 1.37 billion levs to 519 million.
BRUSSELS
#Renew
- Bulgaria's We Continue the Change party was listed as a member of the new European Renew formation - a liberal, pro-European formation - alongside the Movement for Rights and Freedoms (MRF). This triggered many questions in Bulgaria because there was no official announcement about joining. It also raised eyebrows considering the two parties' differing outlooks. While they were later removed, Prime Minister Nikolai Denkov was left on Renew's website, an action his party called a mistake on Wednesday, EURACTIV reports. In an informal conversation with MRF representatives in Brussels, they claimed that they had never been opposed to such an accession.
#Schengen: Romanian Prime Minister Ion-Marcel Ciolacu finally said Bucharest may weigh splitting its Schengen bid from Bulgaria's effort if negotiations point to a better outcome. Interviewed on Bloomberg in Bucharest on Tuesday, Ciolacu said he would ask the Spanish government, which holds the EU's six-month rotating presidency, to hold an extraordinary meeting of the Justice and Home Affairs Council in December to re-visit its bid. The elections in the Netherlands on November 22 can change the political calculus. Capital's sources in the Council reveal that a potential split from Bulgaria would not be possible by the end of the year.
Watch out for:
People
Borislav Mihaylov
The long-lasting chief of Bulgarian football might have made his biggest mistake to date by deciding to play the next Bulgaria game against Hungary without spectators. The official reason was "high risk", but the obvious one was Mihaylov's fear after fan-factions announced they would stage a protest against his rule during the match. This led to a widespread reaction from Hungary and from Bulgarian fans and may backfire on Mihaylov.
Todor Popov
Another long-lasting local chieftain - the mayor of Pazardjik, immortalized in this marvelous piece of architecture, is gone.
Institution
Supreme Judicial Council (SJC)
The electronic vote for the election of judges to SJC, conducted in June last year at the Supreme Administrative Court (SAC), was completely manipulated, according to a FOI response from the Justice Ministry to a query by judges Vladislava Tsarigradska of Pleven District Court and Atanas Atanasov of Sofia City Court. A total of 28 judges entered the building on both days - 13 on Saturday, June 25, and 15 on Sunday, June 26. This is a problem, since 200 judges were noted to have voted in person and electronically from a single IP address in the courthouse during those same two days.
Place
Tlatchene
The notorious drug-lord Evelin Banev-Brendo, convicted in absentia in Italy and Romania and wanted by Interpol, has turned up in a Bulgarian village looking for truffles and a letter of attorney. As the mayor of Tlachene recalls in "24 hours", a strange couple of guys showed up last summer in his office, requesting him to sign a letter of attorney. "They said they were looking for truffles," recalls the mayor. The mayors of small villages can act as notaries and he did, since the guy certified himself with an ID. Brendo used this letter to request the Bulgarian court to allow him to serve his prison sentences here. The court refuses to do so.