Main takeaways
Sofia's newly opened Institute for Computer Science, Artificial Intelligence and Technology (INSAIT) seeks to become the Bulgarian equivalent of MIT
The 200 million BGN funding will be used mainly to attract elite scientists and professors.
Research activities could start as early as this autumn, with the first Master's program in 2023.
---
There is something that connects seemingly unrelated people and companies such as Albert Einstein, Boeing, Intel, HP, Bose, Dropbox, Werner von Braun and many, many others - they all came out of institutes of technology around the world, which have produced some of the most brilliant minds and businesses of our time. Knowledge hubs such as the Massachusetts Institute of Technology (MIT), Switzerland's ETH Zurich, Israel's Technion and others are not simply universities - they create Nobel laureates, scientists and researchers who have changed the world.
Now, Bulgaria also dreams of joining this elite group with its newly opened Institute for Computer Science, Artificial Intelligence and Technology (INSAIT) that was inaugurated in Sofia last week. INSAIT has been launched in partnership with the leading Swiss polytechnics ETH Zurich and EPFL, which will guarantee the quality of its scientific work and training. But the driving force behind the whole project is one man - Professor Martin Vechev, who has fulfilled his 20-year dream to create a Bulgarian institute of technology that would attract the world's most capable scientists.
When he applied for a fellowship at the University of Cambridge in 2003, Prof Vechev was asked what his future aspirations were. He wrote that he wanted to create a global institute in his home country. In the following years, the graduate of the Sofia Mathematical High School established himself in scientific circles as one of the leading researchers in the field of computer science: he received a PhD from Cambridge, and subsequently became part of the team of scientists at IBM T.J. Watson Research Center in New York before becoming a professor at one of the world's leading universities, ETH Zurich. He is also the only Bulgarian with two grants from the European Research Council worth 3 and 4 million BGN each. He is also the founder of three successful startups. Thanks to his position in global scientific circles, Prof Vechev managed to attract ETH Zurich and EPFL as partners. Through their support, INSAIT gained worldwide publicity.
How the institute will operate
In order to establish a solid foundation for the creation of science, two other essential elements are needed - people and money. INSAIT has been structured as a special unit of Sofia University St. Kliment Ohridski and will be engaged in research, scientific and teaching activities. Funding for the first years of its work has been provided by the Bulgarian state, but also from tech giants such as Google, Amazon Web Services and DeepMind, the Bulgarian company SiteGround, as well as private entrepreneurs and investors.
The government will allocate 170 million BGN over ten years - 17 million BGN per year, which will come from the budget of the Ministry of Education and Science. The project is also one of the few examples of continuity in our political life: the money was approved by the last government of Boyko Borissov (2017-2021) and has been confirmed by two caretaker governments and another regular one - that of current Prime Minister Kiril Petkov.
Thanks to Prof Vechev, giants such as Google, Amazon Web Services and DeepMind have also been lured. There are clear reasons for that - Google emerged from a project at Stanford University, but also closely follows institutes like INSAIT around the world for people, innovation and startups. Together with DeepMind (also part of parent company Alphabet), the online giant is funding the institute with around 6 million BGN over the next three years in the form of cloud infrastructure and technology, as well as AI fellowships. Amazon, in turn, is providing a further 7 million BGN over the next five years.
With the state and international giants having INSAIT's back, the project is also attracting attention on the Bulgarian tech scene. Hosting services company SiteGround is pitching in with 12 million BGN over the next five years dedicated to funding three leading professors (see box 4). A further 1.3 million BGN comes from representatives of the Bulgarian entrepreneurial scene.
Walking in the footsteps of giants
A major part of the funding will be used specifically to attract renowned scientists and researchers from around the world. The aim is to invite big names because, according to Prof Vechev, leading specialists attract people of the same rank as themselves, which will also increase the recognition and rating of the institute. In addition to Prof Vechev, the institute's supervisory board includes professors from partner ETH Zurich and EPFL, as well as Technion. On the advisory board are Bulgarian and foreign specialists from Yale, MIT, Google, Princeton and others. The Executive Director of INSAIT is the Eng. Borislav Petrov, who returned to his homeland after years of work in Germany and Switzerland.
It will also take time before INSAIT reaches full capacity. The institute will open its doors in the autumn - the office building of the private fund BREF (Real Estate Fund Bulgaria) in Sofia Tech Park is currently nearing completion, while the first goal of the board is to attract several global professors to start research work by the end of the year. After that, INSAIT will begin the selection of its PhD students. According to Prof Vechev, the institute will eventually employ around 300 people, including 30 elite professors and more than 200 PhD students, junior researchers and postdocs.
A growing hub of knowledge
With the first master's program pending announcement in 2023, the institute might draw several thousand students in no time. It is not yet clear whether there will be fees, but top students will receive scholarships and the institute will teach in English. Research, development and training at INSAIT will cover all areas of computer science and artificial intelligence, from machine self-learning to robotics, information security and quantum technologies. Prof Vechev says that the main goal of the institute is to give reasons to aspiring Bulgarian adolescents to choose to stay in the country. He expects that the majority of those studying master's programs will be Bulgarians. At least half of the PhD students will also be from Bulgaria. Last but not least, INSAIT will work with schools to introduce children to the opportunities the institute will offer.
Another major plus of institutes like INSAIT is that in their laboratories innovations and prototypes are created, which subsequently grow into successful start-ups. Prof Vechev himself has three such projects, two of which, DeepCode and ChainSecurity, have already been sold to the cybersecurity group Snyk and PwC, respectively. Unicorn companies (those with a valuation of more than 1 billion USD) are coming out of Israel's Technion every year, and ETH Zurich spun off a record 34 companies in artificial intelligence and computer science in 2021 alone. Graduates from similar institutions start their own companies over time and it is anticipated that INSAIT will have a similar direct effect on the Bulgarian tech scene.
If INSAIT can quickly achieve its ambitious goals, the impact on Bulgaria could be huge. High-tech institutes all over the world are supported by the state and business because they lead to qualitative changes in the environment. Dozens of Nobel Prize winners have come out of MIT, for example, and the thousands of companies created by its graduates produce value equivalent to a country with the 11th largest GDP in the world. Even if a fraction of that success can be achieved in Sofia, this would be something amazing for the country. What is more - if it proves to be successful, the institute could provide a template for the European Union on how to innovate beyond pouring money into individual projects and people.
INSAIT will influence Bulgaria as MIT, ETH Zurich, and Technion influence the economies of the USA, Switzerland and Israel
Martin Vechev, INSAIT ideologue and professor at ETH Zurich
"I am involved in this project because I want our children to have a world-class place in Bulgaria where they can realize themselves and become successful scientists and/or entrepreneurs. INSAIT will impact Bulgaria in the same way that the top institutions in the world such as MIT, ETH Zurich, Technion impact the status and economies of the USA, Switzerland and Israel. These institutions are not just part of the ecosystem, they are the core of that ecosystem. That is to say, they are fundamental to building a very different level of economy, innovation, knowledge and science in society. INSAIT needs to bring in the state-of-the-art practices from various top universities in the country. In this respect, INSAIT is like a snowmobile that passes and shovels the road, making it easier for those behind it to pass. If the institute is successful, it will actually show the way we need to develop regions of the world that have great potential but lack know-how. And this could motivate new programs in the EU. In this sense, INSAIT is a pilot project not only for Bulgaria, but for the whole of Europe.
Establishing the partnership with the two Swiss universities in Zurich and Lausanne took about 18 months. This period was necessary for them to agree, as they have no active interest in Bulgaria in terms of money or talent search, because they have no lack of candidates. It took a long time. Of course, my group at ETH also has legitimacy and status because of the results we have achieved over the years, and that has helped a lot. But I think both ETH and EPFL appreciated that this project could have a huge impact on society. And the desire to help and have a positive effect on society is something that is inherent in the people working in these educational institutions.
INSAIT is a long-term project, but I expect to start seeing results coming out in the form of world-class articles in a year or two. These top conferences are followed by everyone - including leading universities, start-ups, high-tech companies and their research departments. INSAIT is setting the direction, and I hope the pace will be quick, too.
The project should be an example of how to develop science in Bulgaria. If we want reforms in higher education in Bulgaria, we need to make sure that INSAIT can work as quickly and efficiently as possible. Then we will transfer its model of work to different areas of science and society. The institute must pull science in our country up and show the way it should develop."
This institute should not produce specialists for Europe, but for Bulgaria
Prof Dan Shechtman, The Technion
"Bulgaria needs more innovative engineers, scientists and technology entrepreneurs. INSAIT is a big step in that direction, but to keep graduates in the country they should be able to find good jobs. Here I turn to the Government, as it is their job to make sure that this institute does not produce specialists for Europe, but for Bulgaria. The people who are creating jobs for computer science experts are technology entrepreneurs who are creating new start-ups, and it is therefore important to teach them how to create such companies and how to succeed. Government has a key role to play in this process by facilitating it and providing support for new high-tech businesses. To show what the potential impact of INSAIT could be in Bulgaria, I will give the example of the high-tech industry in Israel, where at Technion we started teaching engineering almost 100 years ago - in 1924. There are around 500 organizations investing in innovation in the country at the moment, and nearly 400 international companies such as Google, Microsoft and Intel that have development centers, and around 335 thousand people, or about 10% of the workforce, work in almost 10 thousand high-tech companies. For 2021, the Israeli high-tech industry has attracted 30 billion USD in foreign investment, and 52 percent of Israeli exports are from it."
We are looking for the world's best
Borislav Petrov, CEO of INSAIT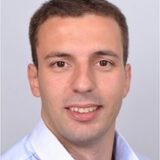 "It is a confirmation of INSAIT's potential that major technology companies such as Google, DeepMind, Amazon Web Services as well as the Bulgarian technology sector supported the institute even before its opening. I believe that with all this support it will be able to realize its most ambitious goals, and I hope that we will soon be able to share our first successes. The institute must be recognizable, it must have a network and be connected to others like it, and it must provide facilities for scientists who want to develop their careers. And we are looking for the best in the world. To attract them, we've worked for years to create those conditions, and they are world-class salaries, support from technology companies, and mentorship from professors. It is a process in which they seek us out, but there are also contacts through which we connect with potential professionals. We rely on being the first in Eastern Europe of this magnitude. We have a lot of natural partners and candidates that we can attract. We don't limit ourselves to the Eastern European region for candidates, but people can come from India, China, the former Soviet bloc or big countries like Turkey. The funding provided by the government and business will be used mainly for the salaries of the scientists we will attract. The working language will be English, which is standard for such institutes."
INSAIT will help us to breed more technology leaders here in Bulgaria
Tenko Nikolov, CEO of SiteGround
"SiteGround recognized the need to have such a high-tech institute in Bulgaria, because if we didn't have these people who helped us build it to a world-class level 18 years ago when we were founded as a company, we wouldn't have been able to progress so much. If INSAIT succeeds, it will help us breed more and more technology leaders here in Bulgaria, who will not only stay and work here, but will also create more and more companies. Our funding from SiteGroud is for five years and we have agreed to support three top professors in the world with salaries, expenses and travel. The institute suggests the names and we will approve them. I think there is a dire need for something like this in Bulgaria - one place where both business and institute are brought together. It will help our country a lot, it will take some time, but I see a lot of energy to make it happen."