On Saturday Dnevnik.bg, the news website part of Economedia (the publisher of Kapital Insights and Capital Weekly) received a Facebook ban that stopped users from accessing links to some of its articles.
Users of the online news site complained over the weekend that when they tried to post or click on a link to selected articles from Dnevnik.bg, they were warned by the social media company that they might be accessing "malevolent content". Users were also banned from posting and sharing articles from the website's official Facebook page, getting a "this link may not be secured" message.
Never before have Dnevnik.bg articles been flagged as problematic by the most widely used social media in Bulgaria. Dnevnik is a verified news provider on Facebook and is notoriously objective in its reporting.
Facebook: "a technical issue"

After the publication of this article, Dnevnik received a reply from Facebook press office. "Over the weekend, a technical issue caused some people to have trouble posting on Facebook. We resolved the issue as quickly as possible for everyone who was impacted, and we apologize for any inconvenience", said the reply.

On the background, they claimed the issue was "not connected to the elections"
Not all articles on the website were deemed non-secure. Just four items, all linked to, or mentioning, ex-Prime Minister and GERB leader Boyko Borissov, were identified as potentially harmful. This means that there is a significant chance the media has become an object of a targeted troll attack by fake profile "factories" just before the upcoming 11 July election.
Writing about Borissov gets you flagged
The only conspicuous link between the articles singled out by Facebook as potentially malicious is that they mention Mr Borissov. One cites an interview with caretaker Internal Minister Boyko Rashkov in which he says that the police interrogation of GERB's leader - over an accusation that he pressured a businessman - will take place after the 11 July vote so that "he does not cry like a widow".
The second article that got flagged described Mr Borissov's weekend visit to Istanbul, where he met Turkish President Recep Tayyp Erdogan. The third one is an overview of a poll made by Talk Online Panel, revealing that most Bulgarians link corruption with Mr Borissov, the current Prosecutor General Ivan Geshev and his predecessor Sotir Tsatsarov.
The fourth is an article mentioning Mr Borissov's role in suspending an investigation of misconduct in the Customs agency back in his first mandate.
"To protect your account, we recommend not posting the link"
This is part of the message that popped up when Facebook users tried to share or post the above mentioned links over the weekend (see the entire message on the screenshots).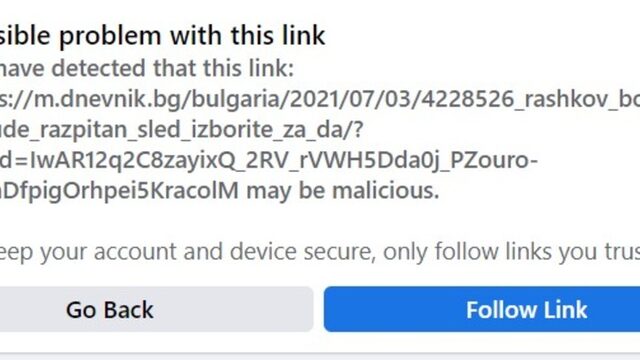 "I found that I couldn't share posts the day after I had already been banned - I discovered I had shared links, but nothing had appeared on my account. I was surprised that they were not on my wall, but at first I thought my personal wall just didn't refresh," Ivan Chervenkov, a software engineer and graphic designer, told Dnevnik. "This happened both when I tried posting on the Facebook mobile application and in the desktop browser," he added. Mr Chervenkov is a well-known creator of collages, mostly critical of the former government and status quo parties.
Other users who tried sharing links on different topics (Covid-19 or a campaign to save a wild bear) over the weekend also got temporary bans, so the problem might not be directly correlated to specific political topics.
Flagging of certain articles might be linked to the way Facebook's algorithm works - banning certain content after it has received a significant number of complaints from users.
There is a visible pick-up of FB bans around the elections: hundreds of comments online show that users have been banned from sharing election-related content.
But when a news website gets on the radar of the social media algorithm, this might well be the product of a targeted campaign by organized groups of fake profiles or "troll factories". Taking into account that only content linked to Mr Borissov was tagged as "malevolent" by Facebook, and that this happened just a week before the crucial 11 July vote, such an issue should not be ignored.
Dnevnik.bg asked M3 Communications - the PR company that services Facebook.com in Bulgaria - for comment. No response was received by the time this notification was published.