Do you remember the Bulgarian Development Bank (BDB)? This poorly managed state-owned credit institution has long been of interest to Capital weekly and Kapital Insights, and especially our finance editor Nickolay Stoyanov, for the problematic loans it handed to unstable, even dubious large companies, instead of financing SMEs.
Well, this week BDB became the proverbial can of peas.
It all started on Sunday when caretaker Economy Minister Kiril Petkov told bTV's Tsvetanka Rizova that BDB had granted loans of 500 million euro to just eight private companies, half of which have connections to MRF mogul Delyan Peevski.
While these "revelations" shocked many, they have long been public knowledge, thanks to the relentless work of Nickolay Stoyanov and other investigative reporters and activists from Bivol and the Anti-Corruption Fund.
The real news was that, for the first time, Bulgaria had an acting minister willing to unmask the oligarchic dependencies of BDB.
Getting appreciated after so many years must have felt nice for our Finance editor. But the pat on the shoulder was soon followed by a SLAPP.
On Wednesday, the newspaper team announced that Mr Stoyanov had been served three summons by the Sofia Administrative Court. He was also being sued for defamation by the ex-director of BDB Stoyan Mavrodiev and Cypriot Michael Tymvios for two articles investigating links between them and their potential role in a "golden passport" scheme for foreigners to obtain Bulgarian (and thus European) passports.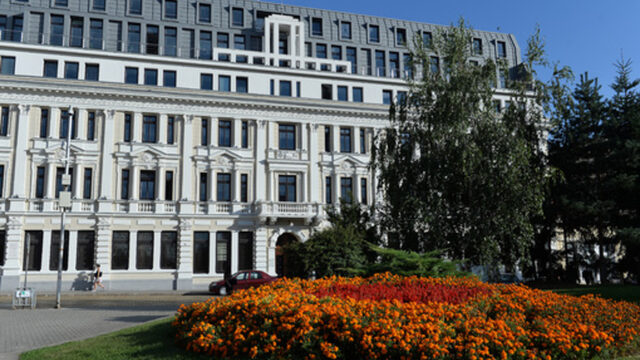 It's not the first time that an influential person has gone after Capital weekly writers, editors or publishers because they are offended by uncomfortable revelations. In fact, this is the fourth time Mr Mavrodiev has taken members of our team to court. So far he has tried to illegitimately place a record 123 fines on Economedia, topping 250 000 euro in total, for simply announcing the impending bankruptcy of Corpbank in 2014 as head of the Financial Oversight Committee.
Normally, we wouldn't bother you with such "internal" issues. Unfortunately, there is a precedent at hand that sparks concern, again linked to Mr Mavrodiev, who successfully sued our colleague Rossen Bossev for defamation in 2019. The decision was absurd and likely inspired by the judge's personal vendetta against Mr Bossev, as Reporters Without Borders pointed out at the time, but there is always the chance it is repeated. We need to stay vigilant!
Journalists between a rock and a hard place
Unfortunately, this was not the only problem facing Bulgarian journalists this week. While it was nice to hear caretaker Prime Minister Stefan Yanev pledge that his cabinet - unlike its predecessor - would remain open to reporters' questions, an incident on Tuesday left a sour taste.
In an interview with the National Radio, Internal Minister Boyko Rashkov said that, if he were the owner of bTV, he would fire morning show hosts Bilyana Gavazova and Zlatimir Yochev (who had interviewed him the previous day). He accused the hosts of not listening to his answers because they were waiting for instructions over their headphones, and repeating the same question.
Although the interviewers were, let's say, far from perfect, displaying a new-found zeal to interrogate the current ministers that was singularly lacking just two weeks earlier with his GERB predecessor, Mr Rashkov's comment was outright unacceptable. He later apologized, but the scandal helped deflect attention from some serious issues (more about them - below).
Another similar, perturbing story concerned Dimiter Kenarov, a freelance reporter beaten and arrested by police during the Summer of 2020 protests, and instead of justice received more repression. On Tuesday, the Association of European Journalists - Bulgaria announced that, instead of investigating who had attacked him (alongside other reporters and citizens), police requested that the tax authorities investigate his financial dossier and asked him to prove he is, in fact, a journalist - an absurd requirement for a regular contributor to the New York Times, Esquire and the Atlantic.
Every news is old news
Once these requests became public, however, the Internal Ministry withdrew them immediately. This was not the first time that "new" news became obsolete as soon as the (metaphorical) ink had dried.
On Tuesday, the new Health Minister Stoycho Katsarov announced with great fanfare the end of "green corridors" for anyone seeking a Covid-19 shot from Monday to Thursday. Instead, people over 60 and those with severe conditions would have priority immunizations, while the rest would have to get vaccinated over the weekend. Well, this ordinance lasted less than 24 hours after a backlash from the public and some medics. Now everyone is again welcome to get a shot any time of the week, but the elderly and the sick will have a separate, priority line.
Lastly, we are turning to one of the revelations about the Internal Ministry apparatus that was exposed by Boyko Rashkov and got overshadowed by his comment about the bTV reporters. In his interview with them, he said that all the heads of the Bulgarian specialized security agencies had taken an unpaid leave, approved by ex-Prime Minister Boyko Borissov, to the effect that the special services "decapitated themselves" - as Mr Rashkov poignantly termed it. Well, that was old news by Wednesday, when the same "vacationing" directors came knocking at the door of Prime Minister Yanev.
Scattering of the ladybirds
These directors probably took such an extended leave to avoid being fired by the caretaker cabinet (which would likely happen next week). There are indeed grounds for them (and their former bosses from GERB/MRF) to be worried - Mr Yanev's cabinet has already purged a throng of servile sycophants of the previous government. Some of them - for strategic reasons, like the heads of police and regional governors, who have key roles in carrying out elections, and others - simply because they are "kalinki", or ladybirds - good-for-nothing posers who got a lucrative job simply because they are mummy/daddy's kid. Read more about the key changes that the cabinet started to make in our Monday piece.
A Bulgarian "Watergate" in the making?
Another issue may start to preoccupy the directors of the secret services beyond their interrupted holidays. On Thursday, Atanas Atanassov, leader of DSB, which is part of the Democratic Bulgaria coalition, announced that according to a trusted source in the secret services, 32 important political leaders had been wiretapped during the past few months. If this is true (which we promise to follow and update you on), this might amount to a "Watergate"-type scandal.
Some good news - finally
On a positive note, despite cries of "revanchism" coming from GERB, not all new cabinet appointees are questionable. A great example of this is Alexander Dounchev who became director of the Forestry Agency. A dedicated environmentalist with a pristine reputation and forester/engineering education, Mr Dounchev is a breath of fresh air (pun intended) for the agency, which has largely failed in its mission to protect Bulgaria's forests from illegal logging. Wish him luck!
Left and Right - unite, unite!
Meanwhile, politicians are already gearing up for elections. Which, in Bulgaria, means they are mulling possible combinations to get into parliament (if they are around the 4 percent barrier) or keeping their positions (in case they are above it). Of course, everything is glazed with some trendy ideological spin.
The far-right nationalist parties are trying to come together with smaller, nominally conservative parties in order to get into parliament. "Patriots need to contain the rise of gender ideology, nihilism and nationally irresponsible policy," VMRO leader Krassimir Karakachanov said, calling (almost) all relevant "patriotic" parties to unite.
At the same time, Sega newspaper announced that Socialist leader Kornelia Ninova is meeting ex-BSP party cadres that formed their own smaller parties, including President (2002-2012) Georgi Parvanov and ex-party spearheads Tatyana Doncheva (currently part of the "Stand up! Thugs out!" (SUTO) coalition) and Georgi Kadiev. Unfortunately, SUTO leader and ex-Socialist Maya Manolova doesn't seem to have been invited to the party!
Blast from the troubled past
There is, however, someone both the Left and the Right should be wary of. A phoenix has risen from the ashes of Bulgarian political life - or a zombie, depending on one's point of view - Socialist Prime Minister (1995-1997) Zhan Videnov. Famous for the so-called Videnova zima (Videnov's winter) in 1997, when hyperinflation and food shortages abounded, he is still seen by many as an idealist forced to retreat from politics. Now he has announced the formation of a socialist-conservative faction. Yes, you heard it right. "While we have left-leaning beliefs, they are in unison with the strong conservative instincts that protected Bulgarianness over the centuries," his platform called Left Alternative announced.
It might sound ridiculous, but it is effectively what the BSP (which proclaims itself socialist but bashes "gender ideology") has been doing under the "leftist" guise since Ms Ninova became its leader. The Left Alternative will just formalize this amalgamation between Left and Right.
2. Economy
Economy grows stronger in March
The Bulgarian economy outperformed expectations in the first quarter of 2021. Granted, GDP was still 1.8% below the level in the same period of 2020 but those were still pre-crisis levels. On a quarterly basis, economic growth accelerated in the first quarter - from 2.2% in the last months of 2020 to 2.5% this year. For comparison, the European Commission was betting on a decline on both accounts. According to their estimates, Bulgaria should pass pre-crisis levels of GDP by the end of the year.
The numbers aren't a surprise considering that: 1) wages grew 11% in the first quarter, and pensions rose significantly (percentage-wise) for nearly 800,000 retirees; 2) all signs pointed to a significant recovery in industry in the past months.
Last week, we mentioned that there may have been a significant boom in industry in March judging by the results of large industrial enterprises listed on the Bulgarian Stock Exchange and NSI business indexes. This week, export data proved the trend - sales of Bulgarian goods abroad have never been as high for a single month as they were in March - 5.7 billion levs, and an annualized growth rate of 27% (note: March 2020 saw a decrease of about 7-8%, the big decline was in April-May). Several factors led to the record - higher prices in raw materials, and increased activity from eurozone countries (especially Germany) and the US.
You can read more on the economy and the sharp increase in industrial activity next week on the website.
Inflation accelerates to 2%
Unsurprisingly, after a brief deflationary glitch, price changes returned to positive territory with an average annualized increase of 0.8% in March, and accelerated to 2% in April.
So far, the increase is largely due to a very low base at the start of the crisis in Europe in early spring of last year - then, energy prices and transportation costs fell sharply as a result of declining demand. On a monthly basis, inflation is only 0.7%. However, the growth rate of average prices in Bulgaria (and in Europe, for that matter) is likely to increase in the next few months on the back of inflationary pressures coming from raw materials like oil, copper, aluminium, steel.
More new people at the NRA and Customs Agency
Georgi Dimov is the new deputy director of the National Revenue Agency (NRA), according to the institution's website. He is a former employee of the territorial directorate of the National Revenue Agency in Sofia, where he last held the position of head of the Audits division. The agency reports that he had a supervisory role from 2008 to 2012. Gavrail Zaburtov and Milena Krastanova have retained their deputy posts for the time being while Plamen Dimitrov has been released.
The Customs Agency got three new deputy directors - Lachezar Krastev, Pavel Gerenski and Rumen Danev. All three have many years' experience in the customs administration. Krastev will take over the department of customs activity and methodology, and customs laboratories, Gerenski - excise activity and methodology and information systems, and Danev - customs intelligence and investigation. The current two deputies, Borislav Borisov and Georgi Alexandrov, have been relieved of their posts, the agency reported.
3. Business
Aviation
Sofia Airport
Fees at Sofia Airport will not be raised. Some of them have even been lowered. Moreover, a differentiation of fees at the two terminals will be introduced, according to the final decision of the General Directorate "Civil Aviation Administration" (DG CAA) at the Ministry of Transport.
Logistics
Metrika
Metrika opened a new logistics center in Bozhurishte, specializing in the processing of goods ordered online. In essence, the base will act as a regional hub for servicing companies that sell in three markets in the region - Bulgaria, Greece and Romania. So far, the company has invested over 100,000 euro for machinery, automation, and work environment. Employee headcount is at 50 people but Metrika plans to double that in coming months.
Services
Spark
Ride-sharing company Spark has expanded to Bulgaria's second-largest city - Plovdiv. From May 17, users of the app for short-term rentals of electric vehicles can use several dozen company cars in Plovdiv covering the center and individual areas. In addition, cars can be parked in a few smaller zones around commercial and busy areas. Prices are the same as in Sofia - starting at 0.29 levs per minute.
Manufacturing
Monbat
Monbat has bought 60% of the Tunisian plant Nour Batteries for 10.3 million euro. With this, the company invested the remaining funds from its bond issue, placed at the beginning of 2018, and added some of its own funds. Following the finalization of the deal, battery maker Monbat will increase its capacity and cover the region, and one of its key markets - Saudi Arabia. This will lead to an increase in revenue of 30 million euro and higher profits, according to the company.
4. Energy
TPP Maritsa Iztok 2 reports record losses in 2020
Despite billions of dollars in state aid, the state-owned TPP Maritsa Iztok 2 generated a ground-breaking loss of 341 million levs in 2020. This renders the enterprise technically bankrupt with no prospect of recovering in the short term. For comparison, in 2019, the TPP reported a loss of 208 million levs, and 332 million in 2018.
Thus, the accumulated loss of the enterprise totals an alarming 1.15 billion levs over the past three years, the company's financial report shows.
One of the main reasons for this staggering result is the cost of purchasing CO2 quotas. The annual report shows that these expenses amounted to 339 million levs in 2020 whereas, the year before, they cost 306 million levs. This year, the costs for quotas will exceed 750 million levs - their price has risen from an average of 25 euro in 2020 to over 55 euro in recent months.
And yet, despite knowing this, the state-owned company has not taken action to optimize its costs.
Meanwhile, RES investments skyrocket following a loosening in restrictions from January 1
The Electricity System Operator (ESO) has been reporting huge interest in the construction of new large RES installations since the beginning of the year. Since January 1, applications for the inclusion of new RES power plants have been received from 22 investors, with a total installed capacity of 1971 MW. For comparison, for the same period of 2020, applications totaled 479.8 MW from 14 investors.
Currently, the capacity of renewable energy plants operating in the country, sans Hydroelectric power plants, is about 2000 MW. Which means that, if all of these investments are made, the capacity of green power plants will double.
This development can mostly be explained by the recent amendments to the Energy Act. All projects put into operation after January 1, 2021, with the exception of small roof installations (which enjoy preferential prices), are to be exempted from the obligation to contribute 5% of their revenue to the Electricity System Security Fund. This was a huge step forward for the profitability of these projects and for attracting more investors.
5. Watch out for
People:
Atanas Pekanov
The youngest Minister in the caretaker government has one of the most challenging portfolios - managing European funds. On Thursday, he announced that he had authorized investigations into all active Operational Programs because there were signs of problems with the absorption of funds for two of them. He also said that more work has to be done on the draft Recovery and Development Plan, which he called "not ambitious enough".
Boyko Rashkov
The Internal Minister has already proven quite controversial in his first days in office, but he also seems ready to shake up the largest, best funded - and most intransparent - Bulgarian ministry. His response to the wiretapping allegations made by Mr Atanassov has to be scrutinized closely.
Places:
Skopje
This is the next stop for European Commissioner for Neighbourhood and Enlargement Olivér Várhelyi, who will try to break the deadlock between Bulgaria and N. Macedonia before June's European Council that would in turn allow the adoption of an integration framework for both Skopje and Tirana.
6. Words of the week
Kalinka - a ladybird
As we said earlier, Bulgaria's administration is full of people who are appointed not because of merit but because of nepotism, or party connections. Such people are dubbed "kalinki," or ladybirds, which seemed just appropriate for their habit of hopping from position to position without mastering their brief. The story of the dismissed director of the Invest Bulgaria Agency Dessislava Trifonovova illustrates this term perfectly. She got posted to the lucrative position from another administrative job in the Agricultural fund without having any experience with attracting investment and, unsurprisingly, did not attract any during her stint. Why did she get there in the first place? According to Capital weekly sources in the fund, her career received a boost from her brother Mario Trifonov who is a head of directorate in the National Security Agency. Both are the children of Judge Tsvetancho Trifonov, famous for heading the regional courts in Knezha and Kozloduy without ever having worked as a magistrate before.
But why ladybirds and not some other insects, you may ask? Political analyst Teodor Slavev reminded the general public on Facebook that the term derives from the name of Kalina Ilieva, who was appointed director of the same Agricultural fund by presenting a fake Masters diploma in 2009.