The startup ecosystem in Southeast Europe is the fastest growing in Europe. Since 2012, the combined enterprise value of startups in the region has grown by almost 50 times, compared to the European average of 12 times. Local funds' investments in the region have increased dramatically - from 218 million dollars in 2017 to 1.3 billion dollars in 2022. Those are some of the findings of the Bulgarian Equity and Venture Investment Association (BVCA) on the state of the startup ecosystem and venture capital in Southeast Europe and Bulgaria.
Enterprise Software, Fintech & Transportation are the three leading sectors in SEE startups. These 3 industries combined have generated more than 24 billion dollars in enterprise value, more than 50% of the total value of the region.
Bulgaria as a regional leader
According to the study, Bulgaria leads in South-Eastern Europe on several fronts. The country has the largest number of local investment funds - around 14 active funds are currently listed, followed by Greece and Romania with 6 each. Bulgaria is also second after Croatia in terms of combined enterprise value of young companies.
In the last 18 months, more funds have been raised than ever before - in 2022, investments in Bulgarian startups in the first three quarters have topped 251 million dollars.
Bulgarian and Croatian startups also have the highest chance of attracting funding, with a 3 times greater probability of receiving funds from venture capital firms compared to startups in Kosovo, Albania or Montenegro.
Bulgaria, Greece and Romania make up more than 70% of the combined enterprise value of the startup ecosystem in the whole of Southeast Europe, and Bulgaria and Romania, in addition to being hubs for local young companies, are also the most popular countries for foreign startups that set up offices abroad - more than 60 overseas offices have been successfully set up in Bulgaria, according to the report.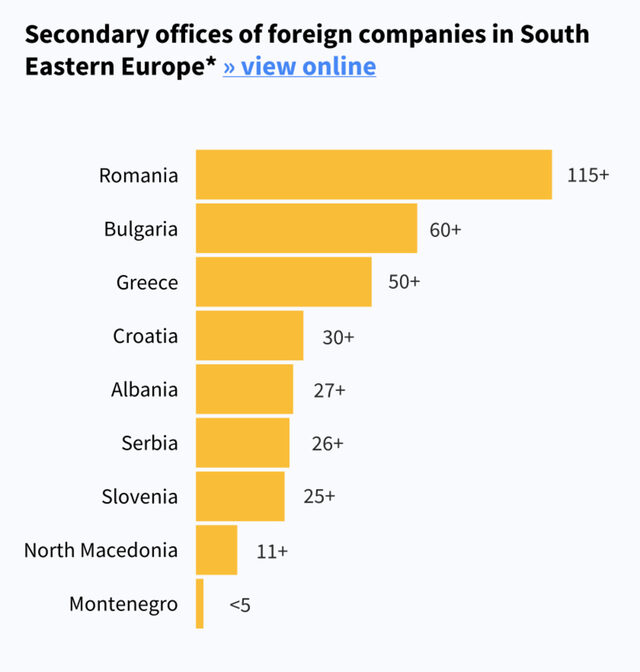 Unicorn Hub
There are currently 9 unicorn companies in the region, and 11 more are on track to reach a 1 billion dollar valuation. Romania has produced the most unicorns - EMAG, Elrond and UiPath. Greece (PeopleCert, Viva Wallet) and Croatia (Rimac Automobili, Infobip) have two unicorn companies each. In Bulgaria and Slovenia, the young companies with a valuation above 1 billion are Payhawk and Outfit7.
Forecasts for 2023
KInsights spoke to a representative from the Bulgarian startup ecosystem about the general expectations in the startup market. Here's what Stoyan Nedin, partner in the VC firm Vitosha Venture Partners, envisages.
"Market expectations are pessimistic. After the events of 2022, we saw the withdrawal of several co-investors who had already confirmed their participation in certain transactions," Nedin says. "Venture investing is one of the first to suffer in a situation of increased economic uncertainty, and in this case, it is complemented by global political uncertainty."
Still, a dramatic drop in deals is not expected. Fortunately, many VC firms have a fixed investment period and aim to invest their funds within a certain time frame, which means that deals from the usual regional players in the market will not stop all of a sudden. Vitosha Venture Partners' investment period is due to expire by the end of 2023, therefore the firm is currently in the process of closing about 20 deals.
From an investor's perspective, market upheavals of the kind we are currently experiencing can also create opportunities. As a rule, valuations of startup companies are highly inflated because they are usually based on deeply desired future earnings instead of existing cash flows.
In these natural economic cycles, the valuations of the riskiest companies will suffer the most. It is good to have periodic market corrections after years of inflation so that when the bubble bursts the shock is not too drastic and the system does not collapse.