What inspired ING to tackle the climate crisis through the products it offers?
GK: ING is a global financial institution and frontrunner in sustainability. For us being sustainable is the impact and the choices we make - as a lender, as an investor and through the services we offer to our customers. That's why sustainability is inherent to the purpose of empowering people to stay a step ahead in life and in business.
MK: Climate change is the fundamental challenge of this century. ING has a truly wholistic approach when it comes to climate action as reflected in our first Integrated climate report published in September 2021.
Our clients are very open to doing business more sustainably. As a frontrunner in sustainability globally, ING is best positioned to support our clients' sustainable transitions
As a bank the biggest impact is with our financing. We are taking action on how our business impacts climate change, which includes using our Terra approach encompassing nine key business areas with the aim to steer our entire loan portfolio towards limiting the rise in global temperatures to a maximum of 1.5 degrees Celsius until 2050, a stricter level compared to the previously communicated target of well below 2 degrees Celsius until 2070. We see this as a unique opportunity to leverage on our experience and knowledge while supporting clients with advice and sustainability linked financings to facilitate their transition to a net zero world.
What steps is ING taking to achieve the goal of a planet free of climate threats? Which sectors are the focus in the fight against climate change and which are examples of restricted sectors?
GK: To avoid catastrophic and irriversible global warming, the global economy will need to eliminate or neutralize CO2 emissions altogether by mid-century-what the United Nations terms net zero by 2050. And we need to do this very quickly and at scale as climate change will not develop linearly but exponentially. Greenhouse gases must be cut by half by 2030 and as such economy needs to be completely rewired.:11
ING is working to measure and steer our lending portfolio towards a net-zero world by 2050, keeping the rise in global temperatures to 1.5 degrees Celsius through the Terra approach Strategy. The bank is focusing on the sectors in its loan book that are globally responsible for approximately combined 75% of total emissions in power generation; upstream oil & gas; automotive; shipping; aviation; steel; cement; residential and commercial real estate. We are taking action on climate financing and climate risk, and really adding value for our clients in both areas.
MK: Most sectors in scope of the Terra are on track to meet the climate goals, while ING has taken decision to decrease funding to energy types of business that are carbon intensive while steering towards cleaner energy types, at the same time reducing coal power financing to close to zero by 2025. Our approach is to engage in a dialogue with our clients on their direction and advising them on how to contribute towards the energy transition. Only saying "no" would be the easy way. Such clients would go to a different bank who might not be as genuinely interested as we are in helping them to fight climate change.
In the recently issued Climate report, ING specifically mentioned set of tangible examples of relevant sustainability linked solutions we implemented with clients operating in various sectors. If we take cement sector as an example, we are proud of ING's role as ESG structuring advisor and bookrunner for a Eur850 Mln sustainability linked bond issued by Holcim, that has been the very first one of this kind in the entire construction value chain globally. Holcim pledged to reduce its CO2 intensity in cement down to 475 kilos per tonne by 2030 and the issuance received a strong interest from institutional investors.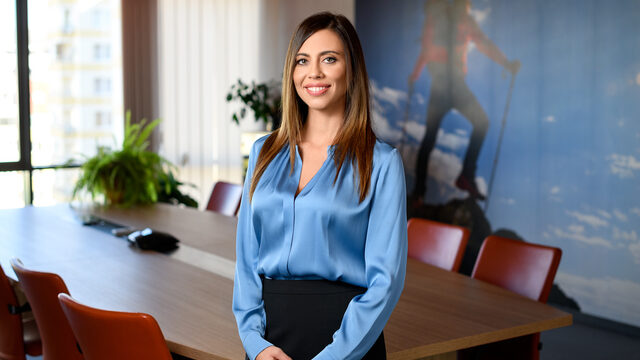 What opportunities does the EU Green Deal create for businesses? What is their attitude towards a green transition?
MK: The shift to a more sustainable global economy is accelerating, as governments, consumers, businesses and investors realize the urgency of the changes that we all need to make. This is evidenced by a recent research we did at ING, which showed staggering 70 percent of our corporate clients planning to accelerate their sustainability activities in 2021 and beyond. The transformation that is happening is both a risk and an opportunity for us. While ING takes a global approach to sustainability, country specific differences have to be considered.
Europe is the clear leader in sustainable finance, thanks to regulation such as the Green Deal and specifically the EU Taxonomy-a classification of economic activities according to their carbon intensity and footprint-and the Sustainable Finance Disclosure Regulation.
To Bulgaria the Green Deal represents unique opportunity for transformation towards low-carbon future. This is very important as the country is among the most carbon intensive economies in EU. Bulgaria could take advantage of the financing available under the EU Green Deal in energy, industrial, transport, environment and infra sectors, which will catalyse vast amount of private investments. The role of ING and other banks as financiers of such private green investments will be key, which will complement the EU Green deal funding.
What support does ING offer its clients in regard to the green transition?
MK: Companies look for two key services from their finance partners-financial support and advice. When this is put into the context of net zero by 2050, clients clearly want advice on how to meet these goals and demonstrate progress on the way there. Our advice ranges from sustainable finance products to long-term and innovative solutions, and clearly on setting of ambitious sustainability KPIs that we advise them to embrace. We engage in a dialogue on how our clients can issue a green loan or a green bond. ING can play a pivotal role towards decarbonization, but the real impact comes from the strong cooperation and tangible actions as well as investments from clients in their transition paths, with governments playing a key role in setting ambitious targets and proving enough stimulus to accelerate decarbonization in a coordinated way.
What is ING's focus in Bulgaria?
GK: When it comes to Sustainability and our focus, we take 3 step approach. The first two steps are creating awareness on the Sustainability front which includes informing about regulatory developments such as EU Taxonomy and ESG ratings, as well supporting our clients with green financing. We create awareness by facilitating the dialogue with clients and between clients and we also need to include the government too.
There are a lot of subsidiaries of multinational companies here in Bulgaria which bank with ING for more than 25 years and a lot of these companies already have strong environmental, social and governance targets. We also have strategic dialogues with our Bulgarian clients on financing their sustainable transitions and we already see local companies setting clear goals they want to achieve, investing in technology and making great progress. The third step is our Commitment to Society. We are proud to be a founder of cross-sector community investment coalition Open the Circle together with Reach for Change Bulgaria partnering with businesses, NGOs, media, academia and research organizations on the topic of social exclusion in Bulgaria.
What is ING's green loan - what does the product consist of?
MK: There are a number of sustainable finance products available in the last couple of years.
At ING we have the aim to offer a sustainable version of each Wholesale Banking product we have.
In the bank loan markets there are 2 main products being structured: green loans and sustainability-linked loans. Traditionally the market started with the green loans. The Green loan Principles define green loans as a loan instrument made available exclusively to finance or re-finance new or existing eligible Green Projects. The funds shall be used for dedicated sustainability projects which has to be predefined with the financiers. To determine is the purpose is green, EU taxonomy will serve as a guide. Examples of such are loans for green certified buildings, green loans for renewable energy, etc.
Sustainability-linked finance, where rates are linked to a client's sustainability performance, was created by ING back in 2017, when ING is proud to have initiated the first ever sustainability linked loan on the market for Philips. Since then, the markets have grown exponentially with EUR 134 bn of sustainable bank debt issued in EMEA solely in 1H2021 with more than 150 sustainability deals supported by ING to date.