This article is part of the upcoming Special Issue of KInsights dedicated to the most important developments in the real estate sector of Bulgaria. It will be published in early September.
The pandemic has hit shared workspaces faster and harder than traditional offices. But then they recovered quickly and now emerge as an office format with potential. So far they only form a small fraction of all office spaces in the capital, and prices are still well below European levels.
"The conditions for terminating contracts are quite flexible In coworking spaces. In contrast, traditional office tenants have long-term contracts and prefer not to make hasty decisions. There are instead filing inquiries for subletting leased spaces," explains Krasimir Petrov from CW&Forton. "Therefore, we believe that the demand for the features provided by co-working spaces will only increase and will come from both their usual user base as well as from larger corporate clients," he adds.
Hitting rock bottom
During the two worst months of the first lockdown in the spring of 2020, the occupancy rate of some shared workspaces fell by 83 percent and by 95 percent in others, according to their managers. Some others shut down completely. CW&Forton claims that the average decrease in occupancy for the entire 2020 amounted to less than 50 percent and it was particularly severe in spaces that rely heavily on hosting events. Despite that negative trend, in the midst of the crisis "the business model of shared business space or flex offices remains unchanged as far as we can see from the sidelines," Verka Petkova-Shekerova from Colliers says. Subsequently, the range of their clients, as well as the services they offer, has only expanded.
In 2021, interest from clients in shared workspaces definitely grew according to consultants' observations
The second Covid-19 wave in late 2020 was marked by a move away from traditional offices to work from home, and it's not yet clear if and when companies will bring back their employees to offices. Shared office spaces continue to operate under strict anti-Covid measures. One of the largest coworkings in Sofia, betahaus, summarize their 2020 like this: "We had a revenue decline in Q2 and Q3 of 2020, but by the end of 2020 we had recovered these losses and currently have over 90% occupancy in our two Sofia locations."
And bouncing back from it
In 2021, interest from clients in shared workspaces definitely grew according to consultants' observations. "The panic seems to have been contained and, for now, the changes imposed by the pandemic are having a rather favorable impact on the segment. People need a normal social environment to work in and they mostly turn to us because they are looking for flexibility in rental terms and good value for money. They need the freedom to choose when and where to work, as well as when to terminate their contract," betahaus adds.
They are reporting an increase in enquiries for day work space, conference room hire and phone booths. They observe that freelancers are willing to replace the cafes they have mainly worked in or their home with a shared office. Many companies rent conference rooms by the hour or by the day for team meetings, by department or with clients. Increasingly, phone booths are also being rented for online events or to record podcasts. Demand for standalone offices - typically coming from companies and for one- or two-person offices - also grew in the final two quarters of 2021, betahaus claims.
Finding areas for growth
The renaissance of the co-workings also shows in the expansion of some companies. Puzl CowOrKing, for example, says it has created 350 new jobs in 12 months, increasing the capacity of their offices by 50 percent. They have bought a building abroad and are looking for a second one to purchase in Sofia. The company is in the process of raising 10 million euro in capital to accelerate its growth in Bulgaria and other CEE locations.
Their competitors from Networking Premium have opened two new locations within a year. They are considering opening more branches in cities outside Sofia. Trifon Mihaylov from the company explains that the expansion is partly stimulated by the need to comply with all measures against the pandemic. This requires more space in an office space like theirs, where there is traditionally a high demand for stand-alone offices.
"In the last two years society has changed its habits, which is favorable for large shared offices where all safety measures can be observed. People are fed up with working from home and big corporations are fed up with paying for huge offices that no one visits. The most interesting thing is that big companies have started taking offices in shared spaces, and their employees are coming in on a rotational basis," Trifon Mihailov explains.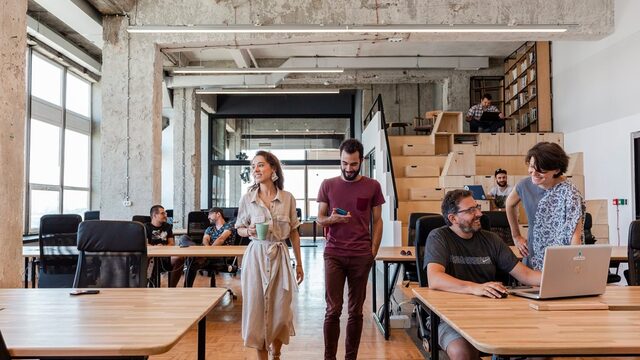 The new market demand
Before the pandemic started, the traditional customers of shared office spaces used to be predominantly freelancers and small companies. The new realities created additional demand from large corporations. "Companies trying out a hybrid working model are discovering the benefits of flexible office spaces and hiring individual desks or meeting rooms. And employees who have fully transitioned to working from home are looking for the opportunity to have a more comfortable office environment than a home office and to work alongside colleagues," representatives of Interact 127, one of the newest spaces in Sofia, explain.
Some companies are allocating special budgets to employees working remotely to improve conditions at home or rent space in a shared space, representatives of Puzl CowOrKing say. There are also employees of large companies who cover their membership costs by themselves, betahaus adds. "Some tenant companies have optimized their office space due to cutting the number of workers who attend work in-person in half. But now a large number of their employees want to come to the office again. In this situation, shared spaces are the solution," says Verka Petkova. According to her observations, companies are increasingly thinking in the direction of a combination between traditional office space and shared workspaces. This is not so much in order to reduce costs, but because of the flexibility and the payment structure that flex offices offer.
Before the pandemic started, the traditional customers of shared office spaces used to be predominantly freelancers and small companies. The new realities created additional demand from large corporations
"Our clients include companies that have vacated their offices and rented coworking spaces for their employees. In the fall, some of them returned to their own large offices. Others continued to have occasional meetings in the coworking space. Some of them plan to rent their own office again, but in a reduced capacity," says Lyuba Hristova, founder of Soho. Recently, they have been looking for their own workspaces - a type of medium-small office for about ten people.
Will the growth last?
The office market picture is very dynamic at the moment. The development of shared spaces as a complementary segment largely depends on what happens to classic offices. Krassimir Petrov from CW&Forton says that there is a tendency for companies to partially replace the traditional office with renting workspaces in co-working spaces, but specifies that "this practice is not frequent". "In such cases, we are usually talking about relatively small companies, with a smaller number of employees, which are less able to make long-term forecasts for their development and growth. They prefer to relocate to co-working mainly because of the flexibility this format offers," explains Yordan Krastev, Office Space Manager at CW&Forton.
Will emerging trends become sustainable? To a large extent it depends on whether companies will permanently shift to a hybrid way of working - from the office, from home and from shared workspace. "The fact is that while many companies are now exploring this model, most are not yet ready with an entirely new office strategy. This ambiguity reflects on shared offices, which are finding it harder to plan their occupancy and ROI," claim from Interact 127.
Coworkings across Bulgaria
A dozen places outside Sofia where you can work from a distance and enjoy a change of scenery
Seaside:
Varna
The Social Coworking Place
is an iconic shared workspace for several reasons. On the one hand, it is connected to the Social Teahouse and represents one of the most successful examples of social entrepreneurship not only in Varna but also in Bulgaria, and on the other hand - it successfully combines a restaurant, an event hall and a shared workspace in the three-storey house on 53 Preslav Street. The social enterprise works with young people from homes for children deprived of parental care, aiming to fill the gaps that institutions fail to do.
Innovator Creative Spaces
was born out of founder Marten Demirev's concept to create a place where communication between people is possible in order to generate and implement different ideas. In fact, the space is more than just a shared office; it is characterized above all by the community that functions around it. Both its past and its future are linked to the NGO of the same name, which is dedicated to the development of the entrepreneurial ecosystem and works on various initiatives and projects in Varna. Innovator hosts events and training sessions and brings together people with common interests looking for development opportunities in the city.
Wollow
coworking space, established in 2014, is the first shared space in the seaside capital. Back then it existed under a different format, with the team behind it focusing primarily on organizing startup weekends, trainings, workshops and conferences, as well as providing office space for digital nomads. The man running the space, Ivelin Vassilev, continues to drive the project, albeit in a modified format. Wollow coworking space is currently at a more mature stage of development and focuses primarily on coworking, while events and various initiatives remain in the background.
Kavatsi, Burgas region
Have you ever just wanted to teleport to the seaside while you're working? Yassen Rusev has already discovered a way to make this possible. Last year he opened the first shared workspace on the beach in Bulgaria with his partner Svilen Elenkov. The place is called
Beach Hub Kavatsi
, after the camping site just south of Sozopol, Burgas region, where the two have been going camping every year anyway. Gradually, they started thinking about forming a so-called camper-working, consisting of several caravans, where people could combine rest with work and a good internet connection. Then they decided to create a co-working space. In the place where the coworking is now located there used to be an old, socialist-era restaurant from the Balkantourist chain. Later, there were discos, and in the past few years the place was left deserted. Its advantages are that it provides conditions for privacy because of the camping and at the same time it is close to big centers like Burgas and Sozopol. The hub opened on July 10 and runs until the end of September.
Mountains
:
Rila
Since 2021, a coworking space has surprisingly appeared in one of the most iconic places in the Bulgarian mountains. Its thematic name is 7 lakes coworking and it is located in the eponymous chalet Rilski ezera at 2150 m above sea level. The founders are Vienna-based architect Simona Slavova and digital marketeer Viktor Tulev. The shared workspace is relatively small - just 40 square meters, it has only 8 desks, but provides a spectacular view. What's interesting about it, besides the location, is that full packages are offered that include a workspace with fast internet (70 megabits per second), food and accommodation in the lodge. The package's aim is to allow those who decide to work high up in the mountains to not have to worry about basic necessities and afford them time for walks and sports in the picturesque area.
Rhodopes
While Rila hosts one of the newest places to work in the mountains, the central part of the Rhodopes boasts the first such place in Bulgaria, established back in 2014. It unites three locations under the common brand
Office in the woods
- Chepelare (1150 m), Pamporovo (1650 m) and Mechi Chal (1830 m). The idea for a place for shared work and living in the Rhodopes came to the same people behind the organization "Mountain restart". One of them is Stanislav Vangelov from Chepelare, who decided that the tradition of health treatment in sanatoriums, which was extremely popular a century ago in the region, should be revived. The Office in the woods experience is unique in that it offers an interesting mix of accommodation, workspaces, local cuisine and lots of interesting things to do. People who visit any of the three shared spaces are invited to participate in shared hiking and biking trips, sunrise greetings, winter skiing and snowboarding and tours, as well as Rhodope crafts circles.
Vitosha
The "home mountain", as it is often called by the citizens of Sofia, does not yet have special co-working spaces, but some of the chalets there are turning into something of the sorts, offering opportunities for remote work. One example is the recently renovated
Little Red Riding Hood chalet
(1446 m). There are no separate workplaces, the internet is not extremely fast either, but there is a spacious green lawn, awnings for shade, plenty of trees for hammocks and an outdoor bar with draft beer and homemade lemonade. It seems that these conditions are enough for a hut with easy and quick access from the city to get chosen by more and more people as their workplace, especially on hot summer days. "There is quite a lot of interest in working from the hut," notes chalet keeper Peter Velkov, who is a programmer by profession.
Close to the Little Red Riding Hood is another chalet that follows the trend. It has recently been restored by young people and is being developed skilfully, offering interesting opportunities, including for work. This is the
Balkaniti chalet
(1420 m). "There is serious interest in people working from the hut. Twenty people from the Coca-Cola team are here at the moment, doing a hybrid of team building and work. Since the weather has warmed up, even more people have started coming to work with us. Some come just for the day, others stay overnight, others combine work with trips to Kopitoto and Kamen del," says Nikolay Lukanov, who runs the lodge. Apart from individual freelancers and whole teams, he has noticed that families with children, where one parent works and the other is with the child, come often.
Lastly, another chalet-turned-coworking in the Golden Bridges area of Vitosha is a third recently renovated lodge with good working conditions.
Septemvri chalet
is located at an altitude of 1495 meters and in recent months its owners have made special efforts to turn it into a comfortable and preferred place to work in the mountains. One of the things that distinguishes it from other chalets on Vitosha is that a couvert, or rather a minimum consumption of 30 BGN, has been introduced for those wishing to spend a full working day there. For that, visitors get access to a 130-140 megabit internet access in the shade of the chalet's gorgeous front yard.
Plovdiv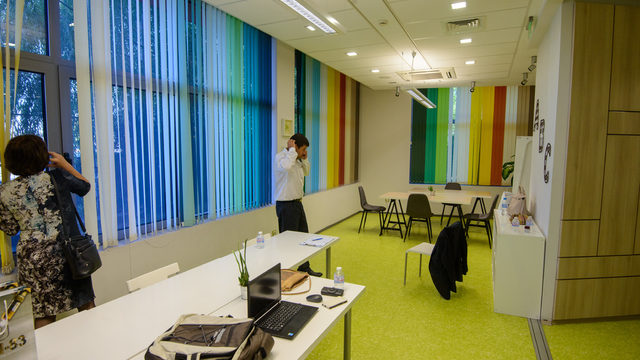 Cat and Mouse
- Adjacent to the eponymous bar that is practically the heart of the Kapana district, the coworking space is also owned by journalists and local entrepreneurs Dimitar Semkov and Ivaylo Dernev. The first section is located in the house next to the bar and has been open for two-and-a-half years. It has two rooms that are designated for teams or people who need more privacy. The second section was opened last year and is one floor up from the bar itself. A monthly subscription for a space is only 168 BGN, which is very lucrative for startups that don't have their own office, and is more cost-effective than renting an apartment.
Limacon
- Shared space? Not quite. "We prefer to call ourselves a public space that allows for the organization of events," the creator of Limacon Ivan Bondovok says. Although the company first launched as a co-working space in 2016, that changed after about a year when its team realized that that wasn't enough. Since then, Limacon became famous for its training sessions. The topics for these are divided into two larger groups: soft skills (communication, motivational) and professional (systems and budget management and marketing). To run them, the team invites partners and markets them. The most famous format is called the "Business Breakfast." It is held every month and the presenters are different speakers who set the topic of conversation.
Otsreshta
, which loosely translates as "on the other side of the street," is a recent addition to the coworking family. In the last four years, the place has acted more like an art corner, where you can admire artworks while sipping hot sips of quality coffee. Since the beginning of last summer, however, things have been different. It's actually not very simple to explain, as it doesn't come down to sharing space. There are several faces of Otsreshta - a relaxed place to work, a bar that caters for various events (after 6pm on weekdays only) and a café on the weekend. It is home to various exhibitions and events, clubs and city initiatives. It's more colorful than you might think. And it's not just because of the paintings hanging on the wall.