In this two-part series, KInsights will explore where more than 300,000 Bulgarian Roma disappeared to in the last couple of decades - and the hidden effects from this for the national and local economies and societies that they have left behind. This is part II of the story.
Capital weekly's reporters went to the Roma ghettos across the country to see whether this mass migration that researchers report is, in fact, true. They visited the Roma districts in Sliven, Plovdiv and Belogradchik. The stories there proved in practice that a large part of the active population is gone. Most of the year these neighborhoods are deserted and fill up in the summer for big parties and family reunions.
There are several reasons for this. Roma communities migrate in very different ways - they go to places that have already been explored, to people who can provide reception, jobs, and local contacts. Thus, once they have managed to break into Spain, Germany, Italy and the UK, these groups bring more and more with them - so-called chain migration. Whole compact communities have moved abroad - for example from Nadezhda in Sliven to Edmonton in London or from Harman's neighborhood in Plovdiv to Dortmund.
This exodus is also very good for unskilled labor, which is mainly what this is. They work in construction, small services, and agriculture. Some of these jobs are seasonal, some are permanent.
A culture of survival
"People in Roma communities live in a well-developed culture of survival, as a result of which many of them can quickly seek, find and assess opportunities and choose the strategies that are more profitable for them. With the opening of the labor market to all EU citizens, they relatively quickly began to realize that they could work in other countries for much higher pay, in the same way that many Bulgarians leave for work," says Elena Kabakchieva, chair of the Health and Social Development Foundation (Hesed), which has been working on integration since the 1990s.
She says there is a positive selection bias in the quality of the workforce. "I've heard from representatives of various communities that the first people who have gone abroad from their community and got a job (whether in construction or agriculture), and made an effort to present themselves in the best way to the employer, when they go home to Bulgaria after a while on vacation, their employer asks them to find more workers like themselves - conscientious, who work seriously, for whom the worker himself is responsible," says Ms Kabakchieva.
Alyosha Vatkov, a Roma municipal councilor from Belogradchik, confirms that notion. "We are not very much into risks, investing 4-5,000 BGN is too much for us, so we had to have someone to pull us through [abroad], to give us a hand. And so everyone pulls a relative, a friend," explains Mr Vatkov, in whose town, according to him, there is no house where someone does not work outside.
Another thing that helps a lot with this integration abroad is the Turkish language. A significant number of Roma identify as Turkish, either for historical reasons or because it is easier to find work abroad. "This has always been the case, but recently it has been increasing," explains Prof Ilieva. "This community travels en masse to Germany and often migrates on a long-term basis - for more than one year, while others have a more typical seasonal migration."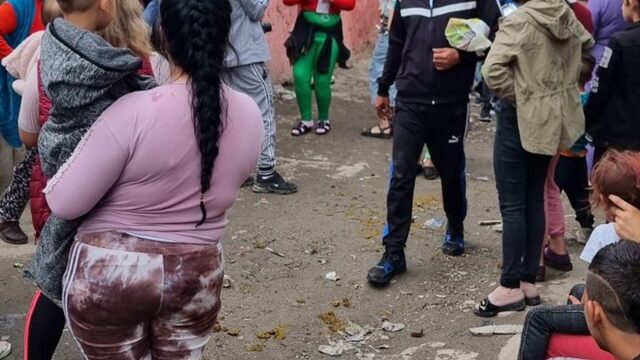 Integration? No, emigration
When Bulgaria and Romania entered the EU, the main concern in markets like Germany's was that they would be flooded by a wave of poor, uneducated people looking to escape poverty. Many news stories since then have talked about the 'skyscrapers of misery' in Duisburg and other stories.
Ten years later, it turns out those fears were overblown. A 2022 article in Germany's FAZ, citing official figures, claimed that the Bulgarian community had found work and settled in the country "in record time". It does not give percentages of the ethnic groups in this group, but it is enough to see what is happening in Roma neighborhoods in Bulgaria to see that those who have left are succeeding. It can be seen in a number of ways:
First of all, there are new constructions springing up everywhere, financed by the money of immigrants. This is the main activity that attracts funding and the result is visible from the air. "We surveyed Vidin with a drone and there in the last 10 years the neighborhood has grown by 28%. These are new constructions. In Kyustendil there is 19% growth. This is spatial growth in regions that are heavily affected by declining demographics," says Prof Ilieva.
In addition to construction, this money is coming back in support for the families who have stayed here and in savings. "What we do here, we can't do in London. Everyone knows it's temporary there, but here it stays for the family," says Sunay - one of the Roma interviewees from Sliven.
So, perhaps ironically, the EU has indeed helped Bulgaria's Roma - not through the "decade of inclusion" or other initiatives, but through the simplest way - opening up equal access to all markets. Integration happened through migration.
A few lessons and a conclusion
Naturally, the main reason for this much more massive migration against the background of the whole population is the terrible living conditions in those white spots on the maps of Bulgarian cities, the Roma neighborhoods. Google maps is not the only thing missing there.
No one in Bulgaria has equal access to justice and a good urban environment, but at least most people have access to things like water, street lighting and garbage collection. Roma neighborhoods are massively deprived of some or all of these municipal services. Part of the reason is the municipalities. For example, the problem of permanently blocked sewers in Stolipinovo could be solved with filters that would cost about 1% of the municipality's budget. However, Plovdiv will not invest a single lev in the neighborhood this year or next. Or education, which is still segregated and fails to produce the necessary amount of at least averagely educated people from these neighborhoods.
Part of the reason, however, is in the people themselves. Even those who go back and invest in construction, for the most part do it illegally, without the necessary documents and approvals. This spins this invisible economy further and further away from the state, which the Roma clearly do not trust. And children are often pulled out of schools here for half or a year to travel with their parents, which in turn disrupts their educational rhythm entirely. However, serious measures are already being taken against this, but again in Western Europe - in Germany there is a strict system of incentives and fines, as a result of which it is now extremely difficult to have children who do not go to school.
As this cycle is sure to continue, something needs to change for long-term integration to happen here as it is happening elsewhere.
Private energy distribution companies have already shown that they can cope with the chaos - EVN, for example, has increased the collection rate in these neighborhoods to 99%. Ms Kabakchieva says there is also a system in place in Western countries that takes a much more active role in caring for children and helping with education. "Contrary to the popular claim that education is not a value for Roma, the vast majority of them would very much like to have successful children who are educated and have good jobs," she says. There is nothing stopping this from happening much more actively here, especially with people who bring a different attitude when they return from abroad.
The main conclusion, however, is that the common misconception that Roma communities do not want, and cannot, work is totally false. This is good news for the budget, for the pension system and for the people themselves.