On Friday a hot talking point was a quote attributed to Finance Minister Assen Vassilev, who told business representatives during a budget discussion on Thursday that: "incompetent employers who can't pay salaries sufficient to avoid having 'working poor' must leave the market, as they can't set up an organisation and use the skills of their workers. How can a Bulgarian worker earn 710 BGN, when a Greek worker easily earns 1000 euros?" The comment was welcomed by trade union representatives and lambasted by employers. One thing is certain - Mr Vassilev's numbers are perfectly correct.
Bulgarians earn the lowest minimum salary in the EU: Eurostat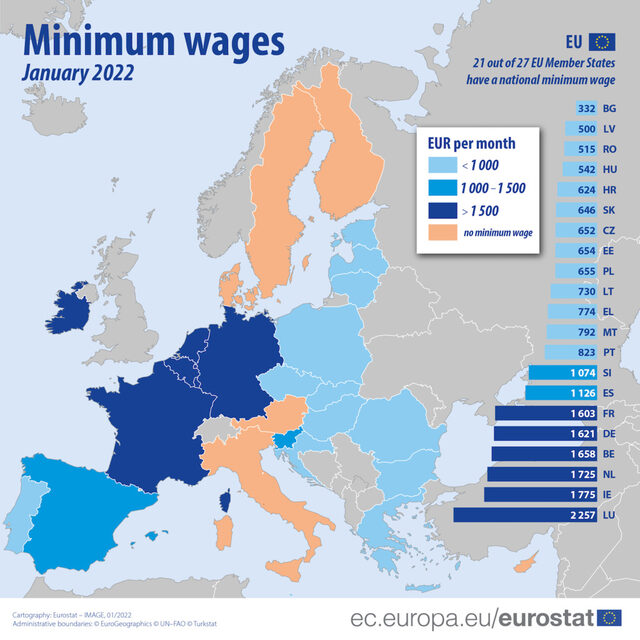 As of January 2022, Bulgaria has the lowest minimum wage in the EU according to data published today by the European statistical office Eurostat. Calculated in euros, the lowest monthly wage in Bulgaria is 332 euros (650 BGN). The second lowest minimum wage in Europe is more than 50 percent higher - in Latvia, where it stands at 500 euro. It is expected that, with the adoption of the state budget for 2022, the minimum wage will reach 710 BGN. There are only 12 other countries in the EU where the monthly minimum salary is below 1,000 euro.
Business climate improves by 1.5 percent in January: NSI
A key indicator of Bulgaria's overall business climate increased by 1.5 percent on a monthly basis in January. The year has started well according to representatives of the industry, construction and retail trade as cited in data from the National Statistical Institute (NSI). From last June until November, the overall business climate indicator recorded a decline due to reduced expectations for growth from industry entrepreneurs. Assessments were fueled by the Covid pandemic and its impact on the economic recovery potential.
Bulgarian and Romanian ministers promise Ruse-Giurgiu ferry line by June
At a meeting in the Danube town of Ruse, Bulgarian Transport Minister Nikolay Sabev and Regional Minister Grozdan Karadjov and Romanian Infrastructure Minister Sorin Grindeanu discussed opening a ferry line between the neighboring cities of Ruse and Giurgiu.
The line, due to be launched in June, will help alleviate the heavy traffic over one of the only two bridges across the Danube connecting the two countries. Government representatives also promised to further ease border crossings by simplifying and aligning border checkpoints at the bridge.