Amid growing demand for electric bicycles in Europe, two Bulgarian manufacturers have attracted new investors. U.S.-based asset management firm The Rohatyn Group (TRG) has acquired the 60-percent interest of Finland's KJK Sport in Plovdiv-based Leader-96, establishing a partnership with Dimitar Zlatanov, the company CEO and member of the founding family. Meanwhile, Varna-based Eljoy, which manufactures smart e-bikes under the Econic One brand, has raised 6 million euro from existing and new shareholders. Both companies plan to expand their business in Europe, where the e-bike market is projected to triple by 2030.
In and out
KJK remained a shareholder in Leader-96 for six years and its decision to exit the company attracted strong interest from strategic and financial investors. The deal with TRG concerns KJK's stake in Leader 2016, which is the direct sole owner of the bike producer. The terms of the transaction were not disclosed but calculations show the company is valued at more than 100 million euro. The deal will be implemented in several stages with Zlatanovs' other partner, Petar Kurshumov, also leaving the company. "Once the sale is completed, TRG will hold 53% and our family will hold the remaining 47%," Dimitar Zlatanov told the Capital Weekly.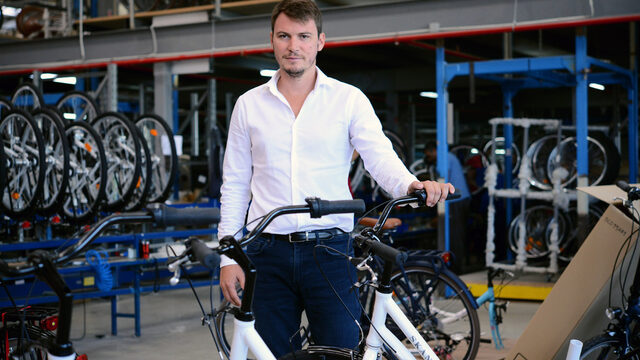 Founded in 1996, Leader is one of the three largest bicycle manufacturers in Bulgaria with sales exceeding 160 million levs (approximately 80 million euro) in 2021, up 43% year on year, and markets across Europe. The company produces a range of e-bikes including touring, trekking, mountain, folding and gravel bike models.
Strategic plans
TRG's partnership is expected to help Leader accelerate its e-bike manufacture and broaden its product offering. The plans for the next five years are quite ambitious and include the construction of a new factory in the region of Plovdiv, which will more than double Leader's current production capacity of some 300,000 bikes a year. The project is expected to start soon with the new facility up and running in 2023. The investment is assessed at 25 to 30 million euro.
Leader also plans to grow through acquisitions, the focus being on technological companies in Europe having value-added products or brands that will secure additional market share. "We have production know-how and we are expanding, so we are not going to look for such acquisitions," Zlatanov said.
Looking ahead, the company sees potential in cargo bikes and e-vehicles and is planning to have such an offering in 2025.
Smart bikes
Two years after raising 630,000 euro at the peak of the pandemic, smart bike producer Eljoy received 6 million euro in a fresh funding round. Investors include existing shareholders like BGmenu founder Vladimir Davchev, Telerik cofounder Svetozar Georgiev, Vitosha Venture Partners and Innovation Capital. The round was led by Capital Investment Fund (CIFund), a growth investment arm of state-owned Bulgarian Development Bank (BDB), which provided 2.5 million euro of the amount. Among the other new investors are Integral, a fund focusing on more advanced startups in Southeastern Europe, as well as Payhawk's Hristo Borisov, Filip Filipov and 1ForFit's two founders as business angels. Eljoy's cofounder Galin Bonev remains a shareholder with about 30% of the capital.
The fresh funds will enable Eljoy to make further investments in technology research and development, with a focus on growing its IT and product design teams as well as make improvements to its facilities, the BDB said in a press release. The company is also planning to expand its market presence in countries like Germany, France, the UK and the USA.
While the Bulgarian market for e-bikes is still lagging behind, burgeoning demand in Europe is the reason for the rapid growth in Eljoy's revenues in recent years. After doubling its sales to 1.6 million levs (about 800,000 euro) in 2020, the Varna-based company tripled its turnover last year to more than 5 million levs and is projecting to keep the pace in 2022.