The past decade has been good for machine and equipment production in Bulgaria. The sector has developed rapidly, with new investors coming in and existing ones expanding their facilities. But 2020 put an end to the unprecedented growth - not for market and economic reasons but because of the pandemic.
Nevertheless, there is a reason for optimism, as companies in the industry have gradually restored production and expect improved performance in 2021, despite the fresh blow of chip shortage in the automotive industry.
In 2020 the revenue of the leading 40 companies in the industry edged down by a touch above 5% to 8.1 billion levs (4.1 billion euro), following a record strong year. The most evident drop was registered by automotive component manufacturers, which make up nearly half of the top 40 companies. With a few exceptions, they all reported a drop in revenue.
The pandemic closed many plants in Europe, which affected the supply chain. A lot of factories in Bulgaria also suspended production but quickly resumed it, although in smaller volumes. There are more than 250 companies in Bulgaria that work for the automotive industry; they generate more than 6.5 billion euro in revenue and employ some 65,000 people, according to data of Automotive Cluster Bulgaria.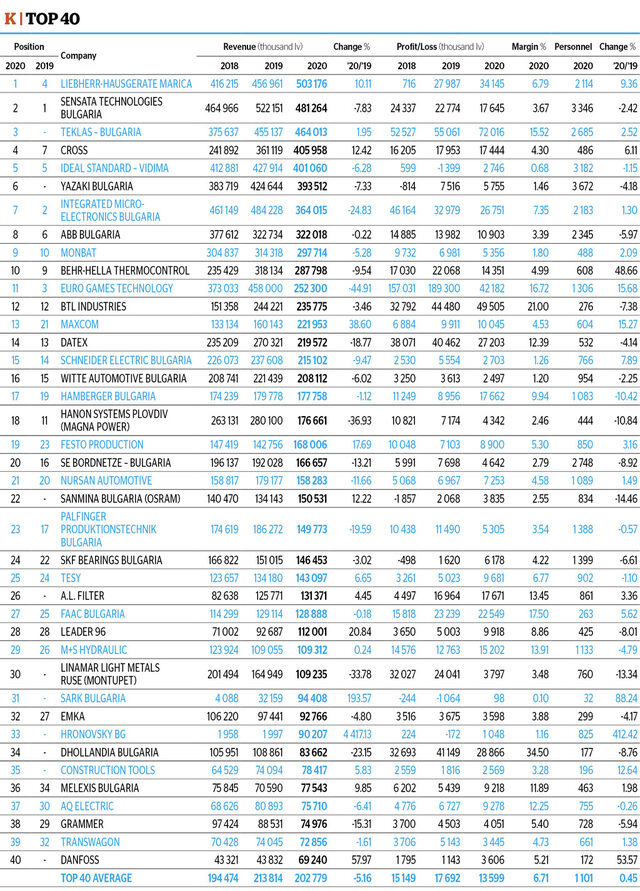 Leading trio
The slowdown in the automotive industry in 2020 produced a new leader in the sectoral ranking of machines and equipment. Having previously been a number one performer for four years, German refrigerator manufacturer Liebherr-Hausgeraete Marica reclaimed its top position. The company did not suspend production last year and successfully managed to reorganize its processes, generating 503 million levs of revenue, up 10% year on year. The rise in turnover was due to more orders last year, which resulted in the hiring of an additional 200 workers. Some teams switched to home office. The company increased its profit too.
Since launching production in Bulgaria 22 years ago, Liebherr has built a second plant, for train air conditioning systems, in its manufacturing complex in Plovdiv. The unit booked a turnover of 53 million levs last year, up 17% year on year, but could not turn to profit. Nevertheless, earlier this year the group registered a third company in Bulgaria, Liebherr - Concrete Technology Marica, for production of concrete and bulk goods systems, signaling plans for a new plant in Plovdiv.
The previous two years' leader, Sensata Technologies Bulgaria, came in second in 2020. The company, which is part of U.S.-based Sensata Technologies, has plants in Botevgrad and Sofia, as well as a business center in Sofia. The group reported a decrease in its key indicators, i.e. turnover (-8% to 481 million levs), profit and number of employees. In 2019 the company expanded its capabilities in Bulgaria, where it manufactures mainly sensors for the automotive industry. It was the drop in automobile production last year that affected the company's results. On a positive note, after a decline in 2020, the staff has started growing again in 2021, with job openings announced in Botevgrad and Plovdiv. At the same time the company is dependent on global chip supply, which is still tight.
Third in the ranking is another automotive component supplier, Teklas - Bulgaria, which is a subsidiary of Turkey's Teklas. In the past few years the group was one of the most active investors in the sector, constantly expanding its production capabilities. The main plant is in Kardzhali but the company also has manufacturing facilities in Krumovgrad and Momchilgrad and completed a new factory in Vratsa last year. Although substantially reducing production in the first months of the lockdown, Teklas - Bulgaria recovered its capacity in the following months and finished 2020 with a 2% growth in turnover to 464 million levs. That makes the company one of the few actors in the automotive component business to register an increase last year. It also features the highest profit in the ranking, 72 million levs, although it is not a leader in profitability.
Cycling up
Another segment of optimism is bicycle production, which saw one more year of growth in 2020. That was not the picture at the beginning of the year, when disruptions of supplies from China and Taiwan forced Bulgarian companies to put off deliveries to the large European markets. At the same time, demand increased substantially, as bikes were seen as an alternative means of transport in the pandemic. Local manufacturers managed to restore their capacity and Bulgaria remained one of the largest bicycle suppliers in Europe.
The three biggest local players are Cross, Maxcom and Leader - 96 with a total turnover of 740 million leva. Cross came in right after the top trio, reporting record sales of 405 million levs. Most of the locally made bikes are assembled for foreign brands. More than 90% of the output is exported, the main markets being Germany, the Netherlands, the UK, Scandinavia. Electric bikes continued increasing their share. Demand in Bulgaria also rose, though in a much smaller volume (about 100,000 bikes).
The strongest growth was registered by Maxcom: 39% to 222 million levs. Leader - 96 was the most profitable company in the segment. All the three companies were founded by Bulgarian entrepreneurs and only the majority stake in Leader - 96 was acquired by a foreign fund a few years ago.
Most profitable
Plovdiv-based BTL Industries, which manufactures electronic medical equipment, is the most profitable company in the ranking, despite a slight drop in revenue, by 3.5% to 236 million levs. Its 2020 profit amounted to 49.5 million levs. Like many other companies in the sector of machines and equipment, BTL Industries slowed down its operations in the first months of the pandemic and had to lay off some staff. As new pandemic-related products were added to the list, i.e. masks and ventilators, the company managed to restore both production and staff.
Earlier this year BTL Industries started the construction of a new factory in Plovdiv, where it will move its current production operations. The investment amounts to some 20 million levs and is fully financed with own funds. The new factory will employ about 500 people.
Biggest employer
Wire harness maker Yazaki was the first company in the sector to suspend production in the spring of 2020. Later on, it resumed operation but could not reach its 2019 turnover: sales dropped 7%, year on year, to 394 million levs. The number of employees in Yazaki's plants in Dimitrovgrad, Sliven and Yambol decreased but the company remained the biggest employer in the sector of machines and equipment with 3,700 workers at the end of 2020.
New actors
A substantial surge in revenue last year was reported by Turkish Sarkuysan's plant in Shumen, which manufactures copper wire for the automotive, aviation and defense industries. Following an investment of 17 million levs in the project, the local subsidiary, Sark Bulgaria, started production and achieved a turnover of 94 million levs in 2020, up nearly 200% year on year.
Another new member of the ranking is also active in the automotive industry: Czech-owned Hronosvky BG, which has operated in Bulgaria for years. The company initially had production facilities in the towns of Parvomay and Smolyan, before focusing its entire business in Smolyan. Hronovsky BG currently employs more than 800 people, compared with 200 people a year ago. Its revenue totaled 90 million levs in 2020.
Better year ahead
The production of machines and equipment is expected to be less affected by the pandemic this year. However, the automotive industry and its entire supply chain have been faced with a new challenge: the global chip shortage. Although not many companies in Bulgaria have been directly affected, some factories are reorganizing their processes to address the challenge. And others are directly investing in new capabilities. Belgium's for instance has expanded its production facility in Sofia, where it designs and tests chips for automotive producers. The new building is expected to open in September and add another 160 employees to the current team of 500 people. Thus, Melexis Bulgaria is primed to grow and increase its revenue, which came in at 77.5 million in 2020. The industry hopes for more such producers.