As the long-awaited modernization of Bulgaria's Land Forces is now likely to start soon, International Armored Group (IAG) of Bulgarian emigrant Anton Stefov has announced plans to build an armored vehicle plant in the coastal city of Burgas. This will be the fourth production facility of the company, which was set up more than 25 years ago in Canada and then relocated to the United States. The initial investment is assessed at 20 million levs (about 10 million euro).
A few years ago IAG won a smaller contract of the Defense Ministry in partnership with another Bulgarian firm to demonstrate its capabilities. However, the plans for Burgas are much bigger and envisage collaboration with other manufacturers, so that the plant can produce finished fighting vehicles and guarantee their maintenance. Production is expected to start within two years but its scale will depend to a large extent on whether the company will be able to take part in the modernization process.
The Rila 8x8 infantry armored vehicle was first shown at the Abu Dhabi exhibition two years ago, and there are currently four models in development
Capabilities
IAG was established in 1996 as a company specializing in the design, engineering, prototyping and manufacturing of cash in transit vehicles. Since then the business has expanded to include armored vehicles for personal protection, police and law enforcement institutions, tactical and armored personnel carriers. In Stefov's words, IAG has so far designed and built more than 150 different types of machines. The company has production facilities in the United States, the United Arab Emirates and Turkey, as well as locations in several other countries. Customers include the US military, NATO, the United Nations.
In Bulgaria, IAG registered a local company, International Armored Group BG, back in 2013. In the first years it served as a representative office but the aim was clear: to start production of vehicles for the police and the military. A few years ago Samarm, a joint venture between International Armored Group BG and Samokov-based Samel-90, won a three-year contract of the Defense Ministry for production of 90 armored machines worth 50 million levs. "Speaking of capacity, I can manufacture those 90 machines in one of my plants for a month and a half," Stefov says.
Therefore his ambitions are much bigger and include the expected contract for rearmament of Bulgarian Land Forces. Such a procedure, worth nearly 1.5 billion levs, was opened a few years ago but was later cancelled. The industry now hopes the contract will be relaunched.
Conglomerate of firms
That has catalyzed IAG's plans to start its own production in Bulgaria, though Stefov says the contract is not crucial for his business in this country. However, winning the contract or not will determine the size of the investment. Construction is planned to start later this year, so production can begin within two years.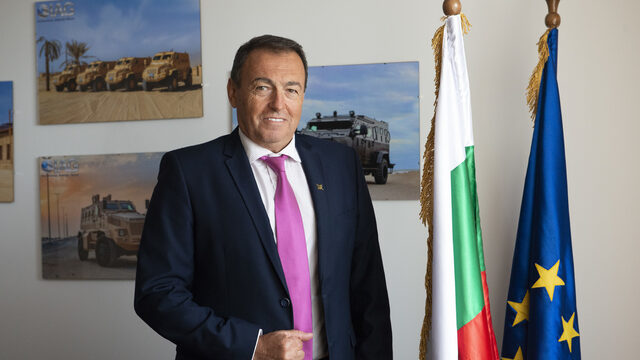 The plant will be located in Burgas's industrial zone, where the company has signed a preliminary contract to buy 15 ha of land. The location was chosen for its proximity to a sea port. Staff training will go in parallel with construction. The plant is expected to initially employ some 50 people but if it manages to develop its full capacity, the number may top 300.
The facility in Burgas is envisaged to manufacture the entire range of IAG's products, including its latest armored infantry fighting vehicle Rila 8x8, which already has four versions. It was first presented in Abu Dhabi two years ago and was recently shown at the Hemus Defense Equipment and Services exhibition in the Bulgarian city of Plovdiv.
The plant will produce the body of the armored machines, while other components, such as the engine, transmission etc., will be delivered by external suppliers and assembled locally. Stefov says he has an agreement with turret manufacturers to start production in Burgas as a 50:50 joint venture with IAG. That will ensure the turrets can be repaired in Bulgaria.
Similar partnerships are envisaged with other producers of details and systems. IAG is also in talks with Bulgarian optics suppliers. "It will not be a single company, it will not be just IAG. It will be a conglomerate of various companies, Bulgarian and foreign ones," Stefov says. According to him, Bulgaria should be able to manufacture its own fighting machines, as that will ensure their fast service.