Easy learning with Ucha.se
Judging by parents' opinions, the education website Ucha.se ("I learn" in Bulgarian) is a complete success. Teachers also like the platform: some 95% say the website helps pupils learn the lessons and achieve higher results. In just seven years, founder Darin Madjarov has turned his amateur project into a mass education platform.
As is often the case, he got the idea about Ucha.se by chance. While studying abroad, he helped his sister learn her physics lessons by recording videos. Her classmates liked the videos very much, so he started publishing them on YouTube. Then he bought the domain and in 2012 he decided to return to Bulgaria and make Ucha.se a business. Mr. Madjarov attracted professional teachers to help him with different subjects. He also found his first investor, LAUNCHub, which provided €30,000 for the enterprise, as well as a business partner, Nikolay Zheynov.
The platform was initially free and quickly gained popularity. In 2013 it attracted another investor, copper mining company Asarel-Medet's VC fund, as well as two business angels who invested a total of €200,000. To make the business sustainable, the following year Madjarov made Ucha.se a paid platform but subscription did not prevent its further growth. The third round of investment followed in 2016 when LAUNCHub provided €200,000.
In 2019 Ucha.se's revenue jumped 85% year on year, reaching 7 million levs (€3.5 million), and profit amounted to 3 million levs. Some 150 people work for the company at present and 70 of them are permanently employed. "We managed to create a platform that not only allows us to make a profit from a social project but also grow," Madjarov says.
Sofia's favourite pizza
There are very few restaurants in Sofia that can boast clients lining up in front of the door. In just three years, however, Franco's Pizza has become the favourite place for both residents and tourists.
The secret of Franco's success is not just its perfect location (close to the busy Vitosha Street). Firstly, this is a pizza-only place: 16 kinds of delicious pizza and nothing else to distract attention. Secondly, it is an excellent value-for-money offer. Thirdly, service is very fast and efficient. And last but not least, the place is small but cozy.
Surprisingly, Franco's has almost nothing Italian in it. The name was chosen entirely for its marketing effect, owner Ivaylo Arangelov admits. However, he borrowed Franco's success formula from Italy: a clear focus on pizza, no compromise with the technology and product quality, attractive prices and fast service.
Figures also speak of Franco's success. The restaurant started with a staff of three people and today it employs 13. Though it has only 30 seats, 200 to 300 people visit it on workdays and up to 400 on weekends, the owner says. It is also indicative that the small pizza place had an annual turnover of 350,000 levs (€175,000) in 2018.
Franco's operates at full capacity, so it does not offer home deliveries except for takeaway. Mr. Arangelov is mulling opening a second restaurant but finding a good location is crucial. He wants it to be larger and have a more spacious kitchen, so he can try new ideas and pizza recipes.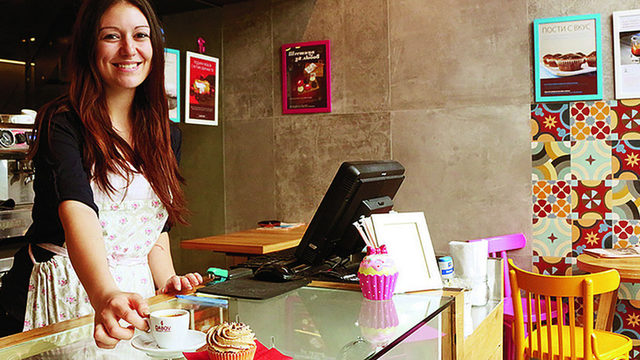 Wish a cake
Hidden in the shadow of the National Television's building in downtown Sofia is the first cupcake bakery that Elitsa Tamneva and Ivan Blagoev opened nine years ago. Since then Take a Cake has become a favourite both at home and at corporate events, growing at a two-digit rate. The family firm today has two bakeries in the capital city (and working on a third one), as well as an online shop.
The family started experimenting with cupcakes at home but soon realized that such undertakings turn into a business in other countries and that there were no such bakeries in Sofia. Armed with the idea, their savings and loans from relatives, Tamneva and Blagoev registered the firm in August 2010. Several months later they opened their first shop on Tulovo Street. Take a Cake's list includes traditional flavours like cocoa and vanilla, as well raspberry, strawberry, cherry in liquor, savoury muffins and special collections.
Another ingredient of Take a Cake's success is their online presence. In 2012 they opened their first online shop and today they say that was a good decision. Clients can order cupcakes online and have them delivered right to their door in 2 hours. A few years later a new website was developed to make the online venue more customer-friendly and improve user experience. Take a Cake's online business makes up half of the firm's turnover, which topped 620,000 levs (€310,000) in 2018.
Tamneva and Blagoev opened their second physical shop in the capital city, on Benkovski Street, in 2014 and are already planning a third one. It will be located in one of Sofia's big residential districts, Mladost 1, and will be larger than the first two bakeries.