Behr-Hella Thermocontrol (BHTC), the German manufacturer of automotive climate control and thermal management systems, is preparing the next stage of expansion of its plant in the Bozhurishte industrial zone near Sofia. The company, which entered the Bulgarian market 10 years ago, built a second production facility in 2019, significantly increasing its turnover and employees.
The next expansion is planned to start in 2024. The investment is expected to range between 10 and 20 million euro. With the increased capacity, the company expects to triple its turnover to 1 billion levs (500 million euro) in 2028.
With a lot of imagination
The German company decided to build a plant in Bulgaria in 2013 and bought 7 ha of land in the town of Bozhurishte, becoming the first investor in what was to turn later into a vast industrial zone. "There was nothing here at the time - no infrastructure, no utilities, so one needed a lot of imagination to think of the future industrial zone," BHTC Bulgaria's manager Martin Nyland said at an anniversary event.
The factory was opened in 2015, when the first serial projects - for MAN trucks - were transferred to Bozhurishte. The company employed some 100 people at the time and had a turnover of 43 million levs in the first year of operation.
Three years later, BHTC started the construction of a second production building. When it was completed in 2019, sales reached 320 million levs and the number of employees rose to 470.
"So far we have invested more than 270 million levs in Bulgaria. Every week we manufacture more than 200,000 units and ship them to automotive producers worldwide," Nyland said.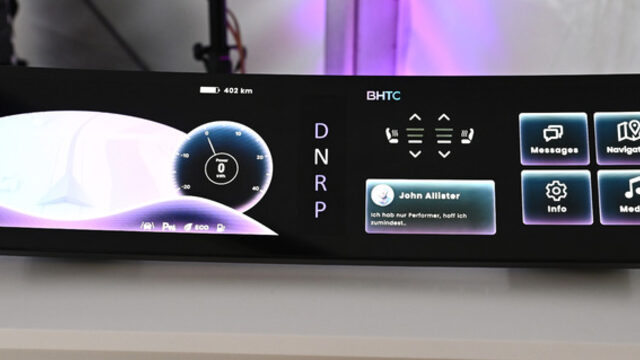 Next step
Now that it has reached the limit of its production capacity in Bulgaria, BHTC is preparing the next step. "In 2024 we plan to build one more plant on the plot. We believe that the expansion will allow us to reach a turnover of some 1 billion levs in 2028," Nyland said. That will probably make the company the biggest machine-building plant in Bulgaria.
Preliminary data show that the sales of the Bulgarian plants of BHTC amounted to some 350 million levs in 2022. Except for the pandemic 2020, the company has been growing since it set up business in Bulgaria. Its products have also become more complex and the latest trend is the new generation of human-machine interface (HMI) devices.
Customers of the German group are practically all large automotive manufacturers. On a global scale, BHTC had some 2,900 employees and turnover of 619 million euro in 2022.