The prices of dairy products have risen by about 40% over the past year, official statistics show. There are many reasons for that: shortage of raw milk, higher production costs, shrunken consumption.
In any case, we cannot speak of a monopoly in the sector, as there are dozens of dairies in Bulgaria and the top 30 can be defined as big considering the size of the local market. Most of them are Bulgarian-owned and often family-run businesses. However, there are three foreign-owned companies. The agreed acquisition of Plovdiv-based United Milk Company by Sliven-based Tyrbul - both of them owned by Greek companies - will create a local giant with an annual turnover of close to 200 million levs (100 million euro).
Strong competition
Statistics show that there were 244 dairies in Bulgaria in 2021, up 1% year on year. The output of basic dairy products however declined by 6% for white brine cheese and 4% for yellow kashkaval cheese. The good news is that the output of imitating products containing vegetable oils also dropped, by 5.1%.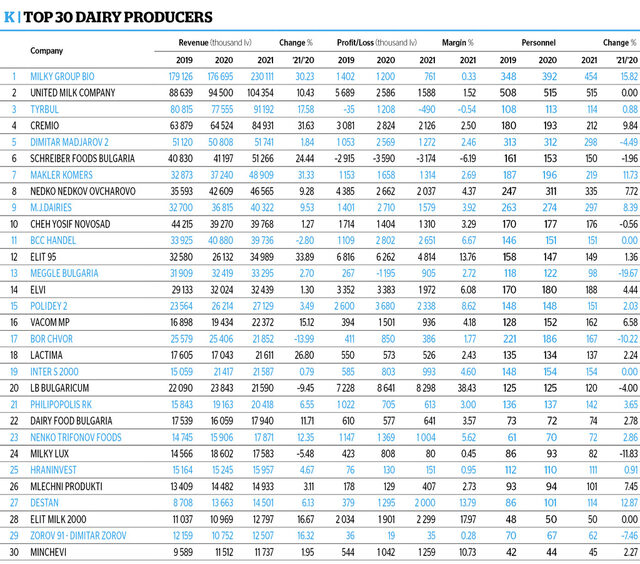 Dairies' total sales amounted to 1.07 billion levs (VAT excluded) in 2021, down 3.6% on 2020. The top 30 producers however increased their total revenue by 14% to more than 1.2 billion levs because some of them operate side businesses such as imports, stock breeding, production of sausages and bread.
The top 30 list comprises mainly long-established companies. Some of them are privatized successors to Serdika, the former state-owned giant, others were set up as small producers right after the fall of communism in 1989 and yet third were established with European funds around Bulgaria's EU accession in 2007. Most of them work for the local market but there are also exporters.
Leaders
The leader by revenue in top 30 is Milky Group Bio, which has production facilities in the city of Haskovo. The company makes dairy products under several brands (Sayana, Na Horoto) and deals in wholesale trade of raw materials for the food industry. In 2021 it posted revenues of 92 million levs from dairy sales and 138 million levs from wholesale.
Last September Greece's Delta Foods announced it had agreed to sell 100% of its Bulgarian subsidiary United Milk Company (UMC) to Tyrbul, a subsidiary of Greece's Hellenic Dairies. The price was not disclosed but given that UMC's EBITDA amounted to 10 million levs in 2021, it is at least 80 million levs. UMC makes dairy products under the brands of Vereia, Vereia Chudno and Fibella Wave.
The future leader, Tyrbul (now ranked third), is known for its Olympus brand. "Our main markets are the EU, the United States, the Arab countries, China and Australia but our major client remains Greece," sales director Radoslav Pashankov told the Capital Weekly. Exports account for about half of the company's sales.
Runners-up
The fourth on the list, Cremio, makes dairy products under the My Day brand, as well as non-dairy substitutes for confectionery and cooking. The company exports some 60% of its output to more than 40 countries in Europe, Africa and Asia. It was founded in 2006 as Meggle MJ by Germany's Meggle and Lebanon's MJ Pack. Following several changes in ownership, since 2018 it has been solely owned by Georgi Ganovski.
Dimitar Madjarov 2 (fifth in the ranking) was set up in 1991 by the Madjarovs as a family business. The company has two divisions: for production of sausages and for dairy products. The dairy factory is located in the town of Stamboliyski and has the capacity to process up to 80 tonnes of raw milk a day. "The raw material for all fresh milks is of Bulgarian origin. We only use raw milk from selected providers," Dimitar Madjarov told the Capital.