This article is part of the Special Issue of KInsights dedicated to the most important developments in the real estate sector of Bulgaria. You can buy it
here
.
If you are planning to buy a property for investment purposes, Gabrovo is probably not among the first places to come to mind. However, in a study by the ocenime.bg property deals aggregator, the city stood out as a good alternative for rental yields, especially for people with a more limited budget. According to the platform's September 2021 data, Gabrovo ranked second with 7 percent possible rental yield among ten Bulgarian cities. This compares with 4-5 percent for the cities further down the ranking. The higher-than-mainstream yield rates suggest relatively low property prices and relatively high rental levels.
Yields are still good
"Property prices in Gabrovo and Sevlievo used to be lower and more stable compared to those in larger cities. The rental market was developing positively. Demand, especially for housing, increased. We achieved yields of 6-7 percent. In the first quarter of this year, however, sales prices rose. Rents grew, but at a lower rate. As a consequence, yields decreased by about 1,5 percent," explains Rumen Georgiev, manager of the real estate agency Regent in Gabrovo, which is also Yavlena's partner for the city and the region.
With average rates of 3-4 percent for major cities, the current level of yields on property in Gabrovo of 4.5-5.5 percent is not to be underestimated, however. "Identical properties in Gabrovo and Veliko Tarnovo have an average price difference of 60-80 percent, while the difference in rents is 20-30 percent," confirms Dimitar Pavlov, Bulgarian Properties' regional manager for the two cities.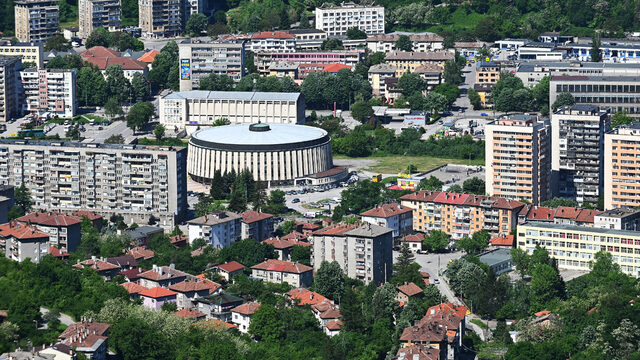 "There is definitely a serious change in the situation and in the rent-purchase price ratio. Selling prices have risen untypically sharply and quickly for our city. Rents are also going up, but just slightly for now. I expect them to rise sharply soon," says Tatiana Dikova, manager of the Garant real estate agency in Gabrovo.
Deals go up with one third
Property transactions in the Gabrovo region in the first quarter of this year are 33 percent more compared to the same period in the strong year of 2019, according to data from the Registry Agency. The general reasons for this dynamic are common to the country as a whole. Dikova sums them up as follows: "The reduction of interest rates on deposits and the increase in bank charges. And the icing on the cake - inflation."
Georgiev explains that especially in Gabrovo there is a revival especially in the property market in the city center and in the neighborhoods with good communication and well-managed infrastructure. According to both him and Pavlov, the boom in demand for country houses in the area and the listing of property deals in the surrounding villages are also a big contributor to the levels of growth.
Young buyers, hesitant sellers
Buyers are relatively young people - between 28 and 50 years old, on average 35-45 years old, according to information from different agencies. "They are looking to buy because of a housing need or as an investment in a second home that would be rented out for profit," Georgiev said. "Our buyers are mostly young people and people, who have worked abroad, while the older buy for investment. We also see clients from other cities who have found work in Gabrovo," Dikova adds.
The problem is that supply in the city is quite limited. It boils down mostly to old socialist-era housing, while demand significantly outstrips availability. Sellers are mainly individuals in the 50 to 70 age range. "Some are disposing of unwanted properties, others are looking to replace their larger home with a smaller one," Georgiev says. Pavlov adds that there are those just testing the market, and others who are looking for a nicer property. "In a city with a declining population, there are many vacant and unoccupied homes. These are properties built during socialism, but they are coming on the market only very slowly," adds Dikova. The situation in general worries sellers and they approach timidly when deciding to sell, as Georgiev explains.
Almost no new construction
Currently only 3-4 buildings are being built and sold in Gabrovo. The main reason for this limited scale, according to professionals, is that at this stage the cost of new construction is too high for the market in the city. There are several prerequisites: Gabrovo is a 25-km-long town, located along the Yantra river. Demand is concentrated in the central part of the town and along the river. Even if there are plots there, they are small and expensive. On the other hand, there is a limit to building height. The city falls into the "small municipality" category, where building normally go up to 10 m high, and very rarely up to 15 m.
"In addition, as the price of building materials rises, the cost increases even more and new construction becomes even less profitable," says Georgiev. And Pavlov adds that, among other things, "in the city, buyers do not like greenfield deals at all".
According to information from Bulgarian Properties, about half a year ago the prices of new construction were 600-650 euros per square meter. Recently there are also deals for nearly 700 euros per square meter, but in the more luxurious segment. The expectation is that if there are new buildings, the levels will reach 800 euros per square meter, but there are no such deals so far.
A price divergence between the center and the neighborhoods
"Due to the lack of new buildings, the old ones have become sharply and unjustifiably more expensive, which stops potential buyers," says Pavlov. Dikova explains that a characteristic feature of the real estate market in Gabrovo is the big difference in prices between properties in the center and in the neighborhoods. "Despite the overall price increase, this trend has remained. One-bedroom apartments in the center that still has to undergo renovation are offered for around 70,000 BGN, and in the neighborhoods it would be around 55,000 BGN. Two-bedroom flats in the center cost over 100,000 BGN, while a similar flat in the neighborhoods would sell for 70,000 BGN," she says.
"The most expensive areas in the city remain the center, the Lakata district and the Exhibition Complex area. One-bedroom apartments are in the range of 60-80,000 BGN, depending on the condition, and two-bedroom apartments go for 100-150,000 BGN," says Georgiev. "The cheapest offerings can still be found in the districts of "Dyado Yanko," "Bichkinya," "Borovo," or generally speaking - the southern areas past the Shivarov Bridge," Pavlov adds.
According to Dikova's observations, the biggest boom in the city now is in the segment of prefabricated panel housing, which is the cheapest, and especially apartment blocks in the "Mladost" district area.
Weak supply pushes rents up
"The supply of housing for rent is also limited and this leads to higher prices, almost comparable to Veliko Tarnovo. One-bedroom apartments are offered at 300-350 BGN, while those with two bedrooms go up to 400-500 BGN, depending on their condition," says Pavlov. Tenants tend to be mainly young families, workers and employees from other towns who work in local enterprises.
Dikova expects a sharp rise in rents for several reasons. New owners of investment properties acquire and renovate them at higher prices. From this their investment value rises. By catching up with rental yields, they are likely to demand more money from tenants. "So the wheel of price change is turning, and we know this will continue as long as there is demand in both segments," Ms Dikova concludes.
A booming market for houses
The market for houses in the Gabrovo region (including the municipalities of Dryanovo and Sevlievo) is also growing both in terms of prices and in sales. "The main demand is for properties for permanent habitation in nearby villages where there are good transport connections, a school bus, internet access and other communications, as well as a grocery store. The most purchased properties are in the 50-70,000 leva segment. The more luxurious, renovated houses with nice landscaping and nice views go for 100-130,000 BGN", Georgiev estimates.
"More and more young families who have sufficient financial means are turning to villages or the neighborhoods in search for a house to turn into a home. They are looking for views, communications and a good location. The preferred areas are "Rusevtsi", "Kyievtsi", "Yonkovoto", "Boriki", "Tlachnitsi", etc. The most sought-after property is a two- or three-bedroom house and a plot of about an acre, but these are hard to find. Deals for such properties are struck at 150-200,000 euros," says Dikova.
Fears and hopes
The worries of local real estate professionals about the regional market, as far as they are concerned, are related to a possible decrease in demand if the economic crisis in Bulgaria deepens. They also fret a potential retreat of sellers from the market if inflation rate increases.
In addition, they hope that the potential launch of the long-awaited construction of a tunnel below the Shipka pass would stir up the demand for business property. "It will boost interest in vacant land next to the main road, in industrial properties and land for warehouses and logistics centers," Georgiev thinks. Only at a later stage will the eventual increase in job opportunities and higher living standards have a positive effect on the housing market.