Out of the frying pan, straight into the fire is how one could summarize the week for Prime Minister Kiril Petkov, in short. In a strangely timed move on Tuesday evening he and the Ministry of Foreign Affairs announced in unison that Sofia is expelling a whopping number of Russian diplomats - 70 in total - over allegations of spying.
"A large part of them have worked directly for foreign secret services. Their diplomatic roles have largely been used as a guise," Mr Petkov said, exuberantly concluding that "by Sunday we expect to have a plane with 70 occupied seats flying back to Moscow."
It is unclear what the outgoing Prime Minister really hoped to achieve with this hasty move that he might have regretted soon after. Maybe he expected to bask in the limelight as an ardent Euro-Atlanticist at the NATO Summit in Madrid, which was imminent at the time. Alternatively, he might have wanted to show determination and mobilize the pro-Western forces in Bulgaria before a crucial week that would see his party try to reassemble a viable coalition and dodge elections (at least for the time being).
Or maybe he just wished to go out with a bang.
Well, it transpires that the latter is probably the most apt. Regardless of Mr Petkov's hopes and ambitions, he will either have to withdraw his nomination to remain Prime Minister in a new cabinet, or kill all hope that such a cabinet is even possible.
The main bone of contention is the reaction of his otherwise loyal coalition partners from BSP to the news of the ousted Russian officials. Russia has always been a touchy subject for Bulgarian Socialist. The reasons lie with the party's Soviet-era heritage, the links of certain red oligarchs to the Kremlin over the past three decades and, most of all, because of the ardent pro-Russian sentiment of many BSP voters. According to the most recent Alpha Research poll, 56 percent of them would be on Moscow's side in the event of a Cold War II, even more than the supporters of Vazrazhdane (49 percent) and more than twice the average for respondents overall (23 percent).
Faced with the prospect of another election, alienating the already dwindling number of BSP voters would not have been a good move for party leader Kornelia Ninova, who has already been grilled over the compromises she made within the coalition. So she drew a final red line - no cabinet negotiations for her party if Mr Petkov remains the PM-nominee.
This barrier, however, might turn out to be the key to a new governing formula - TISP also don't want Mr Petkov for PM ("he is a Borissov with a Harvard diploma," party strongman Toshko Yordanov told media this week, meaning that Mr Petkov has been taking a lot of decisions single-handedly, just like his predecessor). Which means that, if by the time you read this newsletter, WCC has found another nominee for PM, we might have the chance to "prolong the agony" a little longer, if you'd allow my paraphrasing of TISP leader Slavi Trifonov.
This is the current situation: facing the Petkov dilemma of backing down and letting someone else take the reins (and finding and convincing them before 17:00 today), or holding on, hoping for better results in the autumn elections under his leadership. A tough choice!
1. Politics this week:
Dismissing 70 Russian diplomats kind of
Back to the expelled diplomats - their number sounded strangely large, even to non-specialists. It turned out that it has, indeed, been overblown by the Prime Minister, who often chooses his words too freely, let's say. In fact, according to an official response to an MP's question from late May, Foreign Minister Teodora Genchovska said that Moscow has only 40 accredited diplomats in the country - 32 in Sofia and 4 each in the consulates in Varna and Ruse. One of the most senior diplomats dispatched is, in fact, the consul in Ruse, alongside the entire staff of his institution, which will close temporarily as a consequence.
Most of those expelled are, in fact, technical and administrative personnel, with Russian ambassador Eleonora Mitrofanova claiming that even her embassy's cook, security guards and drivers are among them. In any case, Petkov claims that the decision was based on three National Security Agency (DANS) reports from the past few months and had been carefully planned. Capital sources claim that the reports cited the Russian envoys' role in promoting Kostadin Kostadinov's Vazrazhdane party (which arose from Varna, the place of one of the consulates) and their role in inflaming the N. Macedonia question.
The drama ended up with an interview with Ms Mitrofanova for the National TV, in which she "threatened" that Russia might sever diplomatic relations with Bulgaria completely.
Media regulator keeps controversial National TV boss in power
On Wednesday the Council for Electronic Media (CEM) failed to elect a successor to controversial National TV (BNT) boss Emil Koshlukov - a political nomad who notoriously presented false information during his successful bid to head BNT in 2018 and showed the middle finger on live television a few months later. The failure of the procedure is a big blow to the regulator (as selecting a BNT president is among its primary tasks) and means Mr Koshlukov will remain in his post, although his mandate expires on July 5.
He will continue in this role until the media regulator is able to produce a procedure in which one of the candidates can gather the necessary support from three of the five members of the board. A new procedure can be expected within two months at the earliest, which means that if there is an early election at the end of summer, it would probably take place under BNT's old leadership. Even more absurdly, Mr Koshlukov received four "noes" during each of the three votes that took place on Wednesday, but the selection of another candidate did not take place because of the uncooperative attitude of two members of the council - Sonya Momchilova and Gabriela Naplatanova, who are from the quota, appointed by the President.
Boyko, the (almost) self-sacrificing statesman?
Could GERB somehow become a viable partner for "reformist" parties WCC and Democratic Bulgaria in a wide Euro-Atlantic coalition? Superficially, this seems an absurd question, as both of these parties pledged the "disintegration of the GERB model" of governance as their primary goal. Yet, the weird times we live through trigger the strangest speculation and one is that GERB could become a (bearable) partner if it gets rid of its leader Boyko Borissov.
Such a thesis was surprisingly promoted by former President (and ex-GERB member) Rossen Plevneliev in a btV talk show on Monday, prompting a storm in a teacup. The speculation was short-lived, as high-ranking GERB members immediately pledged loyalty to their leader en masse over Facebook and other TV shows, and then were in any case overshadowed by Mr Borissov himself, who intervened to say that nobody could make him abandon his baby.
2. Economy:
Chaos surrounds budget revisions
The approval of the budget revision plan, proposed by Finance Minister Assen Vassilev, was fiercely opposed in Parliament by the new, anti-government majority of GERB, MRF, TISP and Vazrazhdane. At the end, many of the proposals of the Finance Ministry were revised upwards by the four parties, just a week after they had overthrown the government over its allegedly irresponsible fiscal policy. GERB's Delyan Dobrev passed his proposal to provide 100% compensation (up to the average daily price on the exchange) for electricity prices above a 250 BGN threshold per MWh. MPs also passed the fuel subsidy. The budget update was calculated on the basis of an expected annual inflation of 11.9 percent and GDP growth of 2.9 percent, as well as higher anticipated revenue of 750 million BGN. The maximum amount of new state debt that can be incurred during the year was increased - from 7.3 billion BGN to 10.3 billion BGN.
Bulgaria's business climate improves in June
The business climate in Bulgaria improved in June after a slight decline in May. The overall manager's assessment of the country's economic environment increased by 1.4 points, according to NSI's business surveys.
Economy Minister replaces directors in three state-owned companies
Economy Minister Kornelia Ninova has replaced directors in three state-owned companies under the ministry's control. She has announced competitions for new managers, according to its website. The companies are the State Consolidation Company (SCC), the National Company Industrial Zones, and the Bulgarian Export Insurance Agency.
Central and Eastern Europe looking for offices
Investors in Central and Eastern Europe continue to search mainly for office spaces. 44% of the transactions for the first quarter in the region are for office assets. In second place are retail spaces with 36%, followed by industrial and logistics with 13% of the total share of transactions.
Figures:
0%
The budget revision on Wednesday also decided to vote for 0% tax on flour. The proposal was made by Slavi Trifonov's party TISP.
10% (+60 BGN)
The increase in all old age pensions from July. The minimum pension rises to 467 BGN up from 370 BGN.
3. Business:
Startups
BEAM
The companies will now be able to raise up to 8 million levs in capital from the stock market segment BEAM instead of the current 3 million euros. Parliament adopted an amendment to the Public Offering of Securities Act, which increases the capabilities of the stock market segment, which is intended for small and medium start-ups.
SeedBlink
The Romanian investment platform SeedBlink has opened an office in Bulgaria after successfully closing a round for financing the Bulgarian company Dronamics in December 2021, which raised over 900 thousand euros. А new investment process was launched in June for a second Bulgarian company - Agriniser, led by Vitosha Venture Partners, which aims to raise 500 thousand euros.
Equity
BlackPeak
Bulgarian private equity firm BlackPeak Capital has raised 126 million euro on wrapping up the final close of its new Southeast Europe Growth Equity Fund. This is above its target of 120 million euro, reported See News. The Luxembourg-based fund targets growth investments in promising small and medium-sized businesses in Bulgaria, Romania, Slovenia, Croatia, and Serbia, BlackPeak Capital said in a statement on Thursday.
4. Energy:
On 27 June, Bulgarian state gas operator Bulgartransgaz signed a grant agreement for 78 million euro, for the co-financing of the expansion of the gas storage facility in Chiren. The funds are part of the Connecting Europe Facility (CEF) and has been declared a priority energy project for gas diversification in South East Europe as it will increase the storage capacity from 0.55 bcm to 1 bcm - one third of Bulgaria's annual needs.
5. Watch out for:
People
:
Dragomir Zakov, Nikola Minchev and Andrey Gurov - the three names mulled as potential replacements for Kiril Petkov in case he bows to BSP and TISP's demands not to try to lead a second cabinet. Mr Zakov, the current Defense Minister, has been approved by BSP before and has a clear pro-Euro-Atlantic profile due to his former job as Bulgaria's NATO permanent rep. Mr Minchev is probably the most popular of the trio as he made a name for himself as a conciliatory and just Parliament Speaker. Mr Gurov, who is WCC's parliamentary group head, failed in his bid to head the National Bank, but might turn out to be a good choice for PM.
Date:
1 July, 17:00 - the precise time the new PM-designate will take the first mandate to form a government from President Rumen Radev.
Place: The Russian Embassy - where some suspicious black smoke rose on Wednesday, just a day after the cabinet's decision to dismiss 70 members of its diplomatic and administrative staff. It is either some suspicious materials being burned or, as some pranksters said on social media, the conclave failing to elect a new Ambassador.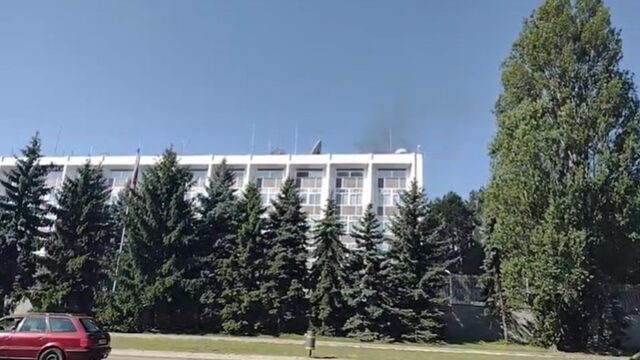 Word of the week: Predatel (Traitor)

This one has been circulating quite a lot over the past fortnight, but this week's example shows how easily anyone who even dares stay true to their principles in Bulgarian politics can be branded предател (a traitor) by his own: BSP MP Krum Zarkov showed on Wednesday that a person can be loyal to his party and parliamentary group, but vote "according to his conscience and conviction", when he voted against the BSP's proposal to include in the parliament's agenda the sacred issue for the BSP about the return of paper ballots in all polling stations in the country. His vote proved to be decisive for dropping the proposed vote from the weekly agenda of the National Assembly at a crucial moment - if paper ballots come back, controlled voting comes back, too. The young Socialist MP was, of course, lambasted by his party's loyalists and might be harshly punished soon, but he remained true to his principal support of machine voting as a tool to minimize fraud.