A bombshell erupted on Thursday night - around 20:30, news hit that the leader of GERB and former Prime Minister Boyko Borissov had been detained by police, alongside some of his closest party associates - PR Sevdalina Arnaudova, former Finance Minister Vladislav Goranov and former MP and budgetary commission head Menda Stoyanova. In a statement (that was strangely deleted shortly after), the Internal Ministry said that there had been house searches and seizure of evidence in many other places around the country.
The arrests came just hours after the visit of Laura Kovesi, the head of the European Public Prosecutor's Office, to Bulgaria. She met Prime Minister Kiril Petkov (who had invited her earlier this week), Justice Minister Nadezhda Yordanova and Internal Minister Boyko Rashkov and said that her office has received a record-high 120 "signals" (or tip-offs) of alleged corruption from Bulgaria linked to EU funds embezzlement, farming subsidies abuses etc. Yet, she did not offer specifics about any particular case.
We still don't know Borissov's official charge sheet, but judging by some reactions and those arrested, it is likely linked to allegations that exiled lottery mogul Vasil Bozhkov was forced to pay 67-million BGN in bribes to GERB politicians. This is odd in one sense, however; this particular investigation has nothing to do with EU funds abuse, so it falls outside the auspices of Ms Kovesi's office.
So we need to wait and see what the State Police will say. They've clearly tried to circumvent the State Prosecution over this one, so Internal Minister Boyko Rashkov ought to be the one giving explanations later today. Meanwhile, GERB members and MPs are crying all over national TV and Parliament about a coup d'etat and repression of the opposition.
Follow Kapital Insights' website later today for further updates!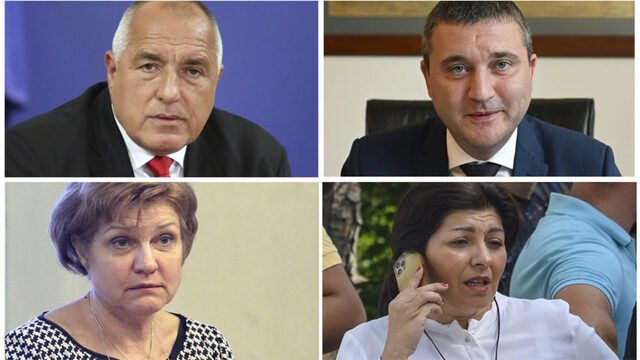 1. Politics this week:
Battle for BNB chairmanship tears the coalition
More and more cracks are forming in the ruling coalition while the focus falls on the security crisis. So far, we've talked a lot about BSP's role as a "Fifth column" in the reformist cabinet of Prime Minister Kiril Petkov. The Russophile Socialists of Economic Minister Kornelia Ninova have been openly sabotaging any meaningful support for Ukraine from Bulgaria or participating more actively in the defense of the Southeastern NATO flank in these tumultuous times.
But there is another, much less obviously malevolent coalition partner that has begun baring its teeth - showman Slavi Trifonov's TISP party. This week it went on the offensive, as former banker, current MP and head of the State Budget Committee in Parliament Lyubomir Karimanski re-launched his attempt to head the Bulgarian National Bank.
What's the problem with that, you might say?
That he is doing it against the will of his party's coalition partners from WCC and by seeking the support of the opposition in Parliament - GERB, MRF and even the anti-systemic Vazrazhdane party. The alternative candidate who would have likely been nominated by WCC - former Citi investment banker and capital fund manager Anna Raycheva - is likely to be dismissed because she does not have a Master's degree and only holds a Bachelor's degree in Math from Princeton and a three-decade-long international banking career.
That's problematic for a number of reasons. Firstly, because petty political ambition once agains seems to trump experience and expertise in a very important regulatory sector. Mr Karimanski's own biography is also a thing to consider - he has been CEO of Investbank - one of the Bulgarian banks with a less-than-pristine track record. Secondly, it shows that Bulgarian parliamentary politics continues to be driven by "flexible" majorities between ruling and opposition parties, in which a coalition of the willing could always form in order to get the right result. And lastly, it demonstrates yet again the shambolic nature of the proforma stable, reformist, Euro-Atlantic coalition. In troubled times like these, this might be catastrophic for Bulgaria.
Ukraine war throws new cabinet into a whirlwind of crises
Three weeks after Russia first invaded Ukraine, Bulgaria is still struggling to catch up with events. The authorities launched an "operational staff" to manage the refugee crisis, but so far it has done very little in practical terms - yes, a unified online portal was launched to coordinate donations, volunteers and efforts to help incoming Ukrainians, but there has been no financial aid made available for any of them - which has, in turn, led to mothers begging for diapers, baby food and other basic necessities in volunteers' Facebook groups.
There have been, of course, some good initiatives launched by several key ministries - but they are few and far between. For example, the Regional Ministry announced that Ukrainian vehicles don't have to pay toll fees in Bulgaria, while the Transport Ministry made all train transport free for Ukrainians and launched a bus service from the borders of the besieged country to Bulgaria.
But other issues such as adapting and speeding up refugee and asylum procedures, finding housing and coordinating financial aid for people and organizations that offer it, access to healthcare and integrating children into the Bulgarian school system have barely been broached. And that's just the tip of the iceberg of crises
The MiGs aren't going to Ukraine - but will they be flying at all?
Next comes the crisis with Bulgarian military aviation. A few weeks ago, the rumored transfer of Bulgarian MiG-29s to Ukraine brought down Defense Minister Stefan Yanev. This week, a much more realistic prospect - that of the final grounding of the agins Soviet-era jets - is causing a further tremor.
The topic was brought up by defense expert Todor Tagarev, who warned that the MiGs' flight resource is running low, there are no spare parts for them and their rockets are far beyond expiry date. What is more, Bulgaria can't maintain them - so far, they have been sent to Ukraine, Russia and Belarus, which are precisely the three belligerents in the current conflict.
The looming threat of Bulgaria remaining without its own air force, at least until 2025 when the new F-16s ought to arrive from the US, makes many politicians uneasy. Especially President Rumen Radev, who is an ex-MiG pilot and rose to political prominence promising to keep Bulgarian fighters flying. He calls for urgent solutions to the maintenance problem - but this might not be possible in the current security environment.
The Recovery Plan is rejected again
And if all other problems were not enough, Brussels returned the fourth draft of the Recovery and Resilience plan submitted by Sofia (see more about it in our piece from this week). It appears that the European Commission is still unhappy with elements of the plan linked to the decarbonization of Bulgaria's economy, digitalization and transport connectivity. The new deadline appears to be 15 April, but the whole saga means that Sofia will remain without access to vital EU funds for at least a few more months.
2. Economy
Kornelia Ninova's force majeure idea
The Ministry of Economy, headed by BSP's leader Kornelia Ninova, is proposing a Force Majeure clause for business - a provision that frees both parties from obligation if an extraordinary event directly prevents one or both parties from performing - following Russia's invasion of Ukraine, it was announced today.
Ms Ninova said it would be valid only for export-oriented companies and would be enforced retroactively - from February 24 to the end of March. The proposal drew fire from both opposition and coalition partners and also the legal community. They claim that such measures risk blocking the economy since every company can claim it is "export-oriented" and renege on its contract.
Exports up 31% in January
Bulgarian goods worth 6.23 billion levs were sold on foreign markets in January, data from the National Statistics Institute (NSI) show. This is up 31% compared to the same period in 2021. The total value of all imported goods amounted to 7.6 billion levs and grew by 51.2% y-y.
Next portion T-bonds for 500 mln levs
A week after issuing a 3.5-year domestic debt of 500 million levs, the state will hold a new auction of government securities for the same amount, but with a 7.5-year maturity. Judging by the auction on Monday, and the risk premium at the initial opening of this issue last November, the yield will probably be higher - maybe 0.9%. The reason is the geopolitical risk arising from the war in Ukraine.
Figures:
10%
Is the annual inflation in February 2022 compared to the same period in 2021, reported NSI.
5.3%
Was the unemployment rate for 2021, which is 0.8% down compared to the pandemic-stricken year of 2020, reported NSI. On the other hand, the employment rate of people aged 20 - 64 years was 73.2%. A total of 171,000 Bulgarians were unemployed of whom 95,000 were men and nearly 76,000 were women.
3. Business
Banking
Unicredit Bulbank
The bank plans to distribute its entire profit for 2021 worth 313.8 million levs as a dividend for shareholders. The decision is still uncertain, as it is also subject to regulatory approval.
Software
Beetroot
The Swedish software company Beetroot has acquired the Bulgarian South Gate Tech. What the two companies have in common is that they are working on big data solutions. The price of the deal has not been made public. Beetroot acquires 100% of the shares of South Gate Tech, which reported revenues of 2.54 million levs in 2020 and 22 000 profit.
Manufacturing
Festo Production
The German-owned company's investments in Bulgaria are expected to reach 20 million levs this year. The company is part of the German concern Festo. It invested in Sofia 19.6 million levs in 2021 of which 14 mln levs were dedicated for machinery and equipment from German companies. The company produces process automation components, flow and pressure sensors, connecting cables, and electric drives.
4. Brussels
The European Commission has proposed changes to the Central Securities Depositories Regulation to enhance the efficiency of the EU's settlement markets, while safeguarding financial stability. Today's proposal is a key component of the 2020 Capital Markets Union Action Plan. The overall aim of the proposal is to make securities settlement in the EU safer and more efficient, thereby improving the attractiveness of the EU's capital markets and ultimately contributing to the financing of our economy.
The EU adopted a fourth package of restrictive measures against Russia.The agreed measures are the following:
A full prohibition of any transactions with certain Russian State-owned enterprises across different sectors - the Kremlin's military-industrial complex.
An EU import ban on those steel products currently under EU safeguard measures, amounting to approximately € 3.3 billion in lost export revenue for Russia. Increased import quotas will be distributed to other third countries to compensate.
A far-reaching ban on new investment across the Russian energy sector, with limited exceptions for civil nuclear energy and the transport of certain energy products back to the EU.
An EU export ban on luxury goods (e.g. luxury cars, jewelry, etc.) to directly hit Russian elites and more.
Furthermore, the EU imposed anti-subsidy duties on imports of stainless steel cold-rolled flat products originating in Indonesia and also India. With Indonesia at the forefront, the EU is countering the highly trade-distorting export restrictions on key raw materials - linked also to Chinese financing.
The European Commission, the European Parliament and the Council have reached a political agreement to give the EU greater leverage to get access to public procurement markets outside the EU, boosting opportunities for EU companies. The initiative will help the EU to initiate investigations in cases of alleged restrictions for EU companies in third country procurement markets, engage in consultations with the country concerned on the opening of its procurement market and, in the end, restrict access to the EU procurement market for foreign companies if they come from a country which continues to apply restrictions to EU companies.
5. Energy
Aid granted by the state to businesses due to high electricity prices will increase in April from 250 levs to 300 levs for megawatt-hour. This is the Ministry of Energy's proposal which will be voted on by the government. Minister Alexander Nikolov explained the proposal is written after consultations with all businesses, the Ministry of Finance, Energy and Water Regulatory Commission, and others.
6. Watch out for:
People:
Lloyd Austin
The US Defense Secretary is visiting Bulgaria as you read this newsletter. According to the BBC, the main topic of the meeting between Mr Austin and his Bulgarian counterpart Vladimir Zakov could be the transfer of anti-aircraft systems to Ukraine, but the S-300 systems might be traded off for some more advanced weapons for the Bulgarian army, or at least some discount in purchasing them.
Place:
Danube Bridge near Ruse
Volunteers expect an increased influx of Ukrainian refugees across the main bridge connecting Romania and Bulgaria in the coming days.
Date:
21 March
The last day that the so-called Covid "Green Certificates" will still apply in public venues in the country.