Talk about rough beginnings. Bulgarian Prime Minister Kiril Petkov has been in post for less than a hundred days, yet he is already facing an energy prices crisis, having to pass an already delayed annual budget, keeping a tumultuous coalition together, and now - a war on the country's doorstep. No Bulgarian PM since the Yugoslav wars 30 years ago has had such a challenge.
Eight days ago, Russia invaded Ukraine, all guns blazing. Unexpectedly for many - including the Russian leadership (and, notoriously, Mr Petkov himself, who wrote off the Ukrainian army and Kyiv on the second day of the war), the country and its defenders have so far offered stiff resistance. And despite some initial hesitation, all of Europe has come to its aid with humanitarian and military support, as well as boycotts and sanctions of the Kremlin and its oligarchs.
Bulgaria has joined the choir, but only half-heartedly. As early as the day after the invasion, the National Assembly was split on the topic of condemnation of Russian actions. Yes, almost all MPs approved a declaration to this effect, but the most openly pro-Putinist Vazrazhdane and socialist BSP, which is part of the ruling coalition, stayed true to its deeply rooted Russophilia, and joined the anti-systemic party in voting against any form of sanctions.
Things got even worse - Defense Minister Stefan Yanev refused to call the invasion "war", repeating Russian state propaganda about a "special operation" and insisting that Bulgaria keep neutrality. Yanev was finally ousted on Tuesday. Mr Petkov tried to substitute him with a reformist-minded expert - Todor Tagarev, but the nomination was blocked by his partners from BSP, who found Mr Tagarev too hawkish for their neutralist stance. So the Prime Minister had to urgently fly back Bulgaria's NATO ambassador overnight and appoint him as Minister as a compromise.
So crisis averted, yes? No, because unfortunately, the national liberation day - 3 of March (the day the Ottoman empire capitulated against Russia in 1878, thus creating modern-day Bulgaria) is one of the biggest pro-Russian events in the country. So Russophiles from all over Bulgaria gathered on Shipka peak, where the PM traditionally goes on this anniversary, and booed Kiril Petkov, as he spoke on national TV.
He was even hit by a snowball. In his typical manner, Mr Petkov rushed to talk to the people who shouted at him, only to be called a "traitor" by Russian flag-wavers.
This scratches the surface of the bigger task confronting this cabinet. Bulgaria is in the midst of an information war, albeit an undeclared one. The country is brimming with Russian proxies, just barely exposing themselves, voting against sanctions here, booing there and flooding the internet space with propaganda. They will be gaining momentum, as Russia mobilizes every last resource it has over the region to keep it divided.
Petkov will face worse days than this week. Yet he has to keep course, even if it incurs a high cost for his personal popularity. This will be a harder hit than a snowball for the newly elected fresh face of Bulgarian politics. Times like these test the mettle of leaders.
1. Politics this week:
Refugees welcome (by the people, not the state)
In the space of a week, more than a million Ukrainians have left their country according to UNHCR. Although only ("only!") about 11,000 have come to Bulgaria; they have mostly relied on the help of private individuals and organizations, welcoming them to their apartments, picking them up in cars and buses from the Romanian border, and helping them with supplies
Unlike the previous refugee crisis, this time a huge mass of Bulgarians seem to be willing to accommodate and help arrivals.
But the state was a bit unprepared
with regards to both Ukrainian refugees and people of Bulgarian heritage trying to escape Ukraine. While the authorities managed to send a handful of buses to Kyiv and Odessa to pick a few hundred people, the humanitarian aid Sofia sent was limited to 30 tents, 450 sleeping bags, camping beds, pillows and stationary electric generators, as well as various medicines - antibiotics, analgesics, etc.
The Bulgarian asylum system is exactly where it was in 2016. Anti-refugee pressure then, including from the nationalist parties, the candidate for President, Rumen Radev, and BSP (all extending an embrace to their blond Slavic brothers and sisters now), practically opposed any expansion of the state's capacity to welcome and accommodate those fleeing war.
All EU money (that was accounted for, at least) went to fortify the border with Turkey and if it were not for the public enthusiasm this time around, the scenes of mothers living in muddy tents would have been similar to those during the Syrian refugee crisis.
No, Bulgaria is not giving up its aviation
The ghost of wartime propaganda has been haunting the world in the last couple of days and one (pro-Ukrainian) piece of it involved Bulgaria and its aging fleet of Soviet-era MiG-29 and Su-25 jets. Some Western talking heads, the Ukrainian authorities and even European Commissioner Joseph Borrel claimed they will be handed over, alongside Poland and Slovakian jets, to Ukrainian pilots, who could continue the fight for their country's airspace.
This could have been a very bad idea, for many reasons linked to a possible escalation of the conflict on European territory, but also because Bulgaria would have practically been left with no airforce whatsoever. Prime Minister Petkov debunked the claim, but it had already circulated around media and propaganda outlets worldwide.
More spies, fewer diplomats
On Wednesday the Specialized Prosecution announced it had brought treason charges against a Bulgarian Brigadier General from the reserve. Brigade General Valentin Tsankov (b. 1956), who had been part of the Bulgarian counterintelligence during the last decade of the communist regime, spied in Greece in the late 1980s and before that completed a 10-month course in the military-diplomatic school of the GRU in Moscow. Tsankov has been charged with spilling secrets to a diplomat from the Russian embassy.
The Foreign Ministry expelled two Russian diplomats who allegedly worked with him.
The general had served on many high-level positions, including as defense attaché to Washington and London, and as a counselor to the BSP-appointed Defense Minister (2013-2014) Angel Naydenov.
Gas prices speculation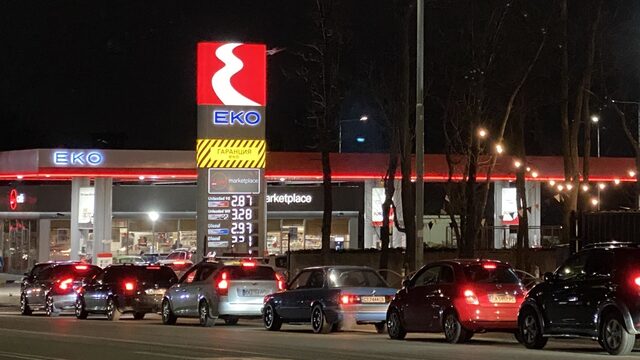 On Wednesday evening, pictures of dozens of cars piling up to fill their tanks suddenly started circulating social media channels. They were picked up by GERB and their proxy media outlets which disseminated sarcastic quotes of Prime Minister Petkov calling Russia "a gas station with nuclear weapons," practically implying that Petkov is to blame for an expected spike in gasoline prices.
Apparently, someone spread the rumor that gas prices might reach 4 levs (2 euro) per liter, up from around 2.5 levs, because Russian tankers will stop arriving at the Lukoil refinery in Burgas. The social media campaign spread like wildfire, causing thousands of people to line up for gas.
While nothing currently prevents Russian tankers from arriving, and there is no immediate danger that we will run out of supplies, the price will assuredly go up - because of the war and world markets.
2. Economy:
Good budget. For now
Bulgaria's state budget is expected to be in surplus of 697 million levs (364 million euro) in February which equals 0.5% of the project GDP, according to preliminary data from the Finance ministry. For comparison - for the same period in 2021 the surplus was 24.3 million levs. However, the government also has expenditures (for energy benefits and pension supplements), which do not affect the balance indicator for now. As of February, the consolidated revenues grew by 11% compared to the same period last year, and the costs - by 2%. Finance minister Assen Vassilev, however, said that the war in Ukraine will change all projections on which the 2022 budget is based, including inflation and GDP growth.
Figures
2.09 billion levs is Sofia's budget for 2022. This is up 200 million levs compared to the previous year. The capital will invest mostly in the subway's extension, construction of boulevards and some green projects.
32.6% is the growth of production inflation in January on an annual basis, NSI data show. Much of it comes from energy.
3. Business:
Fintech
Payhawk
Bulgaria greets its first unicorn - the fintech company Payhawk was valued at 1 billion dollars after the last investment round, led by the US fund Lightspeed Venture Partners.
The new funding is 100 million dollars, and the majority of it (50 million dollars) was provided by Lightspeed with the participation of other new funds: Sprints Capital, Endeavor Catalyst, HubSpot Ventures and Jigsaw VC.
Automotive
Etem Gestamp
The Greek-Spanish automotive supplier Etem Gestamp is investing another 60 million euros in its plant in Sofia. The project is initiated by the joint ventures between Etem Bulgaria (part of the Greek Viohalco) and the Spanish Gestamp with an investment for 30 million euros
4. Energy:
Electricity prices go up amidst Ukraine crisis
The Bulgarian Energy Exchange announced a record-high 498.48 BGN per MWh price of electricity on the "Day Ahead" market on Tuesday. This is the highest price recorded since 27 January and is a clear signal of market concerns regarding the war in Ukraine.
5. Brussels:
The EU will announce next week its plan to ditch Russian gas. Price shocks are expected in the short-term.
All the three rounds of SWIFT sanctions against Russia can be found here.
The Commission will coordinate urgent supplies to Ukraine in the energy sector. During the Energy Council on Monday, many Member States pleaded for immediate assistance to Ukraine as well. There also will be attempts for synchronization of the Ukrainian power grid with that of continental Europe - despite technical challenges.
The Commission activates the Temporary Protection Directive to offer quick assistance to people fleeing the war in Ukraine. Under the proposal, those fleeing the war will be granted temporary protection in the EU, meaning that they will be given a residence permit, and they will have access to education and to the labor market for at least three years.
6. Watch out for:
People:
Stefan Yanev - the former caretaker Prime Minister and Defense Minister has admitted he might be creating his own political movement or joining an existing one. To judge from his open opposition to the policy of the government on the Ukraine crisis, he will probably position himself left of center to reach out to the pro-Russian and socialist electorate.
Place:
Rosenets - although it is better known lately for the illegally constructed mansion of Turkish party leader Ahmed Dogan, the peninsula near Burgas also houses the Lukoil Neftochim refinery, where Bulgaria gets most of its oil deliveries. This is part of the strategic infrastructure that's in Russian hands - together with TurkStream and the fuel for the Nuclear Power Plant. Although it beggars belief that Lukoil will decide to sabotage its own multi-billion euro investment, we live in crazy days. Lukoil, meanwhile, has called for an end to the war.
Word of the week: Подлога (bedpan)

Bulgarians, like many other nations, have a tendency to turn normal everyday words - like подлога, the essential bedpan medical care device - into insults. It is often used to offend a person or an institution that works for the interests of another, greater (and corrupting or destructive) force. Pro-Westerners call members of the BSP, or Vazrazhdane, bedpans of Putin, while Russophiles call liberals (including this newspaper) bedpans of George Soros, Brussels or Washington

But things got really strange when the official Facebook page of the Russian Embassy in Sofia used it in a post and on a Telegram group on Tuesday. The embassy wanted to describe all media, institutions and people rejecting Moscow's reading of the Ukraine invasion as bedpans of Western propaganda instruments. They obviously realized this might be taken as more than an insult from someone who's already using tanks on the ground. So the post was amended later. Too late, though.