In the five days since the start of the unprovoked Russian aggression against Ukraine on several fronts, the divisions within Bulgaria's ruling coalition continue to expand.
On the one hand, Prime Minister Kiril Petkov and his We Continue the Change (WCC) party remained fervent advocates of joint European action in support of Ukraine, pledging undisclosed "humanitarian and military-logistical aid" to Ukraine on Sunday afternoon.
On the other, parts of the ruling coalition, and especially Defense Minister Stefan Yanev - whose dismissal is now pending as of Monday morning - seem reluctant to take any effective action that could help Ukraine militarily, instead choosing to use pacifist or naturalist rhetoric, likely not to risk provoking any Russian retaliation against our energy supplies and economy.
The "special operations" Minister who refuses to call war by its name
On Monday morning, Mr Petkov called for Mr Yanev's resignation. "No minister in this government is allowed to have his own foreign policy, especially when it is conducted over Facebook. Second, no minister can tell the government that his keeping of his post can impact the stability of the government. This government will not chase stability; it will chase the right action and principled positions. My Defense Minister cannot use the word "operation" instead of "war," Mr Petkov explained.
Pressure against Defense Minister Yanev began mounting after he refused to call the conflict in Ukraine "war" and instead referred to it using the Russian rhetoric of a "specialized military operation". After refusing to change his tone over the weekend, a leading MP from DemBG, Ivaylo Mirchev, called for his resignation and for "the urgent start of negotiations for the discounted purchase of a F-16 squadron from NATO".
His call came just minutes after Mr Yanev himself posted a long Facebook status, where he said that "Bulgaria does not have to show a pro-Russian, pro-American or pro-European position right now." He warned that political forces calling for his resignation (naming both DemBG and WCC of Kiril Petkov, which nominated Mr Yanev in the first place) are planning to "make decisions that are not in the interest of Bulgaria What is more, they are dangerous for our country". Finally, he said that he won't personally resign "in this geopolitical situation" but alluded to the possibility of being forced to resign by DemBG and WCC.
What is Yanev afraid of?
There are at least three possible decisions of the cabinet, or at least - the Prime Minister and the WCC section of it - that might be worrying Mr Yanev.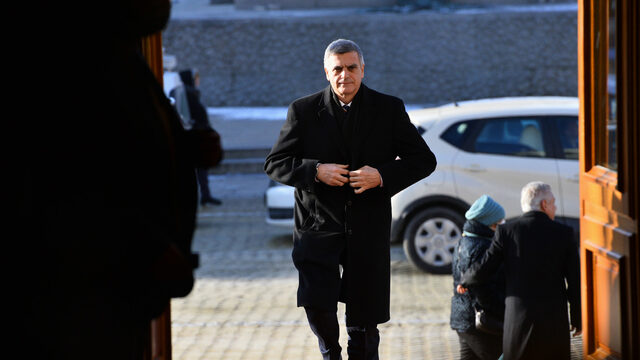 Firstly, on Sunday afternoon, Admiral Emil Eftimov, who is Bulgaria's Chief of Defense, said in an interview that Bulgarian institutions are prepared for "the possibility of facilitating allied troop movement on the territory of the country," something both Mr Yanev and his political mentor President Rumen Radev have consistently opposed. Instead, they insist that Bulgaria creates its own battalion battle group that might receive some support from another NATO member, but would remain solely under Bulgarian command - something that is unheard of in NATO's history of forward deployment on the Eastern flank. It is likely that now, after the Russian invasion, the plans for such deployments are under way and this goes against the views of Mr Yanev, who also opposed any increase of foreign troop presence in Bulgaria overall.
Secondly, on Sunday evening, EU foreign-policy chief Josep Borrell said that he was in discussion with Ukrainian Foreign Minister Dmytro Kuleba over the possibility of EU members delivering fighter jets and bombers to Ukraine. It is most likely that Ukraine expects Soviet-era aircraft that can be immediately put to use in the fight for the Ukrainian skies.
According to specialized air publications, this means the aircraft in name could only be MiG-29 fighters and Su-25/27 ground attack aircraft, which, in turn, can only come from three EU members that still operate them - Slovakia, Poland - and Bulgaria. In this context, Mr Yanev's concern becomes more understandable - Bulgaria has only about 5-7 MiG-29s in flying condition (and 5-7 more that are mostly used for spare parts) alongside a dozen Su-25s. Sending any number of them to Ukraine will directly impinge upon Bulgarian air defense capabilities, putting the country's sovereignty at risk or in the hands of allied NATO pilots, entirely. This is unprecedented and will come as a huge shock to both the army and the general public.
BSP: No to war, but also no to any meaningful support
Lastly, Mr Yanev's concerns might have to do with the announced "military-logistical" part of the aid to Ukraine, promised by Prime Minister Petkov on Sunday. Mr Yanev, who seems committed to a more balanced and neutral position vis-a-vis Russia, is not alone.
On Sunday afternoon, the socialist and pro-Russian coalition partner in the cabinet, BSP, came out with another toothless declaration on the conflict, simultaneously criticizing Russia's attack, but also rejecting any sanctions on Moscow, which party leader and Economy Minister Kornelia Ninova insists on calling "useless" and "counterproductive." Ms Ninova, under whose cap is the weapon export certification committee, seemed at odds with Mr Petkov and rejected the possibility of Bulgaria sending any sort of military supplies to Ukraine.
Both she and Mr Yanev might be genuinely concerned about the possibility of Bulgaria getting in the Kremlin's crosshair. Or they might be unable, or unwilling, to shed their general pro-Russian sentiments, despite the obviously perilous current situation. What is certain is that their positions clash with the Prime Minister's and send a very confused and unconvincing message to the rest of the world about where Bulgaria stands.
Private efforts surpass government initiatives to accommodate refugees
While the Bulgarian authorities are failing to organize a coordinated effort to take Bulgarians and Ukrainian citizens out of the war zone, those who manage to leave the country receive significant support from semi-organized Bulgarian volunteer groups. A Facebook group called
Допомога українським біженцям в Болгарії/Помощ за украинските бежанци
that already has more than 28,000 followers, is brimming with offers for support - material, financial, transport and with accommodations - from hundreds of private citizens and businesses from across Bulgaria. Volunteers are offering spare rooms, whole apartments and houses in villages, as well as transport from the Ukrainian-Romanian border to all willing citizens. Members of the IT sector, led by the BESCO association, were the first to organize buses and a plane for family members of their colleagues from the besieged country. The mayor of the small town of Smyadovo near Shumen opened up an unused municipal dorm, in which she already welcomes the first out of 60 expected refugees. The
Bulgarian Red Cross
has also opened a bank account for donations and many locations across the country, where it collects basic necessities for the refugees.