What a year 2021 was for Bulgarian politics! Three parliamentary and one presidential elections, three different winning parties, a caretaker government that became the all-time favourite of the public, spawning a brand new technocratic party that now rules with a four-sided coalition
To sum it all up: in the beginning of 2021 Boyko Borissov was still a PM, 99% of the people haven't heard of the current PM and two of the four ruling parties didn't even exist. So quite a change indeed.
Below, Kapital Insights will outline the main developments that marked Bulgarian political life in 2021, but also try to look ahead to the major challenges and risks facing the political class in 2022. Let us start with the takeaways:
Borissov is out - at least for a long while
We cannot start a recap in any other way. Granted that the final exit of the politician who dominated Bulgarian public life for over 12 years is far from certain, 2021 became the first year in over a decade in which Boyko Borissov, leader of GERB and Prime Minister for nine years, is no longer center stage.
Certainly it took some time - Mr Borissov won the first election of the year on 4 April, with a significant margin of 8 percent to boot.
But the subsequent formation of an anti-GERB majority in Parliament blocked any attempt by him to do his favorite trick - broker a deal. Although MPs in the first short-lived Parliament spent much of the time engaging in petty squabbles, it ensured that Mr Borissov would stay out of power, at least for a while.
Radev takes the lead
The inability of the fractured Parliament to produce a working coalition in April meant that the ball landed in the field of President Rumen Radev, and, boy, did he use it well!
Mr Radev appointed a colorful cabinet consisting of some old faces with grudges against GERB, such as Interior Minister Boyko Rashkov and some popular young faces, like Harvard-educated economists Kiril Petkov, Assen Vassilev and Atanas Pekanov.
It turned out to be a peculiar, but viable combination. The caretaker government created a reputation of its own (read below) and, while not perfect, definitely managed to boost the already high popularity of Mr Radev, who won easily the Presidential election in November. This means he will fortify his position as a pillar in Bulgarian politics in coming years.
This has its positive and negative sides. Mr Radev is very likely to try to influence Bulgarian foreign and defense policy through two key ministers who were his close aides until recently - Defense Minister Stefan Yanev and Foreign Minister Teodora Genchovska. Bearing in mind Mr Radev's problematic positions on Crimea and relations with an increasingly aggressive Moscow, as well as his tough stance on N. Macedonia, this might stir trouble for the new government.
An unelected government can rule just right
But back on Mr Radev's most significant legacy for the time being - appointing the most memorable caretaker cabinet in recent Bulgarian history. Unlike most previous caretaker cabinets, the one led by ex-General Stefan Yanev was not satisfied with simply organizing the next elections.
In a matter of three months, it exposed some of the most shocking practices of the previous government, including how the Development Bank was used to fund friendly oligarchs, how road construction projects were pre-paid in advance to the benefit of selected construction firms and the police, for the first time, actively tried to clamp down on vote-buying schemes that distorted election results for decades.
These feats received the approval of the public - Mr Yanev and some of the caretaker ministers became the most beloved Bulgarian politicians (with ratings second only to Mr Radev) and showed that an unelected government with unsullied experts on a targeted mission can govern just right.
On the other hand, as Kapital Insights outlined in September, the first caretaker government opened many cans of worms, but not always delivered the best solutions. On top of that, the second Yanev cabinet (September - December) showed much less vigor than the first one, revealing the limited tool kit for a short-lived, unelected government.
The shake-up of Bulgarian party politics
There is probably no other country anywhere where three parliamentary elections took place within one year, producing three different winners - two of which were brand new parties - showman Slavi Trifonov's There is Such a People (TISP) and caretaker ministers Kiril Petkov and Assen Vassilev's We Continue the Change (WCC).
But those are not the only new parties crossing the threshold. Democratic Bulgaria, the centrist liberal urban party that had a significant role behind the 2020 protests, entered Parliament for the first time this year. It brought with it the agenda of reforming the Bulgarian justice system and getting rid of Prosecutor General Ivan Geshev - policies that it would now have the chance to enact through its Justice Minister Nadezhda Yordanova.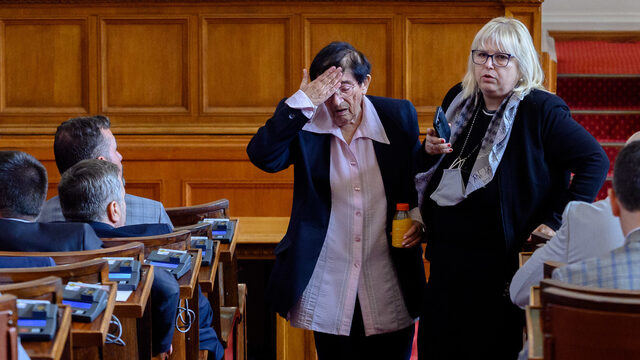 Two other parties also made it into Parliament for the first time. Maya Manolova's coalition, which changed names so many times, but we will simply call Stand up BG - went in and out, without producing much more than several anti-GERB scandals. It took Vazrazhdane ("Revival" in Bulgarian) much more time to enter Parliament, but it is very likely that it is here to stay. Feeding off the votes of old far-right nationalists, on the one hand, and aggressive Covid deniers, on the other, it will almost certainly linger for some time.
The (difficult) return of real coalitions
2021 can be described as the year that taught the new generation of Bulgarian politicians the word "compromise". And it was far from an easy task: it took three elections and eight months for a regular coalition to be finally constructed, after neither party tried it the first time around (in April), followed by TISP's miserable failure the second time around.
It appears - at least on the surface - that no party will be able to fully exert its vision and decisions over other factions, as GERB had done with its smaller coalition partners over the past twelve years. This gives the opportunity for coalition partners to keep each other's actions in check - Democratic Bulgaria immediately protested the appointment of Communist-era state security officer Petko Sertov as councilor in the Foreign Ministry, formally controlled by TISP.
But the division of power should be taken with a grain of salt. For example, Finance Minister and Deputy Prime Minister Assen Vassilev has most of the budget-intensive state agencies under his sole control under the coalition agreement signed in December. And it is easy to imagine how many ministers might have second thoughts criticizing the hand that "feeds" the projects of their institutions.
Giving way to political novices
Last, but not least, the rise of all new parties brought an entire new wave of new and largely unknown faces to Parliament and the executive. Almost all members of Mr Petkov and Mr Vassilev's WCC are under 40 and have had no previous involvement in politics. The MPs from TISP are a tad older, but also unknown to public life until now.
Lack of previous political experience lends the new MPs and the cabinet, led by Mr Petkov, an aura of freshness and innocence, especially for the new prime minister personally. But it already shows its downsides - most new MPs backed the half-baked moratorium on utility prices, proposed as a trap for the newcomers laid by GERB. Some uninspiring appointments (like the above-mentioned appointment of Mr Sertov) and comments (such as Defense Minister Stefan Yanev's position against Bulgaria hosting additional NATO forces shared last week) back up the notion that having too many newbies in power might sometimes backfire.
2022: What is to come?
So, what should we expect from Bulgarian politics in the coming 12 months? First of all, the year will pose the first big test to the strength of the coalition - will it be able to face off the wave of problems facing it (rising energy prices, a new Covid variant, low vaccination rates, stagnating investment, attacks from the opposition) or will it disintegrate under all these pressures? The answer to this question will likely determine whether any chance of lasting, meaningful reform would even have a chance of succeeding.
Secondly, the new cabinet - and especially Mr Vassilev - must immediately resolve differences between Bulgaria and the European Commission over the details of the Resilience and Recovery Plan for the country. There are 6.6 billion much needed euro at stake, and the sooner Sofia and Brussels broker a deal, the better it will be for Bulgaria's struggling private sector.
Long-term problems could well arise from seemingly short-term implications - the uncertain future of its energy system and rising energy prices. If there is something other than coalition shake ups that might upset the cart of Mr Petkov's government, it is energy. Revamping the sector - without hurting business and domestic users with exorbitant bills - is a Sisyphean task, but somebody needs to start working on it ASAP.
Looming in the background, as always, is the Covid vaccination rate. Will the new cabinet be able to do what both GERB's healthcare appointees and caretaker Health Minister Stoycho Katsarov failed to do, namely to boost vaccination rates? Initial responses are both promising (active engagement of Mr Petkov with the pro-vaccination campaign) and lackluster - postponing compulsory Green Certificates for administrative employees at least until March.
Finally, we cannot end such a list without mentioning one of the most significant challenges confronting the new cabinet and Parliament - reforming the Bulgarian judiciary, and especially the State Prosecution. The success of this task may make or break the legacy of the new cabinet - all promises of bringing former powerful players to justice depend on this. Oh, and the European Commission giving a green light to the Recovery and Resilience funds, as well.