Complete chaos. Cliched as it is, this is the phrase that summarizes the last couple of days of Bulgarian politics. On Friday afternoon, showman Slavi Trifonov's There is such a People (TISP) party named Plamen Nikolov - an unknown MP from Mr Trifonov's faction - as their latest official Prime Minister nomination. Just a few hours earlier, members of the party had told other parties they were planning to nominate a different person - lawyer Petar Iliev, an equally unknown expert, promoted by Mr Trifonov to be the nominee Justice Minister just two weeks earlier.
Mr Iliev's name was hastily withdrawn after it was discovered that he had likely plagiarized his colleague and renowned constitutionalist Natalia Kiselova.
Judging from the fast-rolling events in the past days, it seems that the task of forming a government with the support of the so-called "protest camp" (parties that took part in last year's anti-GERB protests) will not be as straightforward as it was hoped to be.
A straw man in the making?
Mr Nikolov's nomination raised many eyebrows, as he is a complete political novice. He appeared for the first time on the public stage in 2018, when he took part in a "casting for politicians'' organized by Mr Trifonov's ⅞ TV. His other public appearance was again on the same channel where he outlined his views - mainly in the domain of education. He became MP for the first time in April on the wave of support for TISP.
Mr Nikolov's career credentials were quickly disputed, as has become the norm these days in Bulgarian politics. In his CV on the TISP party website he claims he heads the European division of a US company and is "responsible for the overall business performance of the company in 67 international markets with 600+ commercial B2B partners." The company is the swimwear brand FINIS, where he is employed but not listed as a manager.
Even his Wikipedia page was created 4 days before his nomination for Parliament by a user conspicuously named Nikolov_p.
His first appearance on the Panorama political talk show on BNT on Monday also failed to deliver any clarity about his instincts on core topics - he just repeated the talking points of his party. Combined with the secretive process of his nomination and his inexperience, this raised red flags for TISP's supposed "natural" partners - the other "protest" parties Democratic Bulgaria (DemBG) and Stand up, BG!
TISP at war with a potential ally - Hristo Ivanov
On Saturday, DemBG co-chair Hristo Ivanov outlined his objections to the way Mr Nikolov was nominated. "There is a decision-making center formed around Slavi Trifonov, which formulates policy outside of the state institutions," he said, underlining that his party remains ready to back a clearly defined reformist government.
"Not simply a program that will appear on paper, but a vision that is shared by a team, led by a leader who one can trust from day one," Mr Ivanov added in a commentary for National Radio. Who would that leader be, if he or she is to be accepted by the other parties, has become a rather difficult question to answer.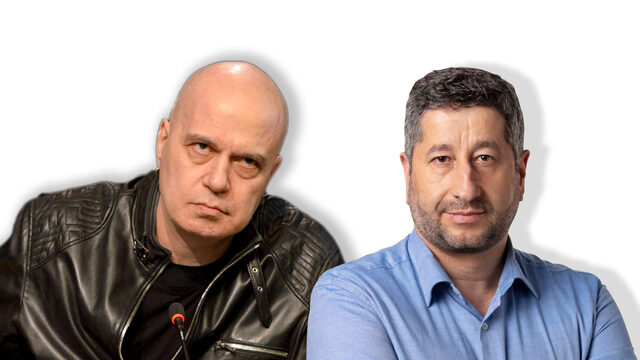 This statement however, combined with an earlier declaration of the DemBG leader in which he demanded more openness from TISP, provoked a broadside from Mr Trifonov. He railed against the party that was supposed to be a natural ally in the mission to dismantle the model of governance established by GERB and backed by MRF over the past decade. In a 25-minute video recorded from his home on Sunday, Mr Trifonov - "interviewed" by his acolyte Toshko Yordanov - bashed Mr Ivanov and castigated him for punching above his weight. He also blamed Mr Ivanov for "demanding ministerial positions".
"The sovereign [that is how Mr Trifonov refers to Bulgarian voters] assigned Hristo Ivanov fourth place. He is not the first political power in order to decide who gets what," Mr Trifonov said, then raised his voice: "Wait, who are you to propose [ministers]? Who asks you to propose something? Who made you a recommender? Why would you propose? Go out and win the elections, and then recommend."
One door closes, another opens
Mr Trifonov's statement seemed to have reiterated TISP's point that it would single-handedly recommend a minority cabinet that other parties can opt to vote for, practically signing his 65-strong parliamentary faction a blank check. Just a few hours later, a letter signed by his lieutenant Mr Yordanov claimed that TISP is inviting BSP, DemBG and Stand up, BG! to showcase and discuss the members of their future cabinet.
The back-and-forth of TISP and Mr Trifonov's overreaction leaves the negotiations with DemBG mired in doubt. If that is indeed the case, there are only two ways for TISP to push its government through the National Assembly.
The first one is that the party gets the support of MRF, alongside that of BSP, which has already been tacitly agreed, judging by the public statements of Socialist leader Kornelia Ninova and her close circle. Passing a "triple coalition" of MRF and BSP will be reminiscent of the previous times the two parties joined hands with a third faction to govern - in 2005 and 2013, both of which bring back bad memories for many and might bring the swift end of TISP.
The second one is that the party only joins hands with BSP (and maybe parts of Stand up, BG!), which would be more acceptable, but would rely on abusing the quorum rules of the National Assembly. This means that a government may be passed with fewer than 121 votes if one or more of the parties register for the vote, but do not attend it, and thus lower the quorum. This is precisely what GERB leader Boyko Borissov did on Saturday - he told his 64 MPs to leave the Assembly at the time of the vote and let a TISP cabinet pass. This would lead to Plamen Nikolov's government being susceptible to the floating majorities that can only work with GERB or MRF's blessing. And any dreams of deep reform would go in the closet for at least a few more months.
Third time lucky?
Of course, there are radical options on the table - TISP leaders have repeatedly said that they would not push for a cabinet that has not received the backing of the other protest parties. If they live up to this promise, it is possible that Mr Nikolov does not recommend ministers to be approved by Parliament, practically rendering the mandate he holds void.
Given the chaotic movements in TISP in the last month however, nothing is certain.
In any case, Mr Nikolov and his party have four-and-a-half days before the mandate they received last Friday from President Rumen Radev lapses. By then it will be clear if they are able to make a difficult breakthrough with the protest formations, abandon their promises and join hands with parties from the status quo (one way or another), or simply cause a brand new cycle of elections.