Imagine being in the cockpit of a fighter jet. It's dark, half past midnight. The moon is not out yet and you are flying above the sea, which makes it hard to tell if you are flying straight, or up, or down. You are moving through the air at a speed of 800 km/h.
Your eyes are fixated on the target. It is falling down, faster than you think. You know that because you see it in your front shield, but also because the ground control center gives you coordinates. You take note, and adjust accordingly, lowering the altitude and accelerating.
Once you shoot the rocket, you wait for 3 seconds and turn right, to avoid being hit by debris. You then take a deep breath and start telling the officers on the ground that you're shutting the main switch for the armament. You manage to say "main" and then you hit the water surface.
Or more like, at 900 km/h, it hits you.
You are dead in less than a second.
The military report on the crash of the MiG 29 jet over the Black Sea last month came out and it describes in terrifying detail the pilot's last moments. The whole drama above took place in less than 3 minutes. At such speeds, life (and death) moves rather fast.
The report claims "lack of orientation" as the main reason for the crash. The pilot believed he was below target and the turn was made while going upwards, while in fact, the nose was pointed down.
In aviation psychological research such an optical illusion is called "enchantment". This happens when the pilot is focusing exclusively on the target. The pursuit is so strong that the other flight parameters lose their significance.
Reading this report reminded me in a strange way of Bulgaria's current political situation. We were indeed flying in the past months, focused on the target - removing Borissov from power - and now the target has been hit.
The pilots are blinking in the dark, trying to figure out where we are and looking for advice on where to go.
One must only hope the ground is not approaching fast.
this week's newsletter is brought to you with the help of Liliya Ignatova
POLITICS THIS WEEK
First red light: Slavi steals the show
Hours after winning his first election victory, the leader of There is such a people stepped on the toes of his potential coalition partners. In a pre-recorded FB stream (not unlike a certain previous leader) Mr. Trifonov announced a new cabinet. It was not so much the names in it but the manner of its announcement that produced screams and shouts.
The two other "protest parties" as they are called - Democratic Bulgaria and Stand Up! Out with the thugs - have called on Trifonov to sit down and negotiate, rather than unilaterally deciding on the future cabinet.
The name that spoiled it all: Nikolay Vasilev
For some (yet) unknown reason, Trifonov picked as a PM designate a man, who's already been a deputy prime minister twice and has left, let's say, mixed impressions. Vasilev was a part of the last pre-GERB cabinet whose legacy was the phrase "state portions" - describing how political parties divide and control public money for their own gain. It can be plausibly argued that this cabinet might have had a much bigger chance of being voted in, had it not been for its PM.
One green light
So after days of rage from the other parties and deciding he wants a coalition after all, the most powerful politician in the country at present decided against nominating Vasilev. "There has been a smear campaign" against him, Trifonov said. Nonetheless, Vasilev is out and new names are going to be presented on Friday. Let's see how that goes.
Second red light: they still don't have the votes
Even with their best performance to date
(read about it here)
, the three protest parties don't reach the 121 votes needed for a majority. They have 112, which motivated Trifonov to claim he wants "a minority government" and bear the responsibility himself. It is, however, difficult to envision how that will become a reality. If the protest bloc doesn't vote together, Trifonov has to count on the old parties - Socialists, the Turkish party and GERB.
Not really a viable solution.
Maybe New elections?
Third time lucky, is what many pundits now predict. There are presidential elections in the autumn anyway, so we just might end up voting for a Parliament for the third time in a year.
Feeling tired yet? Hear this
If the voters are also getting tired and Borissov plays his cards right, he could position himself for a grand return. Talk about crashing at high speed
The silent winner? Rumen Radev
The President seems a statesman figure: his caretaker government did very well and the elections were well organized. He is a clear frontrunner for re-election. He might as well get to keep his government until then (not really a bad solution, if you ask more than a half of Bulgarians, according to latest polls). After all, Belgium survived without a government for 2 years.
ECONOMY
No sign from ground control yet
Just to remind you how political plans are subject to constant change, Brussels kept silent on the current Recovery and Resilience plan. The document was presented two weeks ago - unofficially - and comments are probably being evaluated right now. But a source told "Capital Weekly" that there was "quite a lot to fix" in the document, so don't expect it to be published any time soon, let alone sent officially. This probably will be a job for the new government. Oh, wait
One word: loans
While we wait for the plan to be published, let's remind ourselves that there are over 4 bln. euros (8 bln leva)waiting for Bulgaria to claim them as loans from the EC. Despite the enormous needs of all municipalities, Sofia has not yet decided to use that money.
Another 8 billion leva were given away
The government has given out over 8 billion levs with no public tender or oversight, according to information revealed during a public discussion at the Ministry of Finance on the management of government revenues and expenditures. Most of these funds were handed out to a handful of construction companies without a tender. The largest benefactors under this model are, unsurprisingly, "Avtomagistrali" and the State Consolidation Company (DKK). However, now it has come to the public's attention that state-owned "Port Infrastructure" has also benefited substantially under this scheme.
Euro's popularity grows but anxieties remain
Support for the introduction of the euro in Bulgaria is increasing a little compared to the previous year. Now, about 54% of respondents mostly favor adopting the euro, about 6 percentage points higher than a year ago. However, most Bulgarians still believe that this will bring more negatives than positive consequences - like price manipulation and inflation, according to the latest Eurobarometer survey.
Goods export back to normal levels
After two consecutive months of record-breaking monthly revenues from goods exports, May brings a return to normalcy - a little over 5 billion levs. Although that's technically a decrease compared to the previous month, the export of goods was still a third above the sum reported in May 2020. Moreover, it's higher than pre-crisis levels. Although it's a bit early for forecasts, so far, it looks like goods exports might break the 60 billion (levs) mark for the first time ever this year.
The increase in revenues this year is partly due to an increase in producer prices, but consumer inflation is also going up a bit.
Inflation accelerates in June
Consumer inflation accelerated for the fourth consecutive month in June, increasing to 2.7% year-on-year. The increase in growth rate is mainly due to fuel prices (about 25% higher than last year's levels), and prices in the culture and recreation sector. More specifically, tour operators are raising prices for package holidays - by about 12% on an annualized basis in June.
BUSINESS
E-cars
Next.e.GO
On July 10, the caretaker government signed a memorandum of cooperation with the German e-car startup which will invest a total of 140 million euro in a manufacturing plant in the city of Lovech. The promise is to create 1000 jobs in the process and thousands of others for subcontractors. Read about it here
Technology
Ondo Solutions
The agriculture tech startup Ondo Solutions raised 1 million euro from investors. The Bulgarian company is developing an automated solution for management of irrigation processes in agriculture. Eleven Ventures, Sofia Angels Ventures, BrightCap, MFG Invest, HR Capital and Georgi Zahariev invested in the business. The company will use the funds to expand in Bulgaria and abroad.
Food manufacturing
Dimitar Madjarov
"Dimitar Madjarov" invested 500,000 euro in a new production line for milk. Sixty percent of the amount is the company's own funds, and the rest - a subsidy under the Rural Development Program. The project took two years to finalize. During that time, the company studied consumer tastes, tested products, and organized the production process.
Industry
Trakia Economic Zone
Plovdiv's industrial zone has partnered with 4 other countries to deliver a better training system for new workers in the zone. 4 technical universities - Gabrovo, Hellenic International, Politechnika, University of Nis - and the municipal trade-chambers are participating in the project to deliver 14 classes - 6 for engineers and 8 for technicians - to be taught to personnel working in the zones. The classes are concise and comprise a week-long learning program.
ENERGY
Natural gas prices skyrocket
Within a year, natural gas prices may increase by 150%. For September, Bulgargaz expects the value to reach 55.62 levs / mWh without prices for access, transmission, excise, and VAT compared to 49.94 levs / mWh at the moment. For comparison - in September 2020, natural gas cost 22.46 levs / mWh, which means that there may be an increase of 148% within just one year. WATCH OUT FOR
People:
Angelin Tzatchev
The current head of the state electricity-network operator ESO will remain in his position after a new "competition" that was formal in every way. ESO is one of the richest state-owned companies - it collects all the fees for electricity transmission - and "Capital Weekly" recently discovered schemes for over a billion leva there.
Kiril Petkov
The caretaker minister of economy has won plaudits, overall, for his short, but memorable stay so far: uncovering schemes in Bulgarian Development Bank, State Consolidation company, attracting a new investor and being very transparent and active. He was even invited by Slavi Trifonov to stay on as a minister in his proposed cabinet, but declined. Look out for his next moves, he might yet surprise you.
Date
Next week
the earliest possible date for convening the new parliament.
WORDS OF THE WEEK
Kosmonavt - Astronaut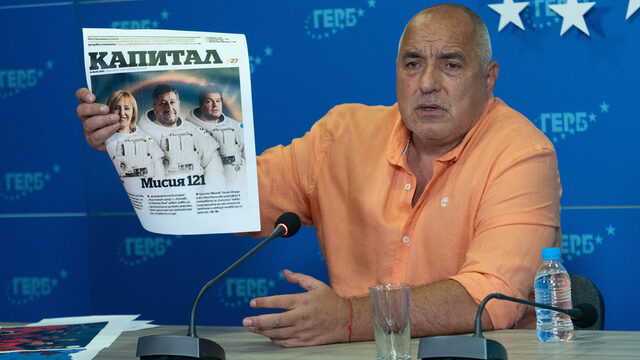 It all started with the cover of last week's Capital. It depicted the leaders of three protest parties as astronauts, under the headline Mission 121 (the votes needed for a majority). It was widely, and mistakenly, taken to be an endorsement of the parties and it got its fair share of social media memes.
When Slavi Trifonov said his government would send a space mission made up of two Bulgarians and a North Macedonian, the jokes really took off. The cover started appearing everywhere, even in the hands of the ex-PM Borissov, who jokingly waved it in front of the media. While we celebrate the first really viral cover of Capital, we need to point out that moving the conversation from highways to space is progress.