We start this week's journey from the island of Tortuga. This small and well-positioned piece of land next to Haiti was a vital hub for Caribbean pirates for more than a century. From its shores, English and French buccaneers launched attacks on (mostly) Spanish ships and retreated to safety. What helped them survive for so long was disagreement between authorities as to who bore the responsibility for defeating them - and only sporadic Spanish army counter-attacks.
Burgas is not in the middle of the ocean - it is one of the biggest Bulgarian cities and is on the coast of the Black Sea. Neither is it a lawless land riddled with desperate bands like Somalia.
Yet there is something wrong with Burgas Bay.
This week a ship in the bay signaled for help when two unmarked boats tried boarding it with a ladder - obviously an act of attempted piracy. Subsequent checks by border police and port authorities revealed a fleet of boats on a nearby shore, most of them unmarked and used in several pirate attacks on ships. The beach in question was next to a Roma settlement.
Not unlike Tortuga, Roma settlements in Bulgaria are often left alone by the authorities and are only targeted in sporadic actions with TV cameras running.
Yet, is it really surprising that such lawlessness prevails since the authorities leave Roma communities to fester - as if they are pariahs living in a kind of "no man's land"? Fact is, 14 years after Bulgaria's EU entry - and a whole decade after launching "the inclusivity platform" - the country's institutions have still failed to address the problem of the Roma minority and its exclusion. School drop-out rates are still high and literacy rates are low, and if you visit any Bulgarian prison you will notice a disproportionate Roma presence. Any success in addressing their problems - and there is such - can be attributed to NGOs and volunteer organizations.
This is a woeful strategy for helping a group that comprises 10% of society. It does work well for some though: the Turkish MRF party is said to dominate many Roma neighborhoods which it then uses to widen its base and keep its electoral relevance.
It is probably a fitting symbol then, that Burgas Bay is divided just like Tortuga was: on the other side of the bay, right across from the city, sits the (partly unlawful) residence of the honorary chairman of MRF - Ahmed Dogan. You can see it on the picture up there during last year protests, sparked on that same beach.
POLITICS
What we discovered - a month on
A month after the caretaker cabinet took power the wave of corruption and mismanagement - revelations keep coming. You can read about the biggest of them in our piece from Thursday here.
But let us entertain you with one more example of how public money was spent. It did not come from the government of Stefan Yanev, but from 16-year old high school student Kristiyan Yulzari from Ruse.
The teenager who caught the ex-Sports minister red-handed
In a piece he wrote for the student media website sCOOL Media, he described how the Ministry of Youth and Sport of GERB strongman Krassen Kralev has been giving out millions of euro dedicated to fighting gambling addiction amongst teenagers to several sports clubs and NGOs close to GERB. Those include the MMA federation of Stanislav Nedkov-Staki, who has recently become one of the most prominent pro-GERB talking heads on TV.
This revelation - alongside several other newspaper investigations of Mr Kralev's way of distributing funds - led him staging a Boyko Borissov-style press conference (read: he threw a 15-minutes tantrum at journalists and they didn't ask a single question), in which he asked "how dare [the caretaker government] interrogate my people'' in the Ministry.
It never became clear who are "his" people in the institution, but the fact a 16-year old could describe how they mismanage millions demonstrated that 1) kids are all right 2) if teenagers can expose one's dirty schemes, you are either quite incompetent - or quite shameless.
A multi-temperature wine cooler for the prosecutor-general
It's not only teenagers who keep on revealing the misdemeanors of the previous government. Radio Free Europe's Bulgarian office found out that the cabinet of Mr Borissov made a generous gift to Prosecutor General Ivan Geshev - 24,000 euro for renovation of his suite in the government quarters at Boyana.
Why a magistrate gets an apartment in the executive's residence is a question we can discuss another time, but here is a gem: close to 1,600 euro went on a - seemingly indispensable - " multi-temperature wine cooler". One thing is certain - keeping friendly relations between the two branches of governance comes at a price.
Zaev comes, goes empty-handed
While Boyko Borissov struggles to muster support at home, he seems to have one unexpected friend abroad. N. Macedonian Prime Minister Zoran Zaev was in Sofia on Thursday and for some undisclosed reason, he decided to meet Mr Borissov first, before meeting the head of state and his counterpart. This diplomatic faux-pas left observers wondering if Zaev is looking for a crack to help him solve the riddle of Bulgarian resistance to N. Macedonian EU membership.
In any case, he seems to have left Sofia empty-handed. It appears that the deadlock will remain until at least the autumn, as the N. Macedonian "hot potato" is not something anyone participating in the parliamentary or presidential elections would like to handle before that.
We are the girl, and Slavi is dating us
Last, but not least, showman Slavi Trifonov, whose party "There is such a people" (TISP) won second place in the last elections appeared in public for the first time for months. He spoke with Plovdiv university students on Thursday evening and said absolutely nothing concrete.
Who will be the Prime Minister if his party wins the 11 July vote, which is becoming likelier according to the pollsters? "Someone who is the opposite of Boyko Borissov."
What are his personal plans, after declaring he will no longer run for MP? "Do you say everything about yourself on a first date with a girl," he asked rhetorically. It turns out, we are in for yet another blind date.
ECONOMY
Exports in April hit another record
exceeding the one from the previous month by 10 million levs. Thus, the total for the month reached 5.75 billion levs. The number is well above the level for the same period last year (by 48%), which was the hardest month for the economy due to the pandemic. The increase is visible both in the EU market and in third countries. This is partly due to inflation in the prices of some commodities such as copper and oil.
A new formula will determine electricity prices for companies without a contract with a supplier. So far, the price of the so-called Suppliers of last resort (DPI) is 30 - 50% higher than the market in order to encourage businesses to quickly choose a new electricity supplier. However, the new methodology links prices more directly with stock exchanges, and it can be tentatively said that DPI will still have the highest tariff, but it will be about 15-20% above the market rate.
The central bank has approved the new management of the Bulgarian Development Bank but registration will be delayed. This is another obstacle to the change of leadership at the BDB initiated by the caretaker Minister of Economy Kiril Petkov. He has been trying to push this through for almost a month. However, former supervisors Mitko Simeonov and Velina Burska have appealed the minister's decision and have not yet been formally stepped down, and since BDB's supervisory board has three members, there is no way for the new members approved by the BNB to register.
BUSINESS
Pharmaceuticals
Huvepharma
The Domuschievi brothers' Huvepharma will raise 300 million euro on the Amsterdam Stock Exchange. It will be the first Bulgarian company to make a stock exchange offer in Europe on such a large scale. Domuschievi's pharmaceutical business has over 1 billion levs in revenues but also a similar amount of debts. The company plans to use the funds raised to increase investment and to repay part of the existing debt.
Manufacturing
GoodMills Bulgaria
GoodMills Bulgaria will invest a total of 3 million euro by 2025 for modernization. Part of the investment is for the construction of a large demonstration bakery at the mill. The company owns one of the largest mills in the country, producing flour with the brand Sofia Mel.
Urban transport
Hobo
Scooter rental service Hobo has launched its services in Plovdiv. This is the second expansion of the company outside the capital following Blagoevgrad. The team plans to deploy 100 electric scooters on the streets of Plovdiv, the same number with which the company started in Sofia.
ENERGY
State-owned Bulgartransgaz is swimming in debt
Over 250% increase in liabilities to 2.57 billion levs, reports state-owned gas operator Bulgartransgaz in 2020. The company's financial statements show that liabilities to banks have increased from 391 million to 922 million levs. Other liabilities practically exploded - from only 10 million levs at the beginning of 2020 to 1.25 billion levs at the end of the year.
In short: in the year in which the sequel to Turkish Stream was built, Bulgartransgaz's financial situation deteriorated dramatically.
WATCH OUT FOR
People
Ivaylo Kalfin
The ex-foreign and social minister has become the CEO of Eurofund - the EU agency, providing reliable knowledge to decision-makers in the areas of work, industrial relations, quality of life, work/private life balance.
Simeon Saxe-Coburg Gotha
The ex-king of Bulgaria and ex-prime minister (and previous master of silence, pre-Slavi Trifonov) has just turned 84.
Places
The ex-residence of the US ambassador in the center of Sofia has a new owner. It was recently put up for sale but it turns out the property will stay in the family - the America for Bulgaria foundation has bought it.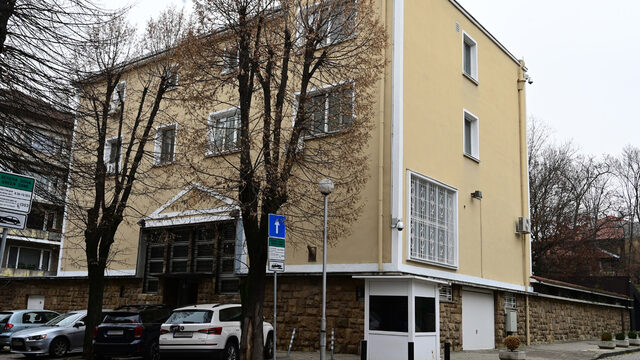 WORDS OF THE WEEK
Puri - Cigars.
This is what Plamen Uzunov - adviser to President Rumen Radev - got from an ex-customs official if he is to be believed. Security camera footage leaked to the media from a pizza place in Sofia, showed the two meeting and exchanging a bag containing something. Borissov claimed there was something for the president in the bag. Uzunov and his counterpart explained he was just thankful for a medical contact he got for a transplant. The whole thing reeks of a typical frame-up - several guys, claiming to be policemen got the video footage from the restaurant and then it ended in the media, with GERB commenting on it.
The thing is: if GERB is reduced to playing such cheap tricks, they are really scared about the coming elections.