"I'm well rested and ready for you. You were bored without me," the president of the Bulgarian Football Union (BFU) Borislav Mihailov said, explaining his sudden decision to retract his resignation and return to office after 558 days of absence.
These words, reminiscent of recent PM Boyko Borissov's style speaks volumes about the current state of the most popular sport in the country.
With his attempt to return to the helm of the BFU after resigning almost two years ago, the former national team's goalkeeper wants to prolong the state of timelessness that has dominated the football sector for the past decade.
But Mihailov's feint was not so easy. It turned out that no one wants him back except for his colleagues on the executive committee. Leading international organizations FIFA and UEFA expressed their concern over his intention to return as president. The Registry Agency refused to register him for the post, as someone else had already been registered as a representative of the Union.
So after 15 years of Mihaylov Bulgarian football finally has a chance of a new beginning under Dimitar Berbatov, a former Man Utd striker who is a candidate for the position. This, however, will not be easy.
BFU or GERB?
Mihailov has built a model of governance at the Bulgarian Football Union strikingly similar to that of GERB - the political party that ruled Bulgaria in the past 12 years.
It's not only his shameless behavior that reminds of Boyko Borissov. A dysfunctional, obedient and inert administration has been set up in the Union, methods of absorbing funds from UEFA and FIFA programs have been mastered, and state intimidation has silenced the few critics daring to speak up. Over the years, the only ones to fall off the ship were critics.
The executive committee has become a scaled down version of Borissov's cabinets, playing the role of a rubber stamp for Mihailov's decision-making. An excellent example is the last BFU session, which accepted the return of the ex-president to office without a shred of criticism.
Similarly to Borissov, Mihailov has established himself as a completely uncontrolled leader, supported by an internal clique of interests, guided by businessmen such as the owner of Ludogorets football club and media tycoon Kiril Domuschiev.
Last year, the executive committee of the BFU announced that given the long-standing fair relationship between all stakeholders it will sell the TV rights to Nova Broadcasting Group for the next five years, conveniently owned by member of the committee Domuschiev. A survey conducted by Capital Weekly reveals there never were any other serious candidates for the TV rights.
A wretched system
It makes sense, after spending 15 years in this swamp, for club leaders and other football people to vote for a change in a new direction whenever a BFU congress is held. Mihailov, however, has taken care of that as well.
Many clubs have come to fear change. Some of them are controlled by the state (until recently in the face of Borissov), through money for allocation of stadiums and other unspoken mechanisms that keep them loyal. The money isn't handed out under a specific criterion, nor on a competitive basis - the only condition for getting it is personal interest.
There is a long line of clubs that have found an owner through the mediation of Borissov. The owner of collapsed Corporate Commercial Bank (Corpbank) Tsvetan Vassilev took over the then totally bankrupt Botev Plovdiv club after a friendly request from Borissov. In 2012, the prime minister also handed Locomotiv Plovdiv to pharmacy boss and MP Veselin Mareshki.
Spas Rusev took over the ownership of one of the biggest clubs, Levski Sofia as part of a deal concerning Bulgarian Telecommunications Company (BTC). Later, Vassil Bojkov, who controlled the gambling sector before he was forced in exile in 2020, was handed the same team at a time when a potential ban on gambling advertising was being discussed. After the acquisition, any notion of such ban disappeared into thin air.
Football player Peter Velichkov, who says he once believed that Mihailov's leadership would bring change, criticizes the established system of nepotism: "The principle 'UEFA has sent some money in' is notorious. The scheme to make playgrounds for BGN 400 000, which in reality only cost BGN 200 000 has been mastered. The administration is so dysfunctional that whoever wins the elections will not only have to repair, but re-build the entire system from scratch. There is no administrative culture whatsoever. In many ways it's like the Union is still stuck in the 1990s. There is no strategy for development at all".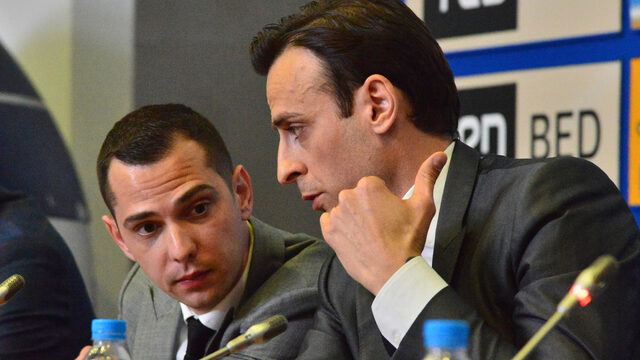 The coming battle of Dimitar Berbatov
So, in the end, Bulgarian professional football is neither a sport, nor a business. This is most visible on the international field, where Bulgarian national team has slid down in FIFA rankings and hasn't qualified in a major tournament for the past 16 years.
The people who run it have neither capacity, nor ideas. A system of loyalty and subordination has been entrenched for years, with occasional voices of discontent appearing here and there. Those are quickly drowned by the BFU leadership or the state. A small circle of people manages and distributes the benefits of the system, without an ounce of interest in actual sport achievements. State money flows into certain people's hands and strengthens their power.
Dimitar Berbatov says he wants to change that. The ex-star of Man Utd and Tottenham is the most popular recent face of football in the country and claims he wants to start anew and break with corruption.
He is, however, facing an uphill battle that will culminate next year.