Showman Slavi Trifonov and his "There is such a people" formation leapfrogged several established parties, yet their plans are unclear
"Good evening, dear viewers, are you deep asleep?
Or are you awaiting the new saviors?
How many times would we repeat the same story?
We throw out the ones before, and the new ones we glorify."
In 2010 the singer and showman Slavi Trifonov sung the above lines to criticize Bulgarians' susceptibility to embrace "political saviors" promising to overhaul the system. One would only wonder what that showman would make of the result of the politician Slavi Trifonov in 2021.
Out of the blue, the new party of the TV host and pop folk singer Mr Trifonov has become the second biggest power in Bulgarian politics. Originally, the party was supposed to bear the same name as the song above - "There is no such state". Yet after the courts decided against that, it was renamed to "There is such a people" (TISP).
About 17 percent of Bulgarian voters backed TISP even though their platform is uncertain and their only concrete 'form' was demands for electoral reform from Mr Trifonov and his team of scriptwriters in a 2016 referendum, Even sociologists were surprised that the party not only surpassed the usual kingmaker in Parliament - the ethnic Turkish MRF, but also the ailing socialist BSP.
What are the foundations for Mr Trifonov's success? This is a long and winding story dating back to the early days of post-totalitarian show business in Bulgaria. One thing is for sure - he has become one of the country's most famous television household names over recent decades.
And what can we expect from him in politics? This might be a shorter, but much murkier story. So, first back to the 1990s
From Slavi the showman
For many Bulgarians and foreign observers alike, Slavi Trifonov's political ambition is relatively new. Most people would trace it back only to the 2016 referendum that called for the establishment of a majoritarian electoral system and halving the number of MPs to 120. In reality, however, the political engagement of comic actor and musician Mr Trifonov, a trained violinist, has been there to see for over 25 years.
In the 1996-1998 period, he and his team from the "Ku ku" (an onomatopoeic word used as a synonym of "crazy" in Bulgarian) and the "Hashove" ("Exiles") lampooned both the communist and subsequent anti-communist governments. The team split into two, with Mr Trifonov remaining primarily devoted to show business and launching the most successful TV show in Bulgarian history, "Slavi's show" in bTV. Meanwhile, some of the other people behind "Ku ku" launched a political project, "Gergyovden" (standing for "St George's day").
Although he remained primarily in show business for over 20 years, during which he and his "Ku ku band" produced 23 albums with popular multi-genre music, Mr Trifonov did not shy away from giving support or outright backing to various politicians. The most well-known incident was his 2011 endorsement of the first Bulgarian EU Commissioner, Meglena Kuneva, for President.
Trifonov's cult following had nothing to do with his political endorsements. On the contrary, people just liked him for his anti-establishment message. Additionally, he and his orchestra diversified their musical portfolio and moved on from the simple chalga tunes about owning Ferrari cars into Bulgarian folklore, making some of the most memorable renditions of beloved traditional songs such as "Yovano, Yovanke."
Mr Trifonov's songs are a staple at most Bulgarian parties home and abroad and, as pranksters said on social media on the eve of the 4 April election, the only people surprised by his success have likely not been invited to a party in recent years.
To the electoral reform activist
The combination of anti-systemic attitudes and popular patriotic singing brewed for years until 2015, when Mr Trifonov's team announced they would start collecting signatures to initiate a national referendum. Initially, they considered six questions - five concerning the electoral system and one on whether regional police chiefs ought to be selected by means of direct vote (much like in the USA).
Following a Constitutional Court decision three of the questions were dropped and when the referendum took place alongside the 2016 presidential elections, there were only three left: should parliament adopt a bill to switch from a proportional electoral system to a majoritarian one that would select members of parliament in two rounds; should state subsidies for political parties be cut from 5.5 euro to 0.5 euro for every vote cast in favor of a party; and should voting become compulsory.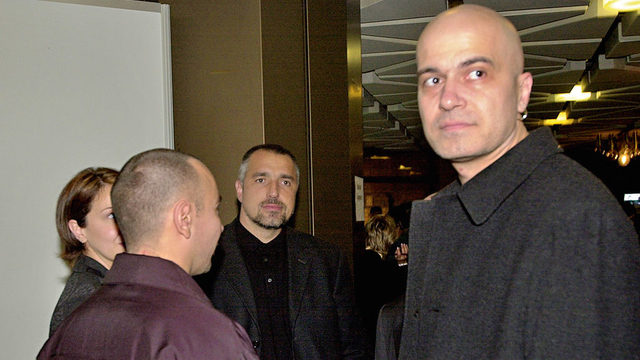 All three questions passed with an overwhelming majority of close to 2:1 in the referendum that attracted 3.5 million voters (almost as many voted for President), but they still lacked about 12,000 votes to pass the high threshold that would have obliged Parliament to pass them.
Due to the political crisis that ensued after the first GERB electoral defeat in the 2016 election, the impetus to pass the changes was minimal. Despite protests, led by Mr Trifonov himself in the spring of 2017, Parliament practically ignored all the changes sought by voters at the referendum, only cutting down party subsidies to 4 euro per vote.
And finally to Slavi the politician
A disgruntled Mr Trifonov launched a political version of "The Apprentice", casting prospective politicians, some of whom subsequently joined TISP. He left bTV and created his own ⅞ TV channel, then launched the party in 2019 under the name "There is no such a state," hence the title of the song which had to change its name because of a court decision.
The party is almost as elusive as its leader. It was launched in secrecy, with only an hour-long section of its founding assembly being broadcast by Mr Trifonov's TV. Beyond the scriptwriters of "Slavi's show" Toshko Yordanov and Filip Stanev, there is very little one can say about the Politburo of TISP.
The candidates for parliament were a colorful bunch but shared little in terms of principle or leaning. Yet this mattered little in Bulgaria's personality-driven political landscape, where a double-digit percentage of voters chose to vote for a television show man with little tangible ideology.
Mr Trifonov and his team will likely continue to tap into anti-establishment sentiment. Also, since they are mere political novices, they will be relatively clueless how to tackle the current political landscape. For example, nine days after the vote where they attracted 565,000 votes, they have not held an official press conference. Formally, this is because Mr Trifonov got Covid-19 around polling day. Yet all this seems a bit lame for a supposed "people's party."
The only interaction with the public during the campaign was a two-hour Facebook Live video in which Mr Trifonov responded to viewers' questions online. No pesky journalists were allowed in, a trend established by outgoing Prime Minister Boyko Borissov over the past year. Blatant disrespect for the media, it seems, will also be the hallmark of the new showman in charge. All this is not a good portent for the future.
What are their plans?
Very little, if anything, is clear about Mr Trifonov and his party's long-term goals. According to Capital weekly sources, decisions are taken at the highest levels by the scriptwriters, Mr Trifonov and Viktoria Vassileva, an ex Union of Democratic Forces MP (1998-2001) who has been integral to the creation of the party structures.
Although the party proposed a relatively centrist program before the election, its driving purpose remains implementation of the 2016 referendum. This might be a tricky task, as the only party that both would benefit from a majoritarian vote and has enough MPs to back the changes TISP wants is GERB.
So far, Mr Trifonov's pledge not to get into a coalition with any of the other three big players - GERB, BSP and MRF - means that the party cannot practically form a government. On the other hand, all other parties in parliament, including the above mentioned trio, claimed they will support a cabinet proposed by Mr Trifonov. This will be an absurd situation - TISP, which is reluctant to propose a cabinet and still hasn't named its Prime Minister nominee, can in practice rely on 240 votes supporting a government whose platform is all but unknown.
To add fuel to the fire, the newfound faction may be less than cohesive. For example, party activists rebelled against the appointment of the son of a major donor to Slavi's TV station to the top of a regional party list a couple of days before the vote. This might lead to a situation in which TISP MPs "sell out" to GERB, for example.
In any case, Mr Trifonov's sudden entry into politics has made him an immediate wild card. The decisions he and his MPs make in the first few days of the 45th National Assembly, which will be launched on Thursday 14 April, will reveal their real intentions - and signal Bulgaria's future.