Your go-to summary of the upcoming Parliamentary vote in Bulgaria on 4 April - main parties, likely results and distribution of seats, platforms and potential risks for each faction
The race to the 45th National Assembly is on! From today, until Sunday 4 April, Bulgaria will witness furious barbs between prospective members of parliament. Analysts, sociologists and politicians will be spinning their perspective on the last four years of GERB-nationalists' rule in TV studios, and news websites will be hurling venom at opponents.
In a country governed via Facebook Live intermissions by the Prime Minister, however, the real mayhem will be on social media. The dirty campaign has already started there - fake profiles spew messages of hate or support and fake news websites bombard readers with propaganda. Fact is, PR companies have already been busy for months ensuring the desired party message is conveyed.
It is easy for an impartial observer to get lost in the complicated and, frankly, incomprehensible quagmire of Bulgarian politics. This piece will try to clarify the most important actors - parties and politicians - in the order a respected sociological agency places them. It will review their main messages (if any), as well as goals and potential troubles they might encounter before, or soon after, the election.
Two caveats
Before we start, however, we should note two important caveats. First, all sociologists agree that the pivotal issue deciding the outcome is not political campaigns, but turnout.
"About three million people say they'd vote if the elections were today, but there is a huge scope of uncertainty depending on how the pandemic develops," Parvan Simeonov from Gallup International - Balkan told Bulgarian National Radio on Tuesday. The effect of a worsening health backdrop (the threat of which looms larger by the day) will not be the same for everybody - the big winners will be larger parties with strong core support base (GERB and MRF, but not BSP, whose electorate is elderly and therefore more fearful of casting their vote), while smaller or populist opposition parties would suffer.
Secondly, according to Boryana Dimitrova from Alpha Research, a huge number of undecided voters have the potential to swing the election. A whopping 15 percent of those who have certainly decided to vote are still unsure who to support. Add to that the 25 percent of people who are still unsure if they will vote at all, and a great deal of uncertainty comes into play.
With these caveats in mind, let us move to the election's most likely winner. First, we have the five parties that have a 100 percent chance of entering parliament:
GERB
Expected percent of the vote: 24,6-29
Expected seats in Parliament: 75 to 85 out of 240
Main messages: Prime Minister Boyko Borissov's ruling party has completely abandoned its planned reinvention at the time of the summer 2020 protests. Most of GERB's top candidates for the next parliament are the same old ministers, deputy ministers and current members of parliament. The only "new" faces they can muster are members of the old anti-communist Union of Democratic Forces (SDS) coalition partner, which has been practically assimilated into GERB over the past two years, as well as Lyuben Dilov - Junior's Gergiovden faction, another longstanding face in Bulgarian politics "recruited" by the ruling party. This does not seem to be a problem because the party has successfully rebounded from its nadir of August 2020, according to all polling agencies.
GERB's only real message is its rediscovered zeal to "fight the communists" and maintain the status quo. Boyko Borissov repeats in endless Facebook live videos (he hasn't granted an interview to journalists in over a year) the threat of a potential end to EU funds if his party is ousted. So far, GERB has enjoyed free reign over national media, with activists and ministers bragging daily about their alleged achievements.
Potential risks: A serious public debate about the toll of the Covid-19 pandemic, which has hit Bulgaria harder than any other EU state, might affect GERB's results. Yet such controversy seems unlikely. Also, lower turnout might be a double-edged sword for the party, because it might win more seats and yet be stripped of its moral legitimacy. If its current coalition partners from VMRO fail to enter parliament, it is very likely that GERB might have to enter a toxic coalition with MRF - since other parties have ruled out entering a coalition with them.
BSP
Expected percent of the vote: 19-24
Expected seats in Parliament: 60-65/240
Main messages: "Down with GERB!' The Socialist party under the renewed leadership of Kornelia Ninova has successfully cleared itself (at least partially) from internal GERB influences - but at what cost? The purge of people like Plovdiv businessman Georgi Gergov and other internal opponents within the parliamentary group has helped to consolidate Ms Ninova's grip. But it has also caused inner turmoil, evidenced by its failure to mobilize its core electorate. Unlike GERB, BSP has so far failed to recover its position from last summer, and seems unlikely to do so. In reality, the party is as uninventive and uninspiring as always.
Potential risks: BSP relies primarily on older and less educated rural electorate, which could be a potential problem. The pandemic might deter many pensioners from voting on 4 April. In addition, protest formations such as Slavi Trifonov's "There is such people" and Maya Manolova's "Stand up! Thugs out" could well vie for the less educated vote. Even if it manages to edge ahead, BSP looks likely to suffer from a similar predicament to GERB - very few parties with a realistic chance of entering parliament would back it unreservedly.
"There is such people" (TSP)
Expected percent of the vote: 13-15
Expected seats in Parliament: 35-37/240
Main messages: Down with GERB, get experts in parliament, hear people's voices - and pass changes to the political system from the 2016 referendum. Those are the soundbites of the party of ex-showman Slavi Trifonov, who has emerged as the default winner from last year's protests. Despite his strange silence during Bulgaria's summer of unrest, Trifonov gained as voters lost faith in the political establishment. His somewhat murky party - with some "experts" being heralded at the last minute possible - could easily secure third place. But the key question is - what will this rudderless and totally inexperienced grouping propose? So far it has just relied on its famous leader's anti-status quo rhetoric.
Potential risks: TSP fractures - like many populist "alternatives" before it, with splinter factions backing whoever is in power (most likely GERB), while others remain as supposedly opposition voices but muted on the back benches. The party has outlined a fairly centrist program - beyond its referendum demands for majoritarian elections and direct election of the Prosecutor General. This means it could potentially be a flexible coalition partner after the vote. The big question is how it will proceed if the non-status quo parties (basically all parties other than GERB, BSP and MRF) fail to garner sufficient support to form a coalition of a sort together.
MRF
Expected percent of the vote: 8,5-12,5
Expected seats in Parliament: 28-35/240
Main messages: The ethnic Turkish party has little "real" messages for its electorate beyond the classical "us against them". The party openly wants to get into power in the next parliament, which might be hard because MRF is viewed as probably the most toxic coalition partner possible by the two main parties. We should look at speeches from its leader Mustafa Karadayi to get an inkling of how it sees its plans to join the executive. Significantly, controversial mogul Delyan Peevski is out of the party lists for the first time in a decade. Mr Peevski, who has come to be seen as inextricably linked to the "deep state," is the main reason why MRF is seen as toxic by all potential partners. Hence its leadership thinks that the party could be a more viable coalition partner if his role is more covert. This does not mean that Mr Peevski has been weakened - on the contrary, he has deeper roots than ever. But the success of MRF's "business wing" is detrimental for the majority of the party which has not occupied positions of power for the past seven years.
Main risks: Not many, beyond the potential lack of post-election partners. MRF is stronger than ever, with no other Turkish ethnic party contesting their seats (DOST of ex-MRF leader Lyutvi Mestan has been sidelined into irrelevance). What is more, the MRF has official backing from Turkish President Recep Tayyp Erdogan for the first time in its history. This endorsement means that it will consolidate the vote coming from Turkey-proper.
Democratic Bulgaria
Expected percent of the vote: 4,2-7,6
Expected seats in Parliament: 14-18/240
Main messages: Down with GERB - plus justice reform. The coalition of three very different parties - the conservative Democrats for Strong Bulgaria (DSB), the liberal centrists from Yes, Bulgaria and the environmentalists from the Green Movement - initially looked to be the big winner from last summer's protests. Yet other anti-status quo parties have eroded its gains. The party's main message remains focused on the rule of law and changing the model of nepotism and favoritism that governs Bulgarian politics.
Main risks: The party would likely suffer if it agreed to join any coalition. Most of its voters and supporters are political puritans from the upper middle class who would be gravely disappointed if the party joins any other faction. They view GERB as the epitome of a broken system, and the BSP as unrepentant communists. MRF is seen as tainted with corruption and oligarchy, Slavi Trifonov is seen as a chalga (mix between Serbian turbofolk, orientnal and reggaeton sounds considered plebeian by many) star. Maya Manolova is viewed as both "red" and from the oligarchy, and she has also periodically sought to befriend GERB. The party is also still perceived as a one-trick pony with its focus on justice reform and sound governance.
The next two factions have a good chance of making it into parliament, but gravitate too close to the 4 percent threshold according to polls:
Stand up! Thugs - out!
Expected percent of the vote: 3,9-4,7
Expected seats in Parliament: 11-12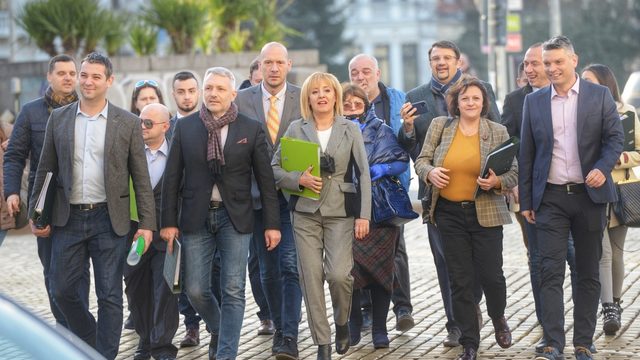 Main messages: Basically, the name reveals everything. The party emerged as a coalition between ex-Ombudsman and BSP spearhead Maya Manolova and the so-called Poisonous Trio - a lawyer, a PR expert and an artist-academic (the latter has now left the trio) who acted as organizers of last summer's 2020 anti-government protests. The coalition has united various civic organizations that have protested against Mr Borissov and other ex-politicians under its banner with one declared purpose - take down GERB. And, unlike Democratic Bulgaria or TSB, they are not picky about their allies. It is a matter of time to see which of the two strategies pays off - if any.
Main messages: Bulgaria above all! No to N. Macedonia in the EU (until they repent and say they are Bulgarian), no to the liberal gender ideology. The party of Defense Minister Krassimir Karakachanov has decided to stand alone, abandoning its former nationalist allies. VMRO plans to capitalize on the relatively successful stint of Mr Karakachanov as defense minister and its strong core electorate to get back in power - likely with GERB, but why not with someone else? In the end, their anti-liberal ideology is quietly shared by most parties, Left and Right. The nationalists, however, showed that they have very little left in terms of cadres; instead they have turned to semi-forgotten singers and relatives of their members as potential new candidates.
Main risks: The party might not pass the 4 percent threshold (if the barrier is high, which only will happen if turnout is high) and the few thousand votes that would go to VMRO's ex-partners turn out to be game-changing.
Other factions of interest
The following parties and coalitions have almost no chance of making it into parliament, but should be monitored for different reasons.
NFSB-Volya coalition: The coalition between the two nationalist parties of Valeri Simeonov and Vesselin Mareshki (famous for previously calling each other "fool" and "stupid," respectively) is significant only in terms of its ability to "steal" the votes VMRO needs to enter parliament. Otherwise, the parties, famous only because of the infantile language used by their leaders, have little to offer politically. Likewise, Ataka, whose notorious leader Volen Siderov is now widely seen as a busted flush, trailing on a mere 0.6 percent in polling.
Republicans for Bulgaria: The party of Tsvetan Tsvetanov, who used to be the right hand man of Mr Borissov throughout GERB's history until the apartment-gate scandal ousted him in 2019, is interesting only for its potential to capture some disaffected GERB voters. Mr Tsvetanov has already "poached" some MPs, party structures and famous names from his former party. If his participation leads to GERB incurring some regional losses, the opposition could benefit.
Bulgarian Summer: The new-found faction of former gambling tycoon Vassil Bozhkov has, ironically, used the registration of a party that was previously used by another ousted oligarch, Nikolay Banev, to run in the elections. It is of significance only because its patron - Mr Bozhkov - who is currently in exile in Dubai - will run against Mr Borissov in the central Sofia polling district. If the oligarch, who has developed significant social media following, could turn this into actual votes, then this could undermine Mr Borissov.