Never judge anyone by their haircut could be the motto for the beginning of our story. Because when I first glimpsed a photo of 21-year-old Jock Palfreeman, an Australian arrested in the city centre near Serdica metro station in the early hours of December 28, 2007, in connection with the fatal stabbing of a young Bulgarian law student I (incorrectly) assumed that he was a skinhead who had targeted a Bulgarian for racial motives.
How ironic was this in the light of subsequent events which have all the ingredients of a mesmerizing Hollywood screenplay? A young Australian was about to challenge the Bulgarian establishment to its core, facing off against the corruption and cronyism of its judiciary. Mr Palfreeman would face a long and concerted war of attrition. And - at the time of writing - it's not necessarily over yet; fresh machinations may still be afoot It was in 2009 that I first interviewed Mr Palfreeman's father, Simon, a quietly spoken pathologist based in Newcastle, Australia, with a forensic grasp of his son's case. I learnt that Jock Palfreeman, who had already been in prison for two years on remand before the guilty verdict, had intervened to save a young Roma from a severe beating by a gang of up to 15 youths. (A second Roma man had managed to run away.) In total, Simon Palfreeman was to make at least 40 trips from Australia to Bulgaria to see his son. One of the gang members, Andrei Monov, who was heavily intoxicated at the time (with a blood alcohol concentration of
0.29
per cent/2,9 promils), had tragically died after sustaining a knife wound. Another, Antoan Zahariev, had been slightly cut. Mr Palfreeman has no recollection of either stabbing. It was true, however, that he had pulled out a knife after the group of Levski football club supporters had turned on him and hit him with pavers, knocking him to the ground. Andrei Monov was the son of prominent psychologist Hristo Monov and lawyer Aksenia Monova. Hristo Monov was, at the time of the trial, the head of the State Agency for Protection of Children. Later, in 2013, he became a member of parliament from the Bulgarian Socialist Party (BSP) quota. That the Monovs were well connected was beyond dispute. Andrei's funeral was attended by high profile dignitaries, including Lazar Gruev, head of the Court of Cassation, the highest court in the country. Soon after Mr Palfreeman's arrest, Mihail Mikov, who was friendly with the Monovs and had also been at the funeral, became Interior Minister.
A botched trial, or stitch-up?
Perhaps Mr Palfreeman was doomed from the start. When he told police immediately after his arrest the motive for intervening, they had replied "But Roma is monkey white man should not befriend with a monkey." The fact that Mr Palfreeman had carried a knife fed into the "mad stabber" theory advanced by the court. The prosecution maintained that there was no Roma present that night. Their case was that Mr Palfreeman had simply attacked a group of Bulgarian youths perhaps believing they were fascists simply because they were singing Levski songs. When I met Jock Palfreeman himself (in my capacity as a journalist) by then languishing in Sofia Central Prison, he proved to be the antithesis of your average skinhead. The crew-cut was because he had just undergone initial training in the British army. I found a highly articulate, well-read, socially conscious political activist; he was friendly and vivacious with a laugh that ricocheted around the room. Charismatic and outspoken with a strong sense of right and wrong, Mr Palfreeman stressed that he profoundly regretted what had happened to Andrei Monov. But he believed his motive for intervening was correct. I came away sure that he was telling the truth when he said that he was convinced that the life of the young Roma had been in danger that night. The motive attributed to Mr Palfreeman, as stated in the judges' report, was "hooliganism", a uniquely Bulgarian umbrella term that seems to cover all kinds of psychopathic behaviour. The judge who refused him bail maintained that Mr Palfreeman was himself a racist who thought he was superior to Bulgarians. You only had to spend five minutes in Mr Palfreeman's company to know that this was patently ludicrous. So why the knife? Mr Palfreeman maintained that he had already been attacked several times in Bulgaria, a country he knew from spending several months here the previous year. One time in Pazardzhik, a skinhead had attacked him with a knife. On another occasion, he claimed to have saved another Roma who was being beaten. Mr Palfreeman's version, as he explained it to me, was that Bulgaria was dangerous for
specific
types of people. "Have you ever been a Roma person walking into the center of a small town at nighttime? Have you ever had long hair sitting in a bar and have five, six or seven guys come up with swastikas on their jackets and ask you why have you got long hair? No, you haven't. Draw the Star of David on your head and walk round at midnight and see how far you get without problems." Mr Palfreeman denied that he
always
carried a knife, saying that he had taken it on impulse and was only in Sofia (a city about which he claimed to have always had bad vibes) one evening to say goodbye to a friend. As a middle-aged father, usually in bed by midnight, I was surprised by his view that the Bulgarian capital could be dangerous for anyone. Until, one Christmas day, I found myself sharing a little hole in the wall café with a guy I had previously seen striding around Mladost residential district in Nazi attire. As I became acquainted with the underbelly of Bulgarian culture - the Hitler salutes at football matches, the omnipresent swastikas carved on buildings, and, above all, the almost casual racism displayed towards Roma by seemingly respectable citizens - my view changed. The prosecution portrayed Mr Palfreeman as a psychopathic stabber, even a potential serial killer. (The appeal case judges in their explanation of their verdict even said that
more
charges could have been brought if the prosecution had done its case better!) Yet the original verdict overlooked independent testimony while accepting the views of the gang at face value. Two guards at the Sheraton Hotel car park (near the incident) said they had seen an attack on the Roma - consistent with Mr Palfreeman's description. The court rejected their evidence as unreliable. The gang testified that there was no Roma present that night. This clearly contradicted what they had told police in pre-trial statements when they had admitted that there had been a verbal and a physical altercation with a Roma. Unfortunately, a new criminal code, Article 281, allowed the prosecution to object to the use in evidence of witness statements that had been given only to police.
Crucially, CCTV footage from the Ministry of Health cameras, which would have given a clear account, was inaccessible. Mysteriously, it had been irrevocably damaged and - stranger still - an unidentified individual had requested to see it immediately after the incident. The only other film was that of the CCTV traffic camera which panned Maria Luisa Boulevard. The judges (reluctantly) allowed it to be shown in court. Simon Palfreeman, who joined his son's defence team, noted that the video was only shown once on a small laptop in front of 50 people huddled around the screen. (Mr Palfreeman's current lawyer Kalin Angelov only gained access to this video file one year ago. Based on that evidence he lodged a request to the prosecution office for reopening the criminal trial.)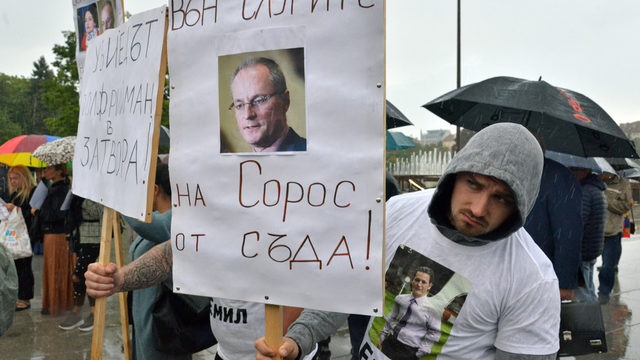 It was left to Mr Palfreeman's defence lawyer, the late Dinko Kanchev, to rebut what, to most objective observers at least, was the prosecution's unlikely charge. Namely, that a crazed Australian had attempted to kill as many young Bulgarians as possible for no credible reason. This assumption flew in the face of an independent psychological report which stated that Mr Palfreeman had been motivated "by the most normal human desire - to help two people who had been abused by a much larger group of youths".
The knife was central to the whole trial. A key plank of the prosecution's case was that the thrust (supposedly inflicted by Mr Palfreeman) had been forceful. But as Dr Simon Palfreeman (to stress again - a respected pathologist himself) pointed out when he cross-examined the chief pathologist: "Every textbook of forensic pathology says that a pathologist cannot be dogmatic about the force, direction or characteristic of knife wounds". As a matter of record, it was never even proven that it was Mr Palfreeman's knife. Additionally, the nature of the wound inflicted on Mr Monov suggested it had been inflicted by a double-edged knife, not the single-edged one carried by Mr Palfreeman.
Other "mistakes" were legion. Insufficient weight was given to Andrei Monov being very drunk that night. At his level of intoxication, he might have had difficulty standing up. He could even have "fallen" into the path of the knife that Mr Palfreeman had been swirling above his head to ward off the group's attack. Needless to say, no attempt had been made to search for the Roma. Unfortunately, it was unlikely that any Roma would ever approach police voluntarily.
Also, no attempt had been made to cordon off the area as a crime scene, so possible blood and DNA evidence had been lost. In addition, a key statement from one of the gangs that he saw Mr Palfreeman pull out a knife actually contradicted the whole prosecution case that he was a marauding thug who had run into the gang wielding a knife.
Mr Palfreeman was painted as a "professional" killer with a mastery of knives. Yet a letter from his army barracks made clear that he had not yet reached the stage of knife training. Also - and perhaps most damaging of all in terms of his reputation - the Bulgarian press repeatedly published the fabrication that Mr Palfreeman had deliberately stabbed Mr Monov in the back. In reality, it was his armpit. Underpinning all the character assassination was a sinister sub-text. Mr Palfreeman was an outsider who had disregarded the rules of Bulgarian society. In court, Hristo Monov had referred to his son and his friends as the "elite of Bulgarian youth". He described Andrei as "a right-wing conservative" who believed in Bulgaria for Bulgarians. Tellingly, he added that his son believed that "Bulgaria was the most superior and sacred country". I was present at the appeal court trial, beginning towards the end of 2010, during which Antoan Zahariev changed his version. He now conceded that there had been a verbal altercation with a Roma. He claimed that his friends had told him that one of the Roma in question had shouted "Death to Bulgarians" to his group. Krassimir Kanev, head of the much-derided (at least by reactionaries in Bulgaria) Bulgarian Helsinki Committee, and in court for this session, doubted whether a lone Roma would insult a large gang of Bulgarians late at night. He wasn't the only one.
The appeal court, in its reasoning which upheld the original verdict, actually now accepted the existence of a physical fight but reasoned that it had "discontinued" by the time Mr Palfreeman intervened. According to police who arrived on the scene (whose evidence was now heard in the appeal court) some of the gang members had also told officers from another precinct that there had been a physical fight and that this had prompted the Australian's intervention. Yet none of this helped Mr Palfreeman. Jock came to love the country, not its courts By 2019 Mr Palfreeman had spent almost 12 years in jail. He had survived punishment beatings, the withdrawal of numerous privileges and spells in isolation. He had also undergone two lengthy hunger strikes of 30 days each. Meanwhile, as an intelligent, strong-minded and resourceful prisoner - and one who quickly mastered enough Bulgarian to learn the ropes - Mr Palfreeman was becoming an ever-present thorn in the side of the Bulgarian establishment. The young prisoner quoted the rulebook to guards and prison directors (who naturally took no notice), and castigated the Australian authorities for taking so little action over his case. When Nikolai Prodanov became Deputy Minister of Justice and administrative head of the prison system in Bulgaria, the persecution intensified. Prodanov resented Palfreeman's activism as chairman of the Bulgarian Prisoners' Rehabilitation Association (BPRA), which the Australian founded. Mr Palfreeman alerted various European authorities about continuous violations of prisoners' basic human rights and breaches of EU prison standards. He also noted the complete absence of anything to measure the rehabilitation - and hence entitlement to parole - of him and other inmates. Ironically, for most of this time, Mr Palfreeman was kept in a cell with illegal immigrants. This really did defy logic. If he was the vicious assailant depicted by the authorities, why was he not being kept apart from petty criminals? If, on the other hand, he was not dangerous, then what accounted for his massive tariff? Although an excellent book by Australian journalist Belinda Hawkins (Every Parent's Nightmare) exposed his case to the wider Australian public, not one Bulgarian journalist requested an interview with Mr Palfreeman for the first eight years of his incarceration. To homegrown hacks, his was simply an open and shut case. But Mr Palfreeman always challenged my initial (perhaps naïve) interpretation that the trial had been in some way botched or that there had been a miscarriage of justice. To him, this was a false analysis. He believed the case had always been characterized by concerted collusion and corruption, in other words, a "stitch-up" all along. The decision to parole Mr Palfreeman in October 2019 was greeted by a fierce backlash. Ironically, the Monovs accused the appeal judges of dereliction of duty and attacked the judicial system. Mr Palfreeman's most vociferous enemies, ultra-nationalist political parties Ataka and VMRO, demonstrated outside the court. The Australian was taken to Busmantsi, a detention centre for illegal immigrants. He was eventually released but his passport was confiscated and he was told to report to a police station on a weekly basis. A decision from the Supreme Court, which said on October 7 it would rule within two months about possibly re-opening his parole case, is still pending. Following the release of the CCTV traffic footage into the public domain, and a series of television interviews by Mr Palfreeman, Bulgarian public opinion has started to turn in his favour. He is greeted warmly by shopkeepers, taxi drivers and people on the street. But if the Supreme Court re-opens the case (and at the time of writing this seems eminently conceivable) what judge, given the hysterical reaction and external pressures, would parole him again in the future? So Mr Palfreeman is currently in limbo. Ironically, Mr Palfreeman does not wish to return to Australia. He would rather stay in Bulgaria and carry on with his work assisting other prisoners. So he is appealing against a deportation order should he be freed. In spite of everything the establishment has thrown at him, his heart is still in Bulgaria. He has always had faith in the decency of ordinary Bulgarians.