Borders / Oct 2016/ PM Boyko Borissov ordered interior minister Rumyana Bachvarova to urgently hire 1,000 ex-police officers to join border police force and strengthen the perimeter along the border with Turkey. Over the past few months many vigilante groups, mainly consisting of former conscripts, police and army officers, have been conducting civil arrests and pushbacks of irregular migrants attempting to cross the Bulgarian border.
Borders / Oct 2016/ The new European border and coastguard agency was launched in Bulgaria. The successor to Frontex has an extended mandate to deport people who were not granted refugee or humanitarian status, monitor the performance of border control agencies and dispatch some of its own pool of 1500 troops to zones under high migrat ory pressure.
Air Forces / Sep 2016/ A squadron of U.S. Air Force F-15 fighter jets joined the Bulgarian Air Force in the first week-long NATO airpolicing exercise in Bulgaria. Other allies have also been invited to take part in such joint exercises intended to compensate for the dwindling engine capacity of BAF's Russian-made MiG-29 jets.
Military / June 2016/ Parliament passed a bill that allocates 2.3 bln levs (1.15 bln euro) for upgrading the military hardware of the armed forces by 2022. Half of the sum would be spent to buy new frigates and a squadron of multitask fighter jets that will replace the aging MiG-29 planes which rely on Russian spare parts for maintenance.
Finance / Latvia-based 4finance Holding Acquires TBI BankOleg Boyko, another Russian billionaire, enters the Bulgarian market. 4finance Holding, one of the big players in the fast customer credit business with presence in 15 countries, acquired TBIF, the financial unit of Dutch-Israeli group Kardan. TBIF includes Bulgarian TBI bank, the leasing companies TBI Rent in Bulgaria and TBI Leasing IFN in Romania, as well as Romanian fast-credit company TBI Credit IFN. The combined assets of TBIF in the two countries total 272 mln. euro. The acquisition price was 69 mln euro.
TBI bank is one of the smallest credit institutions in Bulgaria with assets of 255 mln euro but according to Capital's TOP 10 Banks ranking, it is number one in terms of efficiency and profitability. Luxembourg-registered 4finance Holding is headquartered in Latvia. The company is owned by Russian billionaire Oleg Boyko. He made his fortune running slot machine halls and now his SMS Finance operates a network of ATMs for fast credits.
Manufacturing / KJK Capital invests €7 million in Leader 96The Finnish fund acquires 60% of the growing Bulgarian bicycle manufacturer. Finland's KJK Capital Fund has acquired 60% of Bulgarian bicycle manufacturer Leader 96 by investing nearly €7 million in the Plovdiv-based factory. The rest of the capital is owned by the company founders. Leader 96's sales more than doubled over the past two years, reaching 63.5 million levs (€32.5 mln.) in 2015, as demand for bicycles increased. Earlier this year, the company opened a new factory, doubling its annual capacity to over 500,000 units. KJK Capital provides financial services and manages assets worth €450 million. It has already made several minority equity investments in Bulgaria. Bicycle production is one of the few fast-growing industries in Bulgaria. The country ranks fifth in Europe with 940,000 bicycles manufactured in 2015. Leader 96 is the first Bulgarian company in the sector to attract a foreign investor.
Agriculture / Agria Group acquires sunflower oil producer KehlibarFactory's former owner buys 10% in agricultural holding. Bulgaria's Agria Group Holding has acquired 100% of local sunflower oil producer Kehlibar from the sole owner, Svetlomir Todorov. The price of the deal is 14.8 million levs (€7.6 mln.). In a parallel transaction,Mr Todorov has acquired 9.75% of the holding company for 6.8 million levs (€3.5 mln). Kehlibar, based in the town of Lyaskovets, is one of the largest sunflower oil producers in Bulgaria with capacity of more than 50,000 tonnes per year. In 2015 its sales increased by more than a fifth to 41 million levs (€20.1 mln) and its profit doubled to 3.5 million levs. Agria Group is among the largest agricultural holding companies in Bulgaria with some 20,000 ha of arable land owned or leased. It has been growing actively through acquisitions. The Kehlibar transaction is considered strategically important, as it gives Agria Group an entry into a new sector.
Insurance / Bulstrad acquires UBB-AIG for €3.2 millionThe former competitor remains independent, renamed to Nova Ins. Bulstrad Vienna Insurance Group has acquired for €3.2 million its smaller rival UBB-AIG Insurance Company, which is specialized in loan related insurance. UBB-AIG will continue operating independently under a new name, Nova Ins, and in close partnership with United Bulgarian Bank (UBB), one of the former owners. The deal included UBB-AIG's assets worth 8.5 million levs (4.346 mln. euro) and liabilities of 805,000 levs. No further restructuring of the company is envisaged. The new owner will continue to develop it as a bank assurance sales channel. UBB-AIG is the smallest insurance company on the Bulgarian market with a share of about 0.3% as of November 2015. Its business depends mainly on customers provided by UBB. Bulstrad in turn is leader with 12.6% of the market. The group also has a life insurance business, Bulstrad Life Vienna Insurance Group.
Retail / Piccadilly remains with one owner after partners withdrawNikolay Lazarov to look for new co-investor in troubled retailer. Two of the owners of Bulgarian retail chain Piccadilly have quit the company and it is now solely owned by Nikolay Lazarov. The withdrawal of the Popov brothers, comes after two years of partnership with Mr Lazarov. During this time the chain shrank and stopped paying regularly to suppliers. Mr Lazarov, who lives in Paris, will be looking for a new co-investor. Last autumn Piccadilly's business was moved to Select Trade, a company owned by Luxembourg-registered BK Finance, which is connected with Mr Lazarov. The company posted more than 41 million levs revenue and 786,000 levs profit for 2015. Piccadilly's turnover decreased 20% to 159 million levs last year and the company booked a loss of 31.6 million levs. In May 2015 the company borrowed 11.8 million from Investbank, paid some of its debt to suppliers and unveiled a plan to recover the business.
Solar power / Renewables undergo consolidation. The renewables business in Bulgaria, which until recently had a pretty much scattered ownership, is undergoing slow consolidation. In less than six months energy trader Energy TM acquired Zhrebchevo HPP in partnership with Nikolay Valkanov, owner of Minstroy Holding, and now it buys the local subsidiary of US-based SunEdison which owns 20 MW photovoltaic installations. The price was not announced, but it is probably in the range of 33-35 mln euro. At the beginning of the year China's ReneSola sold its 10 MW photovoltaic park to Luxembourg-based Solar World Invest Fund SIF. The fund is looking for new deals in Bulgaria.
Packaging / Portuguese BA Vidro acquires Druzhba Glassworks. The second largest glass manufacturer in Bulgaria, Druzhba Glassworks, now part of Greek group Yioula, will be acquired by Portugal's BA Vidro. The intention of Yioula to sell parts of its business has been known for more than a year, because the family owned group has substantial debts and seeks restructuring. Druzba Glassworks had a turnover of over 220 mln levs in 2015 and is the second largest in the sector after Turkish SiseCam in Targovishte. It is a big producer of bottles and jars for canning, wine and beer industry, with 70% of its production exported to Greece, Italy and Serbia. The company has two production units - in Sofia and Plovdiv. Druzhba Glassworks is one of the largest companies on the stock exchange in Bulgaria. Its market capitalization is 235 mln levs, but the company is one of the least liquid. Shares outside its core Greek owner were only 0.76%, according to its financial statement for 2015.
Market / Commodity exchanges in Sofia and Ruse merge. The Sofia Commodity Exchange and the Bulgarian Commodity Exchange (based in Ruse) signed a memorandum to merge. The deal, which is expected to be finalized by the beginning of next year, will practically consolidate the whole commodity trading business in one place. The annual turnover of the new exchange will amount to 600 mln. levs (307 mln euro). The Ministry of Finance decided several months ago to cut the number of goods which public institutions and state-owned companies can buy from the commodity exchanges. The ministry motivated its decision with the widespread suspicion that the exchanges are used to bypass the open tender procedure and to manipulate prices.
Happy shareholders / Bulgarian banks improve their profitability. The net profit of the Bulgarian banking system exceeded 500 mln euro in the first eight months of 2016 - more than the profit for the whole 2015. The five biggest banks on the market (UniCredit Bulbank, DSK, FIB, UBB and Eurobank) account for 71% of the result. Compared to the same period of last year, the profit is 192 mln euro higher. This is mainly due to one-off effect from the acquisition of Visa Europe by Visa Inc which led to a windfall gain for all European members of the card franchise. According to some estimations the transaction contributed 75 - 87 mln euro to the aggregated net profit. Another factor for the good result is the growth of mortgage lendingby 46.6 mln euro.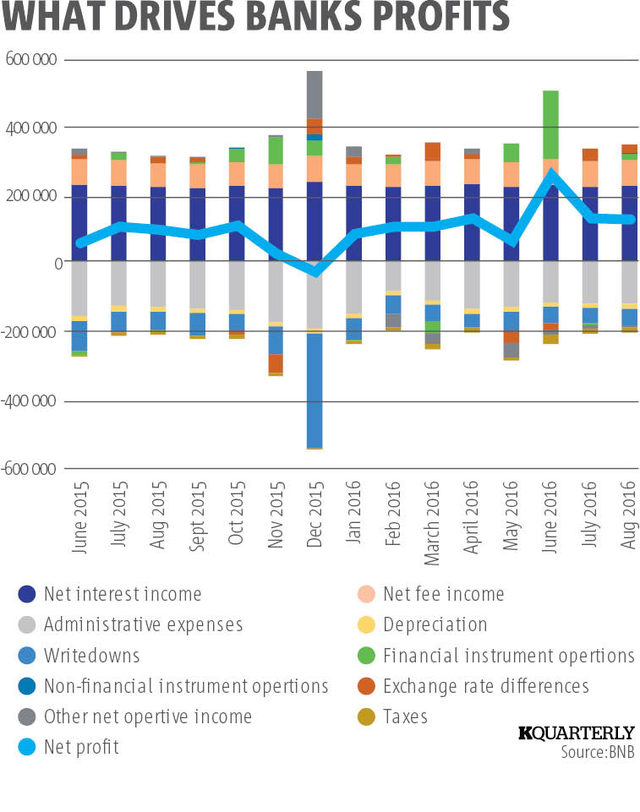 Take a credit / Good times for corporate borrowers. The average interest rate on corporate loans continued its steady drop, reaching levels below 5%. August data of the Bulgarian National Bank shows new credit contracts for less than 1 mln euro were signed at 4.51% on average, which is 2-3 pp lower than in August 2015. For loans exceeding 1 mln euro the average rate was 4.16%, which is 1.29 pp lower than in the previous month in 2016.