Main takeaways
The garment industry has been hit hard by the Covid closures that affected over 100,000 workers in the sector in Bulgaria.
The largest decline is reported in the enterprises for luxury formalwear. Masks and protective clothing provided the lifeline.
After the difficult 2020, the forecasts are for no quick revival of the industry.
---
A 12% percent drop to 4 billion levs (2 billion euro), or almost half a billion levs less in exports was recorded by Bulgaria's clothing and textiles sector in 2020.
"The situation in the clothing sector is extremely difficult. The decline is drastic, most companies had a minimum 20% decline in revenue in 2020 compared to the previous year. Between 5 and 10% of companies in the sector have ceased operations - mainly companies producing men's and women's formalwear, which are among the most high-tech actors in the sector, but also among the most affected by the pandemic,", comments Radina Bankova, President of the Bulgarian Association of Manufacturers and Exporters of Clothing and Textiles.
In 2020, the combined revenue of the 15 largest manufacturers of textiles, clothing and footwear in the sector ranking fell by 8.6% year-on-year to 1.124 billion levs. Only three among them posted a double-digit growth of business. If the trio is excluded from the calculation, the remaining 12 companies have an average drop in revenue of over 14%.The happy exceptions come along two lines - the global expansion of Bulgarian shoe and bag brand By FAR and Soulmate company, and a shift to sewing products for protection from Covid-19 - mostly clothing, but also masks. Other companies suffer from low demand for clothing amidst global lockdowns.
Big and muscular
Italian-owned E. Miroglio and Dzalli again are in first and second position in the sector ranking but this time a Bulgarian company - Kalinel- comes in third place.
E. Miroglio leads with revenues of 215 million levs in the sector ranking. In the pandemic-marred year, the company founded by Italian national and Bulgarian passport holder Edoardo Miroglio reported a decline of only 10%, which sounds like a good result compared to the industry average.
The company defines 2020 as an extremely difficult year but emphasizes that regardless of that they never closed production, did not interrupt work and did not fire people. E. Miroglio traditionally invests in renewal of machinery and equipment, and in new technologies. However, due to the lockdown and the subsequent logistical difficulties, some of the prepaid machines failed to arrive in 2020, delaying some of the group's plans, but the company still managed to invest about 15 million levs last year.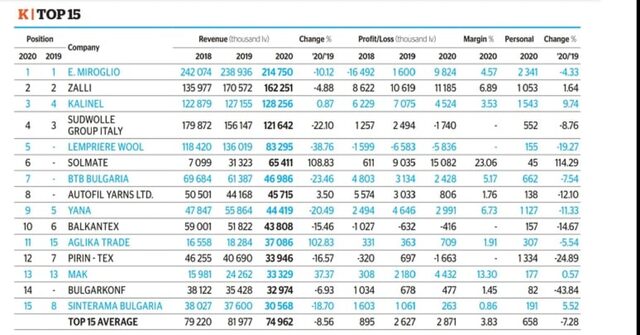 The vice-champion is once again Gabrovo-based Dzalli - also an Italian investment. Its main activity is production of knitwear by order of parent company Calzedonia Holding. Dzalli produces women's and men's underwear, T-shirts, blouses, leggings and more for the brands Intimissimi, Tezenis, Calzedonia, Falconeri, Atelie Eme. According to its activity report for 2020, the company increased the volume of production (by 3.8%) and sales (by 4%). However, revenues declined and the main reason is the change in the structure of sales by product groups. In some there is a significant increase in turnover compared to 2019, for example in leggings (plus 87%), and a sharp decrease in others - blouses, vests (minus 28%), T-shirts (minus 22%), dresses (minus 32%).
A novelty in the sector ranking is that Bulgarian company Kalinel climbs one position up and takes third place. The company, which produces pillows, duvets, mattress covers, is one of the largest European companies for home textiles. Its main factory and administration are located in Troyan, and the company also has production centers in Cherven Bryag, Teteven, as well as in Vranje, Serbia. Three-quarters of theoutput is done for IKEA, with Kalinel being one of the largest suppliers of home textiles to the Swedish corporation. The remaining quarter goes to international chains such as Metro, Kaufland, Aldi, Jysk, Tesco, Lidl and others. Kalinel's revenues for 2020 exceed 128 million levs, and profit exceeds 4.5 million levs but is lower compared to 2019.
Last year, Kalinel completed a new warehouse in Cherven Bryag with an area of 2,500 square meters, and will soon put into operation a new production building in Troyan with an area of 1,200 square meters.
The global rise in heels
In sixth place in the sector ranking is Soulmate, the manufacturer of shoes and bags of the By FAR brand. It reported over 108% revenue growth in 2020, exceeding 65.4 million levs. The fashion brand was created in 2016 by Valentina Bezuhanova, Sabina Gyosheva and Denitza Bumbarova.
The creators invent the models, which at the start of the company they ordered in a factory in Peshtera. Today, their collections are produced in small factories throughout Europe. The Bulgarian company has more than 300 trading partners worldwide.
It is clear from the consolidated report of the group that the whole business moves through the Bulgarian company, but there are registered subsidiaries in the USA and Great Britain. What's curious is the sum spent on marketing and PR - 3.4 million levs, as are the transport and logistics costs, meaning that this is a recipe for strong sales around the world. The report also shows that bags and shoes were sold through the company's online store for almost 13 million levs, and to wholesale customers for over 51 million levs, with a predominance of bag sales.
Don't panic and wear a towel, but also a mask
In 2020, family company Aglika Trade - Veliko Tarnovo, grew on the back of strong demand for anti-Covid products, in this case protective clothing. Aglika Trade is among the three companies in the country that started producing reusable protective medical clothing during the coronavirus pandemic. For 2020, the company reports over 102% revenue growth, which exceeds 37 million levs.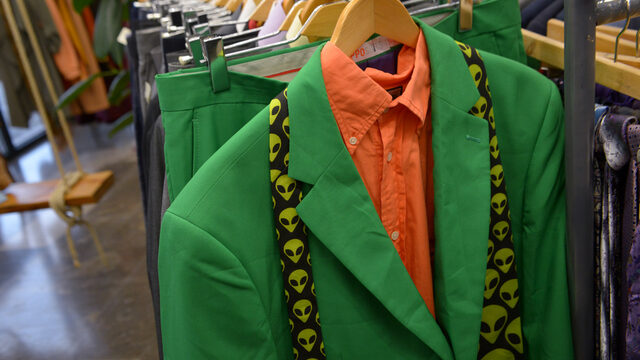 Among the first companies producing reusable protective medical clothing is Gabrovo-based Mak - a public company with 845 shareholders, controlled by members of Bijev family - Georgi, Dimitar and Dilyana. The company's portfolio contains more than 400 items. It produces various types of fabrics (including reflective, antibacterial, non-flammable), has production lines for dyeing and stamping fabrics and makes ready-made garments from manufactured fabrics - medical, hotel, work, as well as military, police, firefighter uniforms. It also offers backpacks, sleeping bags, raincoats, overalls, armored vests. Mak has its own design department.
According to the company's activity report, in 2020 it produced 1.5 million meters of fabrics were produced (for 2019 - 1.2 million meters).
However, not everyone has managed to readjust. Burgas-based company Yana, owned by Orlin Ivanov and Marin Marinov, has had a really difficult year, with a 20% decrease in sales. The company has two production plants - for knitwear (sweaters, fabrics) in Pleven, and for towels (towels, bathrobes, fabrics); it also has its own warehouses and shops.
"We export over 60% of the output. 2020 was a very difficult year, we had problems in both the domestic and international markets. Our advantage is the quick reactions and the short lead times, but the traders are loaded with products and have enough items in stock. The future of the industry is very uncertain. This year will also be very difficult," says Stefan Sevov, executive director at Yana.
On the losing side
Suedwolle Group Italy Bulsafil Branch goes down in the sector ranking for yet another year, this time from third to fourth place. From the activity report for 2020 it becomes clear that in the pandemic year the company halted a large part of its planned investments and invested in the modernization of some machines only to reduce the loss of production. Lempriere Wool - Sliven also reported a collapse of revenues in 2020. The company is part of the eponymous Australian group and is engaged in processing of raw wool and the production of wool products.
BTB Bulgaria - Ruse, owned by German national Achim ?Bayerl and Kalinka Petkova Kirova, operates in the most affected sector - fashion clothing. It produces women's clothing for world fashion giants such as Comma, s.Oliver (Women), Hallhuber (Donna), Esprit, Peek & Cloppenburg, Oui and others.
Balkantex, owned by Swiss company Cross Fashion, sews for Esprit, s.Oliver, Migroc, Marc O Polo, Tommy Hilfiger, Tom Tailor and the Swiss Army. The Bulgarian company has its own design team and constructors and works with subcontractors. Its revenues fell sharply in 2020.
Pirin-Tex, based in Gotse Delchev and owned by German investor Bertram Rollmann, also saw a drop in sales. Another Italian company in the ranking, Bulgarconf - Plovdiv, saw a moderate decline.
2021: Black and white
Expectations for the development of the sector in 2021 are mixed. Some companies are pessimistic and do not predict a return to positions frombefore the Covid crisis.
However, Elitsa Petkova from Aglika Trade outlines another trend. "In 2021 we see a significant increase in the consumption of home textiles".
Petkova recalls the transport crisis related to the lack of containers and high prices of all goods from China in early 2021. "The economic war between China and America as a whole put us in a niche market as a producer and supplier of textiles to Europe and America. A year ago, Bulgarian companies in the industry only serviced transactions that were not large enough or for which there was insufficient time for production in China. However, at the moment the market is in the process of restructuring, we are the European alternative and this is a chance for Bulgarian companies," says the commercial director of Aglika Trade.
According to Ahim Bayerl from BTB Bulgaria, the pandemic will accelerate changes in the European clothing industry. "Over the last 50 years, clothing production has been determined by the need to relocate production processes to countries with the lowest possible wage costs. As soon as wage costs increased, factories were moved to the next poorer country. Delivery speed is becoming increasingly important. Therefore, we assume that in the future successful clothing manufacturers will be companies with modern management, which due to the high level of know-how very flexibly and effectively control the processes of purchase and production. In this situation, low wage costs as a central competitive factor are replaced by the professionalism and commitment of employees as a central factor for success," concludes Ahim Bayerl.