Any big promises of Chinese investments in Bulgaria almost never materialise and yet the businesses keep on hoping the cash will come eventually. The last such example was in July, when in a single month a few mega projects were presented with 3D visualisations, talked about, blown out of proportion and then simply forgotten.
At the beginning of July Sofia hosted a summit of the 16+1 mechanism, a Beijing initiative launched to bolster ties between China and countries of Central and Eastern Europe. Its importance for China grew even bigger amid the growing trade crisis triggered by the US president Donald Trump's desire to impose higher tariffs on Chinese exports.
Some 1000 businessmen gathered on the sidelines of the 16+1 meeting, ready to deliver congratulatory speeches full of grand promises. Chinese officials mentioned investments worth billions of dollars.
Yet, figures show that the region is not a development priority for Beijing: Eastern European member states absorbed about 12 percent of EU's imports from China and contributed less than 5 percent of EU's exports to the Asian country in 2017.
Small investments, large investments or no investments at all
One of the biggest deals for Bulgaria in 2018 was expected to be the awarding of a concession contract for the operation of Plovdiv airport by a Dutch registered consortium led by China-based HNA Airport Group. It was supposed to reverse the series of unfulfilled investment promises made by various Chinese companies. But in July, following a tragic accident with its CEO, the HNA Airport Group backed down.
Thus far, Chinese investments in Bulgaria have been rather scarce. The China-CEE Fund acquired about 10 percent equity in Walltopia, a climbing walls maker, and ThunderSoft bought MM Solution, a software company. Bulgaria has seen Chinese investments mostly in agriculture and renewable energy. For example, in 2014 Tianjin State Farms Agribusiness purchased land near Plovdiv for about $40 mln, while Bulgaria Tianshinong Feed Co built a forage plant as a greenfield investment. Chinese companies have built photovoltaic installations with installed capacity of 150 MW in Bulgaria, driven by both Chinese state subsidies in the sector and Bulgaria's high preferential tariffs in 2012.
Probably, the most famous investment was the local factory of Chinese car manufacturer Great Wall, which was actually a 100% Bulgarian venture. The Chinese car maker, one of the biggest on its domestic market, was only marginally involved, leaving its Bulgarian partner to make a breakthrough in the European markets - an attempted improbable feat that ended in bankruptcy.
Even though a very small portion of promised projects is completed, new high hopes constantly emerge from either side. Plamen Panchev, co-founder of Bulgarian-Chinese Business Development Association (BCBDA), sees the 16+1 forum as a great opportunity for future business connections. "We need to use it," he said, explaining that "currently, we are in a good position because China knows about us".
The biggest promise at the forum came from Xie Jiajie, a representative of China National Nuclear Corporation (CNNC), who said the state-owned company will be participating in the public procurement procedure for the construction of a nuclear power plant in Belene, in northwestern Bulgaria..
The project using Russian technology was launched in the early 1980s and was first frozen in the 1990s, then restarted and frozen again in 2012. Bulgarian authorities hope to find an investor who could absorb more than 1.5 bn euro of sunken costs in the project. CNNC has expressed interest in the project before, without being clear what its intentions are. According to Xie, this time CNNC will be participating in the public procurement procedure. "By the end of October the government should have signed the papers," he has said but also added that "everything might happen".
This statement was gladly welcomed by the Bulgarian government, igniting hopes that other investors will follow. Projects that typically promoted by the Bulgarian authorities are in the sector of transport infrastructure, which is number one priority of the current government. None of projects, however, has been able to attract investors not only from China but also from countries in the Middle East where they have been heavily advertised, because Sofia has failed to persuade prospective investors that their money could be returned.
In the meantime, Cenntro Automotive Corporation took a different approach - rather than striving for spectacular projects, they unveiled plans to develop a small business for assembly of electric utility vehicles near Plovdiv. The Chinese manufacturer is partnering with Luxembourg-registered SEVIC eMobility (a small German producer of electric bicycles and mopeds), which could be assembling the vehicles in a plant in Bulgaria.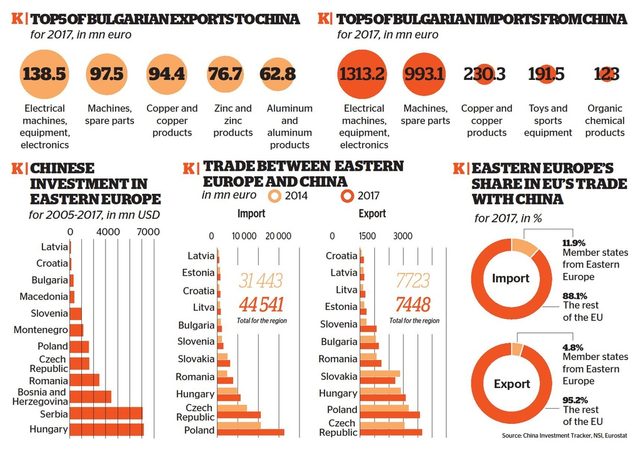 Currently, SEVIC is in talks with a Bulgarian company about the price of assembly operations and the first prototypes are supposed to roll out of the factory by November. In the next two to three years SEVIC wants to build another plant where the vehicles will be manufactured not just assembled. Emo Yankov, a representative of Trakia EconomicZone where the assembly plant is planned to be built, has been communicating with all sides and says this could be one of the few successful projects. "This isn't a big thing but it has the potential to grow," Mr Yankov says and adds that in three years the factory should be producing about 10,000 electric vehicles per year.
Bulgaria - the blank spot in a region of Chinese interest
In a nutshell, when it comes to business China is looking for technology, know-how, brands and access to the European and third-country markets. Thus, its main targets are Western European countries such as Germany and the UK. According to data from MERICS, a German think-tank, China has invested more than 100 billion euro in the EU in 10 years until 2016, but only about 10 percent of that was targeted towards the Central and Eastern European region.
Mostly, it is countries like Hungary, Serbia and Greece, through which goes the transport corridor, part of China's "One Belt, One Road" (OBOR) initiative, that have attracted Chinese investments. For example, Serbia has secured loans for several projects, including a 170 million euro bridge over the Danube in Belgrade, and has been promised nearly 3.0 billion euro for the construction of a high-speed rail link between Belgrade and Budapest, which is a key piece of Beijing's strategy to connect the Greek port of Piraeus with Central Europe as part of the OBOR initiative.
In the last few years, Chinese company COSCO Shipping has invested heavily in the Aegean port of Piraeus (near the Greek capital Athens) in an effort to turn it into one of the largest and busiest sea ports in Europe. Some have hoped that interest towards Greece's ports means also interest towards Bulgarian ports, but the reality is different. While the Aegean Sea is very well-connected, the Black Sea is locked by land masses and according to Krastio Belev, a co-founder of the BCBDA and one of the organizers of the 16+1 meeting in Sofia, it is far more expensive to use its ports as an entry point into Europe.
While Bulgaria cannot compare to Western Europe, where Chinese companies are investing mainly because of technological advances, the country is also lagging behind its peers. "The Czech Republic, Hungary, Romania are way ahead of us," concludes Mr Belev, explaining that their advantage is the human capital - people who know the language and understand the culture.
The reasons why not
Several very important details why Bulgaria is unable to attract big Chinese investments are often overlooked. The first root of the problem emerges from the way China is doing business.
Most Chinese companies are looking for business opportunities that Bulgaria simply does not have. They want to invest in already well-developed markets, where there is a long-term perspective for growth. "China does not invest in something that does not exist," Panchev says, sharing his observations from years of developing relations with foreign investors, including the Asian country. This is why Chinese investments are targeted towards Germany, for example, where the scale of the markets is attractive.
On the other hand, the Chinese business culture has some difficulties with EU laws. For instance, Chinese companies still expect to be awarded state contracts directly, which goes against the compulsory practice for public procurement in Europe. "China has not yet synchronized its way of business thinking with the way Europeans think," comments Vladimir Shopov, a consultant in relations with Asia and former adviser at the Bulgarian Ministry of Foreign Affairs. Cui Hongjian, an analyst with the China Institute for International Studies, explains that "when China wants to enter the Central and Eastern European markets, the country does so based on its experience, criteria and standards" and adds that "it is difficult for China to comply with all the EU laws".
Despite all these obstacles, the region still believes it will be the next prime location for Chinese investments. This comes from the fact that Chinese businessmen try not to be concrete in their statements, they welcome an idea, smile and nod, but it is all part of their culture, comments Mr Shopov, saying that basically it all goes down to miscommunication between the parties.
The second set of reasons why it is unrealistic to expect large-scale Chinese investments in Bulgarialies within the country itself. While the Bulgarian government pledges to build highways, a whole "infrastructural grid" is missing, explains Mr Shopov. In order to do business in the Eastern European state, China needs a developed and well-connected infrastructure of not only roads but also railways and ports. Bulgaria lacks it.
Additionally, Sofia does not fully understand how China is doing business from a political point of view. As the Chinese Communist Party has a say in how much and even where Chinese companies invest in foreign markets, Bulgaria needs to learn the diplomatic language.
Vladimir Shopov has spent years connecting Bulgarian and Chinese companies and says it is a question of two completely different cultures - the Chinese need a lot of time to explore the sector and the market, to discuss the probability of a deal and its details, before anything is carved in stone. In the meantime, Mr Shopov explains, there need to be meetings - at a high political level, as well as at a low company level. Instead, Bulgarian companies and politicians "don't know how to work together", he says, calling this inability a display of "low political and diplomatic capacity". "The level of personal, institutional and financial ability to tackle these issues is too low," concludes Shopov. His colleagues from the Bulgarian-China Association agree that the institutions in Bulgaria are unprepared to discuss investments and explain how it is a norm for companies to approach Chinese investors on their own, whereas China prefers to be approached by a well-organized government strategy.
Another reason why Bulgaria fails to attract investments is simpler and often neglected - visa controls. Krastio Belev says that Chinese visitors feel unwelcome - many are not given visas due to small details in their applications, for example, and all of this leaves a bad impression. To the contrary, Chinese investors trust others' opinions and if somebody has had a good time in Bulgaria, many will follow, Panchev adds.