Plovdiv and wine have become increasingly synonymous over time. To use the terminology of enologists - they have "co-fermented" together. The first traces of wine production in what are today Bulgarian lands go back nearly 5000 years, right by the Maritsa River. On the high plateaus of the Rhodope Mountains the Thracians built shrines to the most important of all gods - Dionysus, god of wine. In fact, Western Thrace has ideal conditions for wine production - it is protected from sharp northern winds, the climate is mild and its soils are very fertile. This makes the local terroir very suitable for red wines, which are the focus of various wineries around Plovdiv, Asenovgrad, Peshtera and Pazardzhik, Panagyurishte and Starosel, Karabunar and Septemvri.
The region is considered to be the homeland of Mavrud - one of the oldest and indigenous local varieties, which has the qualities and the potential to be an emblem of Bulgarian winemaking. It is no coincidence that it has also acquired its own holiday - the International Day of Mavrud, celebrated for the first time on 26 October this year. The day serves to recognize many local wineries and is a key part of their concept.
There are almost 30 of these small wineries in the Western Thrace wine region. They generate at least BGN 35 million in revenue (according to 2019 data), which makes up 15-20 percent of the total turnover of the sector in Bulgaria. The quality of wine here is generally higher than that of other regions and its average prices are also higher, which is good news for the local economy. It also benefits from the good synergy between the wineries and the good restaurants of Plovdiv, which increasingly employ the "local wine - local food" concept.
Wine tourism is also making inroads. The region is in the very heart of the country and is easily accessible to weekend tourism from nearby Sofia, as well as from other regions. Wine investments come in varying degrees. The successors to the Socialist-era giants - Vinprom Asenovgrad and the Saedninenie Winery (which is called New Bloom nowadays) are still in business. Among the major projects is the wine-tourist complex "Starosel'' that underwent a large-scale investment of 22 million BGN a few years ago and grew into one of the largest hotel complexes in the Plovdiv region. At the same time, there are also small, boutique wineries (see the box at the end), which contribute to the wine reputation of Western Thrace.
But the region's image as a modern, quality wine production center and its progress in recent years is mainly due to the work of a few wineries that are among Bulgaria's most successful, modern and well-developed wine investments in general. These are:
Bessa Valley: 20 years later
The story seems too good to be true: In 2001 two exceptional winemakers and friends came from Bordeaux to the village of Ognyanovo. Тhey were fascinated by the spaciousness and ideal conditions for viticulture, similar to the first-class terroirs in France. These are Count Stephan von Neipperg, owner of several estates in Bordeaux, and wine consultant Marc Dworkin. They decided to make a French-style winery and were joined by German financier Karl Heins Haupmann, who gave the project a boost. They decided to call the estate "Domaine Bessa Valley'' because of the ancient Thracian tribe of Bessi that inhabited these lands.
In October of this year, Bessa Valley celebrated its 20th birthday. The winery is arguably one of the most successful in Bulgaria due to the exceptional quality of the wines under the Enira brand, which are contributing enormously to Bulgaria's wine image abroad. Nearly 80 percent of output is exported. 20 years, as Carl Haines Haupman notes, is a great age for a winery, as now the vineyards are entering their peak form and in the next 20+ years the wine will become more and more remarkable.
In 18 of those 20 years Enira was all red. The 800,000-bottle capacity winery only works with French varietals - Merlot, Cabernet Sauvignon, Pinot Verdot and Syrah, and the Syrah here is considered exceptional and is among the winery's most prestigious wines. They are powerful and extract-driven, but also very complex and elegant. In 2019, Bessa Valley also launched the long-awaited white Enira, a blend of two little-known French varieties typical to the Rhone Valley - Roussanne and Marsanne - as well as a Viognier.
Bessa Valley is a beautiful place - it was among the first estate-type wineries in Bulgaria. The low building is made mostly of natural materials such as limestone and wood and blends in with surrounding nature - it is built into a rock that provides natural insulation for the wine to age. The focus here isn't so much on wine tourism though, as the team wants to focus on what they do best - wine. However, the winery is open to visit on weekdays and on weekends by appointment.
New home for Dragomir winery
Until recently, the Dragomir winery and its owners - enologists Natalia Gadjeva and Konstantin Stoev - were known as the "urban winemakers", as they worked in the city of Plovdiv itself for nearly ten years. However, their long-awaited new winery opened shop last year and it is more than suitable for the image and ambitions of the brand. It is located in the nearby village of Brestnik and is notable for its architecture and design, which are just as impressive as the Dragomir wines themselves. Masters of the red, powerful, complex and long-aged blends of wines, especially featuring the region's typical Mavrud as well as Ruby, Dragomir Wines keep a boutique image and produce only about 60,000 bottles a year.
The only thing the new winery doesn't have is a hotel, but the distance to and from the center of Plovdiv can easily be covered by taxi. Everything else in the winery is made with wine tourism in mind. It offers several wine tour packages with a walk around the winery and tastings that can happen in different places depending on the group and preferences - in the tasting room with a view of the barrels and casks, among the barrels themselves, in the winery shop, and also outside - under the facade colonnade or on the landscaped terrace.
The true charm and essence of Dragomir's complex and long-aged red wines are revealed with the food. That is why the tradition of special wine dinners with a guest chef that started in Plovdiv continues here. These are organized for groups of 12-14 people maximum and have to be arranged (alongside the menu) in advance.
Wine and tourism in Villa Yustina
It all started with a single guest house for relatives, friends and admirers of the Villa Yustina winery in the Ustina village near Perushtitsa. Today, Villa Yustina has a hotel as well as separate cottages with apartments. If you want to visit, plan early because places run out fast.
With its proximity to Sofia, good wine and facilities, delicious food and options for sports and walks, the complex is a top destination for wine and culinary travelers from the capital and corporate seekers on the lookout for interesting options for team building and seminars.
Yustina also has its own goat farm, where goats of the world's only meat breed Boer are raised, as well as a fishery. Products from both are available in the restaurant. There is also plenty of space for outdoor events and activities and a well-maintained eco-trail to the Ustina Waterfall.
However, all of this is just a complement to the wine, not the other way around. Yustina was established in 2006, owns 40 hectares of its own vineyards in the region and has a rather boutique production - up to 150 thousand bottles a year. The production facility is something of a showroom for one of the country's largest producers of inox vessels, Tomika Metal, whose owner Milko Tsvetkov also owns the winery. The winery has always relied on high-quality wines, which can be tasted in the cellar's enoteca and tasting room.
Over the years, Yustina has experimented with a variety of styles and technologies, and to this day maintains a relatively broad portfolio in three series that include pure varietal and blended white, rosé and red wines, as well as dessert wine. More recently, the winery started making natural sparkling wine. Its signature wine to this day, however, remains Monogram, a recognizable rich and powerful blend between two indigenous varieties of ruby and Mavrud.
Zagreus and the kingdom of Mavrud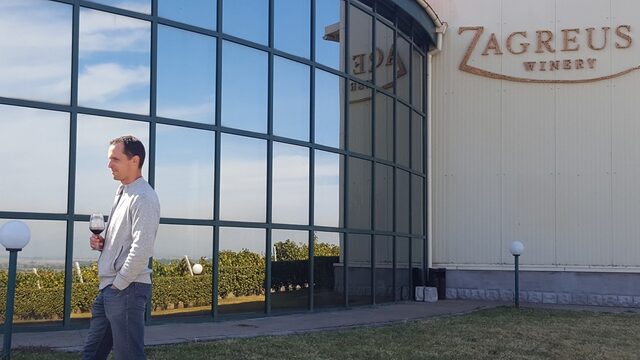 Quite a few wineries have devoted themselves to Mavrud, this old, local and seemingly most Bulgarian variety, although it is difficult and capricious - it ripens late, but does not tolerate the cold. In addition, the Mavrud is very diverse and varied (there are two branches - 1 and 2, which produce wines with very different characteristics - one is lighter and airy, the other is dense and powerful) and in general, working with it is a challenge for both agronomists and winemakers. But, at its best, the Mavrud is interesting, different, complex, and with great ageing potential.
There are several Mavrud wineries in Bulgaria, but the Zagreus winery near Parvomay (named after the Thracian god that inspired Dionysus) and its owner and manager Dimitar Kostadinov are among the most devoted to the variety. Here one can learn a lot about it and try most of its incarnations. In Zagreus, they make the Mavrud with and without oak, Mavrud from branch 1 and branch 2, ferment it with wild yeast, Mavrud from organic grapes, Mavrud rosé and also the most exotic - white Mavrud.
The winery also has a naturally sweet Mavrud wine, but perhaps the most impressive is Vinitsa, a Mavrud made from grapes that have dried for two months, a technique borrowed from the iconic Italian Amarone wine. During this process, the grapes lose up to 40 percent of their weight, their acids and sugars - concentrated. The result is a full-bodied, powerful and very different wine with an extremely complex and deep character, which can age for a long time.
The winery is a large, sprawling complex amidst a sea of vineyards. It hosts guests and offers a variety of tasting packages, special wine lunches with a guest chef and an unconventional option - a spelt bread workshop. There are also opportunities for interesting team building activities, including ones where the team can make their own signature wine.
Other wineries in the region that are worth visiting

There are other wineries in the area that deserve to be discovered. They are not as tourist-oriented, but most do welcome guests by appointment. Among them is the family-run Rumelia winery in Panagyurishte, which also focuses on Mavrud, but also makes other very high quality and interesting red wines.

Not far from Zagreus, in the Zlatovrah village, is the Nichev winery - a boutique project of Dr Ventsislav Nichev, a dentist from Paris who works only with Mavrud and makes impressive wines. Interesting wines from local varieties such as Mavrud and Ruby, but also red Muscatel can be found in the Bulgarian Heritage series of the Karabunar winery in the village of the same name, also known by its trade name Via Vinera. In the same village there is another relatively new winery, Vila Velis, owned by a Bulgarian-German family, which works mainly with international red and white varieties.

Another small winery in the Pazardzhik area, Manastira, offers different but equally charming maurood wines. Its Ilaya Mavrud shows the other face of the variety - lighter, airy and with less powerful structure.

The small village of Brestovitsa, near Plovdiv, is home to several wineries - such as Chateau Todoroff, perhaps the first more modern wine tourism complex of its time, and Villa Vinifera, while more modern investments are complemented by Bendida Winery, a small family-run winery that focuses on the ruby variety. There is also a new small family project in the village, the Dzhinvira winery. Unlike others in the region, this winery works with more white than red varieties, including the relatively rare Alexandrian Muscatel.

The Neragora winery is one of the few foreign investments in the region. It is a Bulgarian-Italian project and is organically certified. Тhe wines are distinguished by their modern style and elegance. Mavrud - pure varietal and in blends - plays a central role here as well.