Main takeaways
During the last 12 years, the capital has been governed by Mayor Yordanka Fandakova
Excluding the subway and the garbage plant, substantive improvements have been lacking, even though the city has received 3 billion euro from the EU
Sofia has big issues with its traffic, irregular and inconvenient public transport, poor road repairs, and a lack of pedestrian and bicycle zones
---
You have probably visited Sofia. It's a beautiful city with an impressive historical center and it's cheap, tourists often say. But when you live here you notice some significant aspects that are not quite so impressive. The city's big problem is that it doesn't change: everything happens so slowly or nothing happens at all - although billions have been spent over the past 12 years (under the same mayor - Yordanka Fandakova). At the top of the pyramid of mismanagement is corruption surrounding road repairs. Yes, there seems to be ever-present drilling on the ground but little thought appears to go into it.
For example, when the winter's first snowfall comes, much of public transport grinds to a halt as the roads get clogged with dirty snow. Traffic jams stretch for several kilometers and motorists go round and round for at least half an hour if they want to park in the center because there are no available parking spaces. Meanwhile, taxi fares are set to rise by a massive 36 percent from January, the municipality decided - on account of inflation and the increase in natural gas prices. And here, in Bulgaria, we don't have Uber. So, as you can see, transport is an ongoing major problem.
If there is something the municipality brags about - it's the subway (metro). And, yes, it's new and comfortable compared to most subways in other European cities because construction was completed in 2009 and the last, third line was ready this year. The other big event in Sofia city's life is the garbage plant, which has been operational since 2015.
Other improvements in the capital over the past decade, however, have been merely cosmetic: the replacement of some old buses and trams, as well as the renovation of major boulevards - all inevitable and rather rudimentary developments for a European capital that receives billions a year from the European budget.
To disguise this, the government's favorite defense is to compare Sofia today now to 14 years ago when it was "sunk in hundreds of thousands of bales of rubbish", whereas it now has "3 renovated boulevards". This is a ridiculous comparison. It would be monstrous if, after a 14-year membership of one of the world's richest clubs, and having received almost 3 billion euros in grants from European programs, Sofia had not improved in a few significant areas.
Traffic jams
A big problem in Sofia is traffic congestion. Over the past decade, the number of vehicles has almost doubled, with 833 thousand registered cars. This means, assuming we accept official population figures, that there are 650 cars per 1,000 people in the capital. This is an extremely busy city: in the country with the most cars per capita in the EU - Luxembourg, there are 694 per 1000. And, as with so many other statistics, this one is distorted and doesn't include traffic passing through Sofia every day.
Meanwhile, the municipality does nothing to stop the chaos. Owning a car is cheap and convenient here, and public transport is still not electronic and offers only an irregular service. In addition, Sofia is still the only big city in Europe (and probably not only) which does not have a functioning system of fines for improper parking, and allows its green areas to be destroyed. In early November 2020, the city took a tentative step by allowing the Center for Urban Mobility to impose fines on vehicles illegally parked and where the driver is absent. For now, it seems that the municipality is happy to issue fines but will not offer sufficient parking lots, although these have been promised for years, and some of them (such as the buffer at the metro station "Slivnitsa") are still awaiting completion.
Also, the mayor is afraid to convert areas into pedestrianised zones as this may anger motorists wanting to park in the center. This flies in the face of modern decision-making in other European cities that are proud of their car-free zones, a trend accelerated by the pandemic. Sofia also lacks sufficient bicycle lanes - again because cars are deemed more important.
Sofia green?
Although Sofia is famous for its location near Vitosha Mountain, the city doesn't do much to promote this advantage. Public transport to Vitosha is irregular and stations are far from the center as there is not a convenient connection.
The municipality appears to know little of how residents and visitors travel around the city and this thwarts effective transport improvements. Hopes, however, are pinned on the new ticket system which was ready this November and allows commuters to buy e-cards and tickets. The system cost nearly 100 million levs (50 million euro). It is expected to reveal which transport lines are busier thanks to face recognition, but it is debatable whether it takes into account how people change transportation in order to get to a certain point.
Sofia's ambition, however, is to be a green city. And it has a lot of potential for this if it would only implement certain projects that are currently suspended. For example, a green bicycle and pedestrian line which goes in a circle around the whole city was promised 10 years ago, yet it hasn't even been started.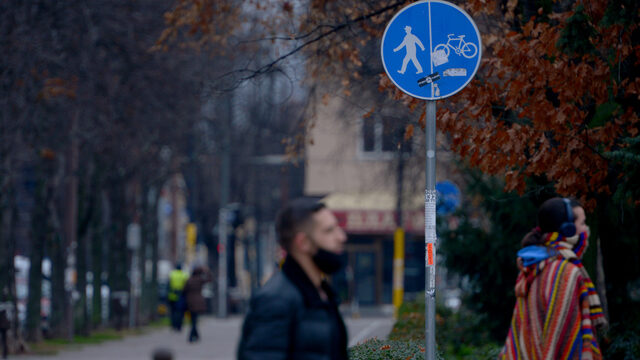 Also, Sofia has planned many new parks and they are set in its "constitution" - the general development plan. But a huge swathe of land is in private hands, so in order to create green areas, the municipality has to buy this land in the first place. This will cost around 4 billion levs, money Sofia doesn't have, although it has 10 years to come up with a solution. Now it could be too late as the memorandum for private land expires and its owners may decide to build new buildings there or to close some roads.
Millions on poor reconstruction
Sofia is also infamous for its poor road repairs. Three years ago, the municipality repaired central streets and boulevards (such as Graf Ignatiev street), using millions of EU money. The roads under repair were blocked by building materials and virtually inaccessible to pedestrians for a year. In addition, many businesses located on the street closed. When the repairs were finished, it turned out the new road surface was of poor quality and the new tiles quickly fell apart.
One year ago another boulevard was repaired - Todor Kableshkov, but again the result was unimpressive. Hence many Sofians joke that the city is fine as it is because they are wary of the fallout from planned reconstruction!
A public tender was recently announced for the renovation of Alexander Nevsky Square but, fearing disapproval, the municipality decided not to proceed. In the end, it will give nearly 15 million levs (again from European programs) to replace the pavement. In other words, it will spend a large sum just to have more of the same, while the initial project promised ambitious change. Many people clearly wanted the area to become pedestrianised and the parking lot around the church removed - but this is now very unlikely to happen.
The blame for the lack of brave innovations and chronic inertia can only lie at the door of Sofia's mayor for the last 12 years. GERB's Yordanka Fandakova took the helm in 2009, promising a European future for Sofia. Unfortunately, for the last six years, she has dodged questions from journalists and given interviews only for newspapers that are close to GERB. Bulgarians, as we have seen this year in the national elections, are eager for change and running out of patience with empty promises. The next local elections, however, are not due until 2023.