Peace is what she sometimes craves. But her nights can be surprisingly noisy. It's not the roar of traffic, of course, not here, deep in the Bulgarian countryside, a half hour drive from the city of Sliven. Instead, it's the thundering of horses' hooves that sometimes keeps the British pensioner awake in her caravan.
Lucy Irvine is a writer and even a celebrity once upon a time in Britain. Now she lives in Bulgaria and rises at dawn to begin tending to her rescued animals; there are roughly 300 in total if you include all the horses, donkeys, dogs and cats under her supervision (some of which are in the community and not just in her yard). She keeps what she calls "tropical hours", especially during summer's scorching sun - the kind of heat that can drive tethered, thirsty animals crazy.
She takes great pride in her organization's work with animals, what is now known as the Lucy Irvine Foundation Europe (LIFE) - whose website charts its mission in terms of education, outreach and rescue.
It's an unorthodox life for a well-bred, 65-year-old Brit but Lucy has tended to spurn normalcy. She hasn't been to the UK for years, and has devoted the last 14 years to her animals and educating the (mostly) Roma local communities on how to look after them better. Yet it's a combination of carrot and stick and sometimes she has summoned the police for extreme cases of cruelty.
Her story is actually a great window into rural Bulgaria life and its surprising vitality and of course, problems.
Notable achievements notwithstanding - her recent cancer treatment and diminishing funds have lent it a growing urgency.
The (really deserted) desert island
It's all a big change from the celebrity coverage Irvine "enjoyed" (or should that be "endured"?) 35 years ago where her extraordinary experience on a desert island was made into a hit movie by acclaimed filmmaker Nicolas Roeg.
Back in 1980 British writer Gerald Kingsland had advertised for a companion to spend a year with him on the remote, uninhabited island of Tuin in the Torres Strait between Australia and New Guinea. Lucy accompanied him and later wrote a bestseller about her time there, Castaway. The eponymous movie followed, featuring Amanda Donohoe as Lucy and Oliver Reed as Kingsland.
Lucy fleetingly experienced the high life - stays in luxury hotels, and author tours of the US, Australia and Europe etc. The way she describes it, you get a sense of "been there, done that, and dispensed with the T shirt". The sybaritic lifestyle was not for her. The nearest she gets to luxury in Bulgaria these days is her "island style bucket baths". A "conventional" life simply didn't suit her either - Irvine even uses this word to describe a period she spent on a Scottish island!
She certainly doesn't regret the year on Tuin. "I'll always be grateful that Gerald chose me to go with him though. It was a fantastically educational experience to live on that island and I still don't take things for granted, am still grateful for water and impressed by electricity. It set me up well for life in rural Bulgaria, among other things!"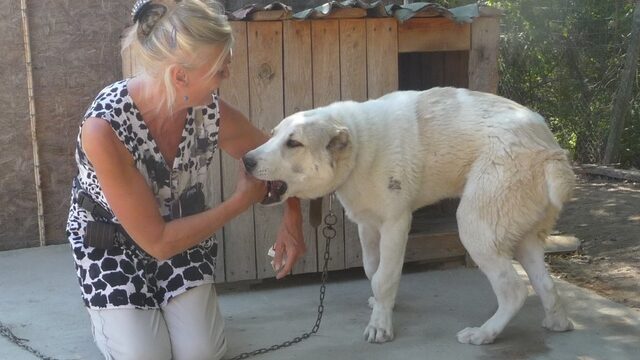 Demonstrating, not lecturing
Lucy moved here in 2007. Why Bulgaria?
"My eldest cycled from John O'Groats to Lands' End to raise money for a Bulgarian orphanage and decided to visit the place personally. While in Bulgaria he wrote me a message saying I'd like the villages. I should buy a property, have a bit of land to call my own and stop paying rent. He was right on all counts." She loved the simplicity of life. "If there's a culture here I favor over others it's the dying Bulgarian village one. I love the independence of the Babas who still grow and preserve their own and don't see the need to step into the supermarket world."
When Lucy first arrived she had envisaged a "quiet life" for herself. All that changed when her house burnt down. While camping in the ruins she came into contact with the local Roma community and - as she describes it on her site - "the thin, overworked horses they drove into her yard to carry away scrap iron and debris from the fire". They brought mange-ridden dogs, too, and kittens with injured eyes, which Lucy learned to treat. Her work expanded to include a purpose-built haven for horses.
Her former house remains a ruin, and today she lives in a caravan filled with rescued cats and surrounded by rescued dogs and horses. LIFE is the culmination of her work.
Married to her work
Lucy says that the standard of animal care in Bulgaria is generally lower than elsewhere. "In Bulgarian villages it is common to see puppies chained as future guards to inadequate shelters from an early age, never leaving that rarely cleaned spot until they die, often after just a few years, of neglect and a diet of bread only. It is more common for dogs to run free in Roma areas but disease and abuse are rife, and the catalogue of suffering among puppies, is heart-rending."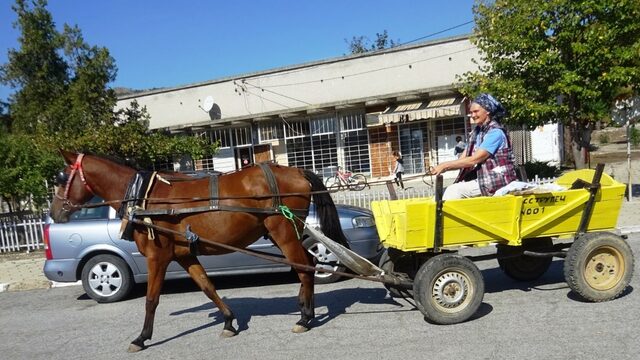 Surrounding her are Bulgarians traditional villagers and provincial townsfolk, and several Roma cultures including Turkish-influenced, as well as Karakachani and expatriate bubbles. She enjoys good relations with everyone but keeps her distance.
"There are of course people I've grown fond of and those I feel closer to and trust more than others. But If I attended one Roma or Bulgarian wedding or funeral locally I'd have to attend many or cause offence! So I attend none. Nor do I attend social occasions with expats. That said, I have a friendly relationship with my fellow villagers of all stripes. I'm just still at heart a desert island hermit and I'm grateful that such eccentricity has been accepted. The detachment I have is important to my work though because I need to be able to work with all sorts - including those who are unkind to animals."
She says she has also reached "a tacit understanding" with the local municipality. "We keep a lot of dogs off the streets and take hundreds to be sterilized every year."
"To merely condemn does nothing useful"
Lucy says that remonstrating alone - although perhaps justified - serves little purpose. Instead she gives an example of practical enlightenment. "A Bulgarian neighbor threw kittens into a gully to die slowly of hunger, exposure and thirst when I first came here. I rescued them and went round to ask him not to do that again. We could arrange to spay his cat, which we did. And when another cat had kittens on his property he brought them to my gate in sugar and bread bags. I named those kitties Sugar and Slice."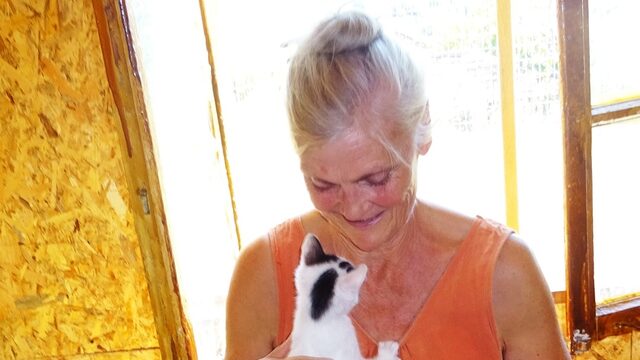 Happily, attitudes seem to be changing. "Lots of Bulgarians now ask us to help get their cats and dogs spayed, as do Roma in four villages. And we've demonstrated in Roma areas how there's no need to hack mangey dogs to death (as has happened) or stone them away from houses. They can be treated quite easily. I now get calls asking for dogs with all sorts of skin conditions to be helped. Lectures don't work. Demonstration does, in my experience. The same applies to the horses we work with in the community."
In 14 years in Bulgaria Lucy has learnt to communicate with the locals and also observed changes in their community. "Globalization is having a homogenizing influence on all the cultures here. Wealthier Roma are now becoming almost as devoted to TV and superstore-molded culture as Bulgarians and expats."
Irvine's is a truly worthy cause and her dedication is unquestionable. Both summer and winter can bring grueling conditions in the Balkans - and LIFE's work is ceaseless and alternately frustrating and uplifting. "Nothing exasperates me more than to see cruelty occur due to ignorance and lack of empathy. Empathy is hard to teach because it comes from within. It's there in some people, not all. But we can deal with ignorance through education. And when a person knows what's cruel he should change his behavior or be punished by law."
Her greatest pleasure comes from those individual transformations. "Nothing gives me more satisfaction than to see the fear leave an animal's eyes after he's recovered physically and mentally at LIFE. It's even better if he then goes on to find a permanent home with kind people."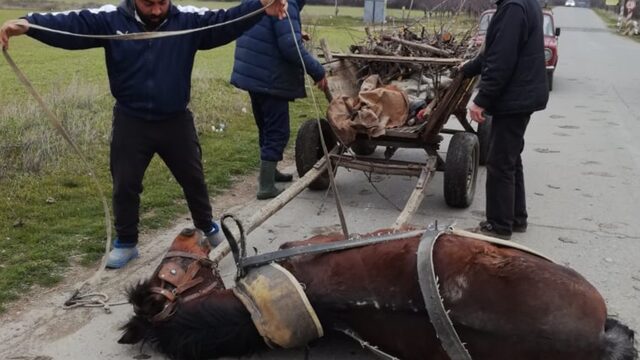 Preserving the legacy
In a personal message on her site she writes matter-of-factly about her illness, always focusing on her goals and the need for more volunteers and funds. Above all, she wants to ensure that LIFE's work can continue without her. So far its work has depended exclusively on donations although Lucy says they are now investigating possible grants.
LIFE's work is varied. "When someone dies and leaves a dog no one takes, for instance, we find a nearby baba to feed it and help with food. Ditto arrangement with small kids who can't fully care for pups they pick up. We support the pup, then spay. Unfortunately, there's still a bad habit among some Bulgarians. They dump dogs in Roma areas. Whole litters of pups. It's accepted practice but not acceptable if one has any thought for the welfare of the pups. That said, many Bulgarians now care for their dogs and cats to a high standard. Change has already happened in bigger cities."
More information on LIFE is available here, including how you can help - whether by volunteering, adopting or sponsoring animals or financial contributions.