Bulgaria's southern Haskovo Region has lagged behind its peers considerably in recent years but nowadays it is starting to benefit from its position on the key road linking Europe to Asia via Sofia and Istanbul
Haskovo stands at a strategically important crossroads - a little more than an hour's drive from Plovdiv and Stara Zagora, and Sofia and Bourgas are only two hours away. The region is nonetheless among the least developed in all of Southern Bulgaria. Despite improvements in both the labor market and average household income in recent years, it has remained somewhat isolated from the national economic growth.
There are several explanations for that. Larger and economically stronger cities nearby like Plovdiv and Stara Zagora are mighty competitors, and there is an apparent outflow of workers who choose to move there. This seems plausible. A comparison of the country's 28 regions by GDP per capita indicates the only southern region with a lower performance than Haskovo is Sliven.
Today, Haskovo's GDP per capita stands at half the national average, and a quarter of Sofia's.
Nevertheless, forecasts are encouraging - the mechatronics and automotive industry is growing, and Haskovo's large labor market and the improvement of local railway infrastructure are attractive to new investors, providing a new opportunity for modernization of the region.
Insufficient investment
The region is also marred by low levels of investment, weak training of the workforce and an overall lack of strong enterprises. Part of the explanation for the weak activity can be found in the structure of the local industry. While economic growth in leading cities outside the capital was dictated mainly by attracting new industrial investments, Haskovo has stayed away from this trend, attracting a larger share of labor-intensive industries with low added value.
That is not to say there are no strong enterprises in Haskovo Region at all - fertilizer producer Neochim AD and machine manufacturer PIM Ltd are examples, but their economic footprint is by no means enough to help Haskovo compete with neighboring regions.
However, the predominant low-added value profile of the local industry, and the absolute lack of foreign investment in the digital sphere contribute to the low wage levels in Haskovo. The average monthly wage in the region is around BGN 880 (EUR 450), insufficient for households with a single source of income who are pushed below the line of poverty.
Despite the somewhat positive dynamics of the last decade, levels of foreign direct investment in Haskovo remain low at nearly one-seventh of national average. As the district is playing catch up, these indicators are by no means sufficient to bring it close to the leading regions.
Demographic problems and weak workforce training
There is no region in Bulgaria that does not face significant demographic problems. The natural population growth in Haskovo Region has deteriorated from negative 5.4 per thousand to negative 8.7 per thousand over the past decade. But a deterioration of similar proportions can be seen almost everywhere outside the leading economic centers, where a large concentration of the younger population is observed.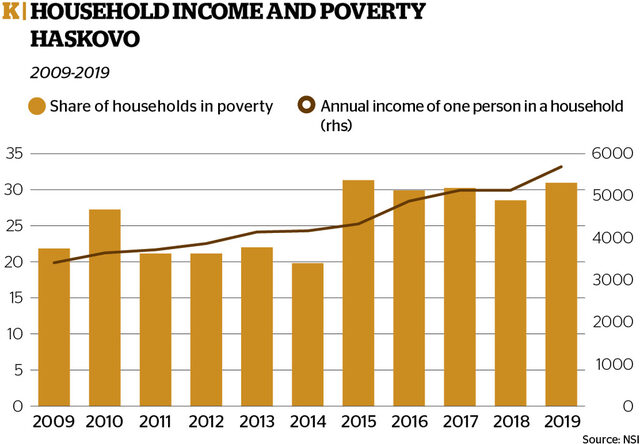 A potential slowdown in population decline could arise from internal migration, but Haskovo is not among the regions in which well-paid new jobs are created and the standard of living is high. Furthermore, Haskovo is facing problems in education as well, with a relatively high share of students repeating years and leaving school early, leading to a poorly trained workforce.
Opportunities arise
All of this, combined with basic problems such as worsening water quality, poses huge challenges for the region. However, the first signs of a possible change are already here. The improvement of railway infrastructure and the completion of Maritza highway leading to the border with Turkey are a prerequisite for new investments and increased interest in jobs that have been created, particularly in the manufacturing of auto parts.
Although almost a third of the jobs in the local industry is still concentrated in textile production, the share of this low value-added labor is shrinking significantly. This goes hand in hand with the growth in the sector of mechatronics and automotive manufacturing, in which Haskovo is a leader in the country after Plovdiv, having managed to add 2400 new jobs in the past five years.
The growth of the sector gained momentum after 2017, when several large manufacturers of parts for the automotive industry such as Yazaki and Varroc started production in Haskovo and Dimitrovgrad. Haskovo is attractive to investors in mechatronics and automotive manufacturing for several reasons - with nearly 104,000 people, the labor market in the region is one of the largest in Bulgaria, and in recent years the labor force has grown even further. In addition, the improved railway and road links have increased the opportunities for daily commuting of workers from remote areas.
Companies in mechatronics and automotive industry in Haskovo manage to attract labor from other industrial sectors in which the salaries are much lower. This applies to the textile sector, where there is a significant workforce and wages and productivity are more than 40% lower. Salaries in mechatronics have been growing by an average of 8.3% annually for the last 5 years, and this growth has been especially noticeable after the entry of large investors in 2017.
The coronavirus crisis may slow down this process but forecasts are encouraging. More so, Haskovo, as a strong link to the Maritza-East coal mining and energy complex, has every chance of being included in the EU's Fair Transition Fund and receiving significant funding for its economic transformation. All that is needed is coordinated effort in this direction by both local authorities and businesses.