Bulgarian furniture producer M2 Prom has been acquired by French group Lindera for 2.74 million euro. The deal marks the first exit of Capital Investment Fund (CIFund), a growth investment arm of Bulgarian Development Bank (BDB), from a portfolio company.
Founded in 2014 by Miroslav Konstantinov and Dimitar Dimov, M2 Prom has produced made-to-measure furniture for clients such as Dior, Swatch, Tissot, Accor Hotels and travel retailer Lagardere. Its turnover amounted to 6.8 million levs (about 3.4 million euro) in 2021.
French deal
Lindera acquired M2 Prom in full. The two founders remain executive directors of the company. They also become shareholders in Lindera (with an unspecified stake) and members of the French group's board of directors.
CIFund acquired 34% interest in M2 Prom in 2020 and BDB's management estimates it has earned 1 million levs (about 500,000 euro) from the investment.
Lindera has several factories in France and a turnover of 70 million euro. The company produces furniture for retail, hospitality, showrooms, luxury boutiques and corporate offices, among others.
From project management to production
Miroslav Konstantinov and Dimitar Dimov had experience in project management in the furniture industry prior to establishing M2 Prom. They started their business in 2014 by outsourcing production to contractors. From day one M2 Prom specialized in the manufacture of high-end commercial equipment for large companies offering luxury goods and services and working with end customers from France.
In 2018 the company won two key contracts - with Lagardere and KFC in France - and decided to set up its own production facility and expand its business beyond project management. It rented premises in Sofia neighborhood of Bozhurishte, bought machines and equipment and hired people, ending its first production year with a turnover of 2.5 million levs and 14 employees.
The following year M2 Prom established a long-term partnership with Dior. So far the Bulgarian company has furnished four boutiques of the fashion brand in the United States, as well as in Spain, France and the UK.
Investment
As the business grew, so did the need for capital. With the help of a consultant the company received three offers from foreign funds but in the end it chose CIFund as a partner. The contract was signed in March 2020. The BDB's fund acquired 34% of the capital and the two founders kept 33% each. CIFund provided 2.45 million levs to the company, which was used for the construction of a second factory - in the village of Musachevo near Sofia.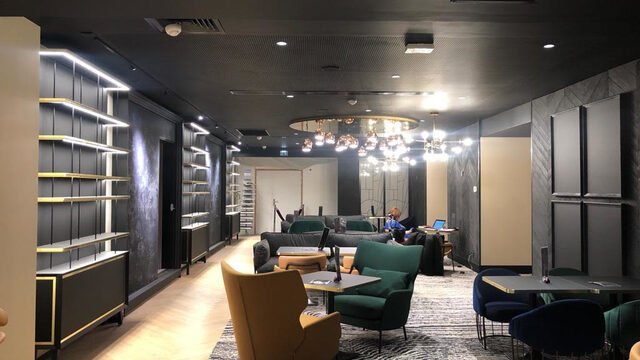 As the pandemic shut down luxury boutiques, airports and restaurants worldwide, M2 Prom booked a loss in 2020.
In the summer of 2021 the company received a buyout offer from Lindera and started negotiations. The deal was completed a year later. M2 Prom will be renamed to Lindera Bulgaria.
Plans
"The new factory in Musachevo will grow into an elite unit producing complex luxury furniture. But our goal is to develop Bulgarian know-how in the furniture industry, rather than production power," Konstantinov told the Capital Weekly. "Every year Lindera buys commercial equipment worth tens of millions of euro. We want to develop the group's outsourcing activity in Bulgaria and manage it from Bulgaria," he added.
The company currently has eight designers and plans to expand the team by 50 in the next year and a half. "In five years, we will secure a 140 million euro annual turnover to the French group," Konstantinov said. He believes Bulgaria can become a production center for luxury equipment for the European market."