The experience in digital transformation gained on a global level is certainly invaluable, but how can it be applied in Central and Eastern Europe? Our region has its peculiarities and specifics, which cannot be ignored by the companies doing business here. However, for established players such as KPMG and ServiceNow, the answer is obvious - local partnerships hold the key to successful projects, satisfied customers and easily overcome challenges.
Svetoslav Spasov, CEO of KPMG IT Service OOD and Markus Kempkes, the new Head of CEE at ServiceNow, talk about the way the the partnership will help the two companies reach their ambitious goals based on real business opportunities, what challenges they foresee along the way and most importantly - how they will translate those to opportunities for the local businesses to transform the way they work and for local talent to develop acareer in one of the business and tech worlds' hottest topics.
KPMG is a global elite partner to ServiceNow. How does this partnership work and what is the business case and business model behind it?
Markus Kempkes: In the past the partnership was focusing on the big primary markets such as United Kingdom, US, Germany, etc. As ServiceNow is massively growing outside the primary markets, we are really having now our focus on Central and Eastern Europe and we are looking to raise the bar in how we live the partnership in these - from our perspective - developing countries, where we are relatively early in the market. Our market share is relatively low here and our brand awareness is not where it is for example in the UK, Germany, not to speak about US. Our job now is that we take all the good stories and interesting transformation case studies in many industries and bring them to the market here. This is my primary objective - changing the way we work together with KPMG in the region.
In this context, what are the specifics of the market in Central and Eastern Europe?
M.K: Very often western companies have the misperception that it is one marker. But actually, it is a very fragmented market because all the countries operate and engage very differently with technology companies. Very often the situation is that you have a big amount of teams and capability in the region, but decision power is somewhere else. So it is from a go-to-market perspective for us very different. For example, if you sell to a Germany headquarter based company and they have a shared service center in Poland or in Bulgaria, how do you position digital transformation? You basically need to sell it in two places, you have to convince the persons which run the shared service center here in the region, but the money and the budget typically is in the headquarter.
Then, it is the role of CIO here in the region. It took the CIOs in the countries like Switzerland, Germany and UK a decade to move from cost and efficiency leaders to value creating CIOs. And that transformation has taken place for the majority of the larger companies in the large Western economies. But that has not happened here, in the region. So that means for us it is supper important that we start the conversation typically not with the CIO, but with business decision makers. That is why you really need the partnerships with local consultants of those customers.
Another key observation is that the industry segments are vastly different by country. We have the Czech, which has strong manufacturing sector. But then you have for example countries like Hungary or Greece where the public sector is very dominant, even a lot of companies are still state owned, and so you must have a public sector strategy, without it you cannot be successful. And this is my key learning after the first six months on the job, and I am happy to develop that further with local partners. Because this is also a key learning - you need to go local in order to understand the necessities of the market.
How does KPMG ITS Sofia plan to apply and deliver its role within the partnership with ServiceNow in the region?
Svetoslav Spasov: Based on the global elite partnership between KPMG and ServiceNow, the goal now is to build it at the regional level as well. We are a consulting firm with leading industry knowledge that could be combined with technical products and solutions from ServiceNow. Basically, we can deliver digital transformation services to clients and we have ambition to do the capabilities locally in Sofia, mainly in several areas such as IT, HR, GRC and ESG. We see a huge opportunity to be supporting KPMG clients in the European region and implementing ServiceNow technology.
Mr. Kempkes, you mentioned that brand awareness of ServiceNow is still relatively unknown in the region. Can you tell our audience more about the portfolio of the company and your new role?
M.K.:
If you look at Gardner, we are the dominator in the IT service management (ITSM) sector. Then 5-6 years ago the company realized that we should not forget other major workflows. Now we have the IT workflow, that is much more than just ITSM, it's the whole operating system for an IT. The second pillow is about the customer case management in all domains: banks, telcos, manufacturing companies. The third topic is all around the employee experience - from onboarding to offboarding, from room allocations to training, etc. And these are the three major application workflows that we bring to the market. The fourth one is really about elevating our platform to the developer community. That's the low code piece - an approach to build your own applications in the company, very versatile, easy to learn and to operate.
And interestingly, in some markets - which is true for this region - we're still perceived as an ITSM company. That is what I'm constantly hearing, not only from customers, but also from partners. And for me the biggest job is to change that perception. I think a lot of people in the region - owners of companies or even government institutions - don't even consider solutions from ServiceNow when they think about their biggest problems.
Mr. Spasov, what are the main opportunities and challenges that you see in this partnership for KPMG ITS?
S.S.: Our ambition at KPMG IT Service OOD is basically to help push the rest of the product portfolio of ServiceNow to the market, not only the ITSM solutions. But for us there is also a challenge. KPMG is widely known globally as an audit, tax and legal advice company. And now we would like to really show our clients that KPMG can be a strong partner in digital transformation. We just want to take the ServiceNow products and help implement them in the client side in order for them to achieve good business results. So that's what we want to get in this partnership.
On my side, the biggest challenge is now just building up the capability, because as Marcus mentioned, the ServiceNow products at the moment are kind of exotic in our region, so there is not too much knowledge. And with the constant shortage of talent our biggest investment and focus is training and certifying people both on the ServiceNow product portfolio and on KPMG methodology. So this is really difficult but we would like to build up and produce technology consultants that are able to understand the business challenges customers face and help solve them through ServiceNow technology.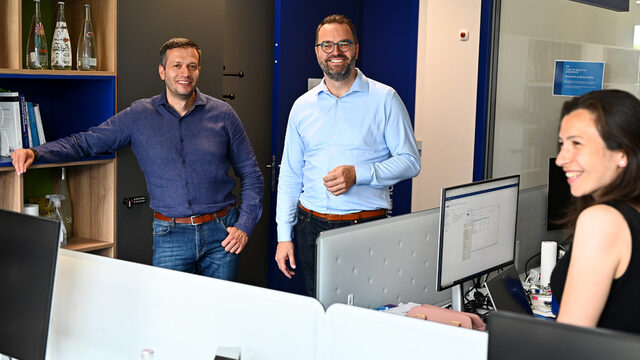 In conclusion, what can we expect from KPMG ITS and ServiceNow going forward?
S.S.: This year we plan to train and certify more than 30 people and we already have 4-5 projects of implementation of ServiceNow solutions. We want to have the first few successfully completed projects and from there on we would like to scale up and be in a position to help and support more clients adopting new technology and transforming their business process. In the ideal scenario then actually, we can have more than 200 trained and certified consultants in the next three years. We want to create a systematized educational program, to be able to train and certify people at scale. Actually, the first three years is just proving the business case, scaling the consultancy team and expand our services to full scale.
M.K. The business opportunity is so huge. At the moment we at ServiceNow have $7 to $8 billion in turnover globally and we are growing the company to $15 billion in the next four years to five years. That means we are adding another $7 to $8 billion to our balance sheet: 8 billion in subscription revenue means the opportunity for our partner companies to realize an additional $16 to $20 billion in service revenue. It is a huge business opportunity and typically 1/3 of that is the European share of that wallet. So it's an interesting time for all of us.